Megapolis Champika's Mega lie - builds parks in the air !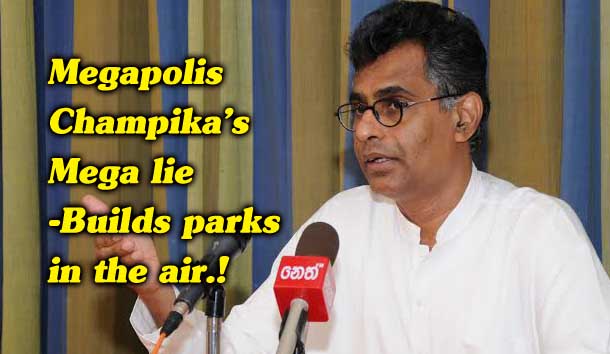 (Lanka-e-News - 13.July.2017, 8.00AM) Megapolis minister Champika Ranawake while saying 'our work is of elephants' has begun to lie profusely and deliberately. Posing off as a hero and making a display that the tasks of elephants are also his has made the habit of lying daily a fad .
The minister who attended a Daham pasala development program on the 10 th said, a park very much bigger than Vihara Maha Devi park , 250 acres in extent is to be constructed at the center of the Port city which is now under development , and that construction is scheduled to commence next June. This revelation of this empty zero pretending to be a hero is an absolute lie . That is the Megapolis minister has now become a Mega liar !
After the advent of this government the Port city agreement signed by the deposed and discarded Rajapakses with China was renewed. Under the old agreement 45 hectares were demarcated for a park, roads and lanes for strolling , and 13 hectares were set aside for the artificial beach.
Under the new agreement , 28 hectares in extent was increased in respect of the park , roads ,strolling lanes and artificial beach. This addition resulted because the car racing zone of 28 hectares in the Rajapakse plan was withdrawn subsequently. Therefore ,it is to be noted the 13 hectares set aside for the artificial beach was not increased even by an inch. It is only the land demarcated for park , roads and lanes for strolling that was increased by 28 hectares , meaning that the total land allocation towards those amenities now is hectares 73. That is 180 acres.
If the land is allocated only for the park ,without an inch being yielded for roads and lanes , that extent will therefore be only 180 acres. Hence , minister Champika saying that a park 250 acres in extent is going to be built is a deliberate lie. Either he is a confirmed Mega liar or he does not know arithmetic.
The mental power of Champika who obtained his basic degree to qualify as an engineer in the eighties, and could not do any post graduate research thereafter seems to be destroyed by corrosion. Little wonder he has forgotten even basic arithmetical calculations.
In fact if his engineering knowledge was at the level it ought to be, as an engineer of power and energy he would not have become a minister of power and energy and a fool with the Norochcholai debacle which collapsed 37 times .When the infamous corrupt Rajapakses agreed in respect of the Norochcholai debacle lured by illicit commissions , if Champika was a true and trustworthy engineer he could have put his foot down and rejected it. It is obvious he kept silent either because of his engineering incompetence and disabilities or he too lined his pocket with part of the colossal commission collected by the Rajapakses.
In any case if minister Champika who is also an engineer says a park 250 acres in extent can be built on 180 acres land , this must be a wonder of wonders more marvelous than the 'Hanging gardens of Babylon ' which park is reckoned as a world's wonder. In other words the extra 70 acres of his park has to float in the air!
Champika who has an extraordinary affinity for things that dangle above and below must be having his own exclusive plans to construct a park suspended in the air though such a park is not in the Port City project plan.
---------------------------
by (2017-07-13 02:39:10)
We are unable to continue LeN without your kind donation.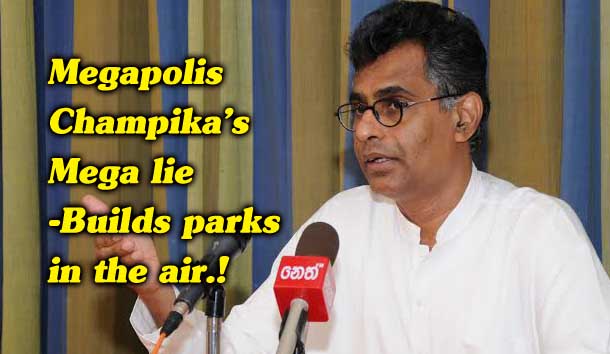 Leave a Reply