Notorious Gammanpila admits his guilt in the fraud he committed on Australian national ! Doesn't remember what he did with the money !!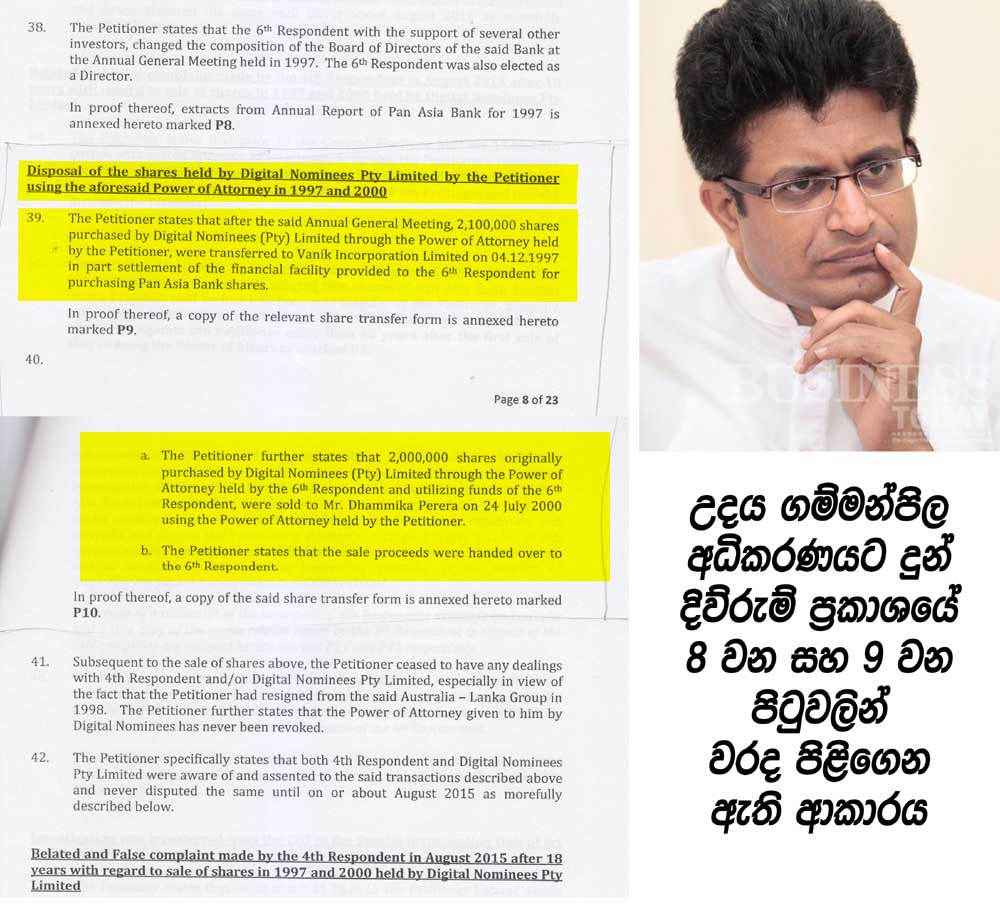 (Lanka-e-News - 16.July.2017, 1.25PM) Like how Udaya Gammanpila's putrid antecedence is well known among the people , so is the fraud he committed to misappropriate a land worth many billions belonging to an Australian national by the name of Bryan Shadrick . In keeping with Gammanpila's inborn crookedness and craftiness , he went on making a big din and telling the media the charges against him were false in order to cover up the fraud. But now based on an affidavit submitted to the Supreme Court (SC) he has admitted his guilt thereby proving beyond doubt once again that Gammanpila is a confirmed accomplished liar .
Not only Gammanpila , even his close crony Sydney Jayasinghe via the affidavits had admitted they did sell the property of Bryan Shadrick , but now they do not remember what they did with the money. This loss of memory is a ruse adopted by born racketeers and fraudsters to circumvent the laws. Nothing can be more ridiculous than the utterance of Gammanpila that he has forgotten what he did with millions of dollars he collected by cheating Bryan Shadrick . It is a lie that can win him an award as the greatest liar on earth. The affidavits of these two crooks can be obtained from courts , if anyone wishes. ( Their averments in the affidavits are herein )
Gammanpila the most notorious blackguard who prefers spotless white attire ( to conceal his evil nature) first said , the police has uncovered information that Bryan Shadrick did not have any shares in the Panasia bank .He should have had shares before he got cheated. Gammanpila's next lie was there is no evidence whatsoever to testify that Bryan Shadrick gave the former a power of attorney ,any day .
Gammanpila who is noted as an individual who has a rare ability to speak using every orifice in his body including the one that stinks , is therefore capable of lying much more than any other ordinary being. Therefore despite Gammanpila profusely lying , and concocting all bogus stories to cover up his colossal fraud , when the truth declared itself proving Bryan had shares , it is being considered by one and all that truth has triumphed , specially because Gammanpila in his confession admitted that he collected the proceeds after selling Bryan's property .
Meanwhile based on reports reaching Lanka e news inside information division , minister of justice Wijedasa Rajapakse widely known as a tie coat, turncoat , cutthroat another faceless unscrupulous corrupt politico is seeking to rescue Gammanpila from being remanded by bending and twisting the laws .
(The statements of Gammanpila and Sydney in the affidavits admitting their guilt are marked in yellow color in the image herein)
---------------------------
by (2017-07-16 07:55:41)
We are unable to continue LeN without your kind donation.
Leave a Reply