Damning expose` :Money laundering crimes of Rajadurage Wijedasa alias Wijedasa Rajapakase alias Dealdasa – with evidence ! -whither SL ?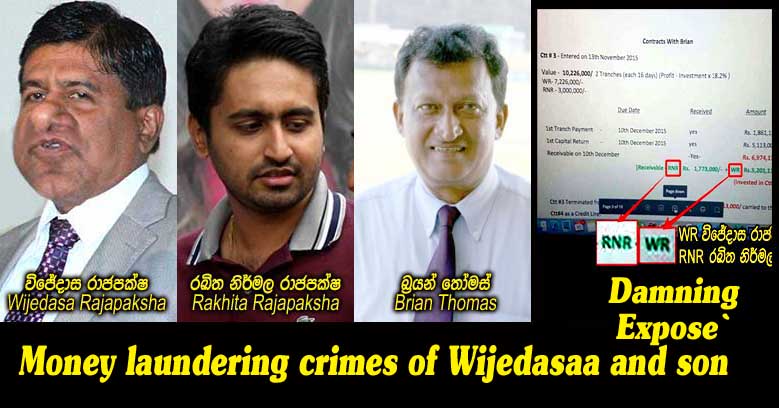 (Lanka-e-News - 12.Aug.2017, 12.30PM) It is by now a well and widely known fact that present minister of justice and Buddha sasana Rajadurage Wijedasa alias Rajapaksage Wijedasa alias Dealdasa, is the traitorous scoundrel who is obstructing the enforcement of the law and taking legal action against the actual rogues who plundered the country's assets and public funds . Not enough the destruction he is wreaking on the country by these sly and slimy treacheries , it has now come to light that over a long period he has been involved in money laundering activities too. That is, he is also a tax fraudster who had not declared his income ( earned through illicit channels) to the government , based on reports supported by cogent and concrete evidence reaching Lanka e news inside information division.
Wijedasa Rajapakse and his eldest son Rakitha Rajapakse had been involved in money laundering activities in association with a German national (a lady) . The intermediary between Rajapakses and the German lady in these deals is a popular cricket English commentator Brian Thomas.
WR and RNR
Wijedasa Rajapakse and his elder son Rakitha Nirmala Rajapakse are associated with Brian Thomas under the code name WR and RNR while Brian was associated with the German lady. After the good governance government came to power on 2015-01-08 , and Wijedasa became a cabinet minister on 2105-10-31 , he had for the first time paid a whopping sum of Rs. 30,720,000.00 (Rupees thirty million seven hundred and twenty thousand ) to Brian Thomas, and thereby got involved in the money laundering business.
Again on 2015-11-13, a sum of Rs. 12,006,000.00 (rupees twelve million six thousand) was released towards Brian Thomas ' money laundering activities. The return for that sum has been paid via a most queer method . That is , the 'sum invested' x 22% x 60 % was the colossal return.
Though we have published the documented evidence pertaining to the above deals via the image below , based on oral evidence , these culprits have collected massive profit and investment monies- hundred fold more through the money laundering channel.
Rs. 2000 million for Rs. 300 million !
To cite one example : On one occasion , Brian was paid Rs. 300 million. After some months Brian has arrived at Wijedasa's house and paid him Rs. 2000 million as the return on that account. It is learnt Wijedasa has not deposited these colossal sums of cash in the banks , and he is keeping them hidden in his house at different places.
Rapacious Wijedasa Rajapakse in order to safeguard this huge amount of illicit earnings bought an 18 feet wide Safe because a smaller safe will not be enough to safe keep his massive cash collections . Lo and behold ! that safe was enormous so much so that it could not be taken into his house. The only solution was to send it back. Last month Wijedasa flew to Germany in connection with his money laundering transactions.
The colossal illicit earnings of Wijedasa after he became the minister and until now have not been declared to the Inland Revenue department by him , meaning that he is a huge tax evader cum fraudster , in addition to his other slimy and sly activities. In short he is a downright dishonorable traitor while parading as an honorable minister.
Of course , doubtless after this report is out , he is going to physically transfer the illicitly earned monies in his house and Rakkitha's to another place .
In addition to the money laundering business , Wijedasa along with his wife Hallawa Ralalage Mala Rajapakse are running a company under the name of 'Lotus Holding.' Though that is legally registered , no revenue taxes have been paid in respect of that Co. Believe it or not the company of Wijedasa a most responsible cabinet minister of a most sublime August assembly (parliament) , and even holding a Buddhist affairs ministry (Buddha Sasana) has not even a VAT registration number ( deceit !) . No wonder he is called Dealdasa who knows to do nothing lawfully or overtly despite being a justice minister who should set an example to others .

A building situated at Nugegoda belonging to this Co. has been given on a monthly rent of Rs. 8 million. No taxes are paid on this revenue too. No taxes are paid even on the sum of Rs. 0ne billion (1000,000,000.00) collected as deposit in this connection. They also receive a monthly revenue of about Rs. 3 million from another building at 275, Nawala where Dialog Co. is located.
No taxes are paid even on the revenue collected from assets acquired by force or illegally on account of his appearing for cases.
Coffee shop of Rakitha the venue of money laundering
Rakitha Nirmala Rajapakse the elder son of money laundering 'just ice' minister is the media secretary of president's defense ministry as well as a director at ICTA. He is now opening a chain of super luxury coffee shops –Café Noir with gay abandon for the sole purpose of laundering the illicit earnings.

How can a puerile youth serving as secretary of a ministry cum director for three months open a chain of super luxury coffee shops , and why ? Obviously for nefarious purposes.
Lanka e news raises no objection when people earn wealth , deploy wealth , or invest. Whether those involved are Neanderthal Leftists or illiterate hypocrites is immaterial. What irks us and we strongly oppose is , the earnings being concealed from the State without revealing how those were acquired , and evading the taxes payable to the state . This is high treason because it is finally the people who are being cheated ,whether it is committed by Wijedasa , Dealdasa or any other Horadasa.
Clue for Bribery and Corruption Commission to take action…
Under the prevailing laws , the Bribery and Corruption Commission can consider exposures made by the media as a complaint and conduct a raid. Hence , the Commission if it is alert and is truly concerned about the country and its suffering people who are the victims ultimately of these rascals can launch a raid immediately on the residences of Wijedasa and his son Rakitha and take into custody the illicit cash collections before it is too late.

Brian Thomas can be arrested and interrogated in this connection. If witnesses are necessary we can provide them who will give evidence against the corruption and illegal activities of Wijedasa and his son.
Certainly , the opportunity is now knocking at the door of the president Maithripala to prove beyond doubt he is against corruption. Nobody is going to object if he uses his sweeping executive powers to instruct the Bribery and Corruption Commission to take appropriate action. It is anyway doubtful whether Sirisena will have the strength to take such a step because his close relatives and Rajapakse duo –father and son are baited by the aforementioned money laundering activities .
Please await a continuation of this article by Anubavananda about the most corrupt and ignominious records breaking minister Buddha sasana and justice of Sri Lanka , Rajadurage Wijedasa alias Rajapaksage Wijedasa alias Wijedasa Rajapakse alias Dealdasa ( the nick name by which he is best known owing to his shameless contemptible activities) hailing from Rajaduragoda village of Okewala district secretarial division
By a Lanka e News staff reporter
(The details of payments made by Dealdasa Wijedasa and his son Rakitha to Brian Thomas and payments received by them displayed by the 'screen shot' herein were extracted from the personal laptop of Rakitha Wijedasa. Incidentally , Rakitha has threatened those who garnered these details that he would murder them if the information is not destroyed !)
---------------------------
by (2017-08-12 07:30:26)
We are unable to continue LeN without your kind donation.
Leave a Reply