GROBR – 'Wijedasa , please go…' Resolution against Dealdasa..! - Culprit pays Rs. 5 million to each monk to issue communiques in his favor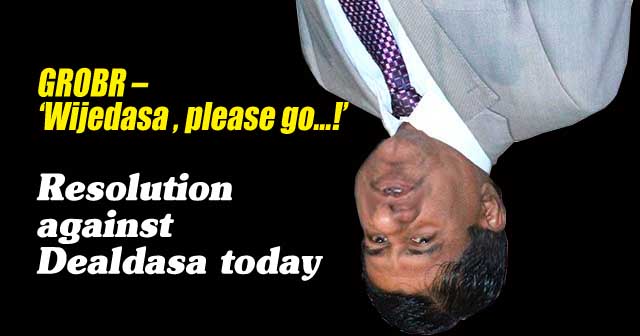 (Lanka-e-News - 17.Aug.2017, 10.35AM) It is not only Lanka e news that are now saying 'For God's sake , please go Wijedasa' . Even the working committee members who want a clean up are to take up this issue at today's (17) UNP Executive committee meeting , and get that resolution passed. Not only the members of the UNP executive committee but even UNP parliamentarian group has said they have no confidence at all on Wijedasa the turncoat, cut throat racketeer.
The text of the resolution is hereunder….
'The resolution that is to be adopted against minister Wijedasa Rajapakse by the UNP Executive committee and UNP group of parliamentary members within the government at their joint meeting ' …..
The minister of justice Wijedasa Rajapakse has failed to discharge his official duties and responsibilities duly…
Failed to bring forth new laws to curb and control bribery and corruption which are in the United National Front manifesto
Failed to bring forth laws to recover the wealth earned by culprits via illicit methods , and return those back to the people.
Based on the inordinate delays experienced in courts when trials of criminal cases are heard , the citizens of Sri Lanka have mounted fierce criticisms against the minister of justice for not taking action to remedy the situation .
Owing to the attitude and conduct of the minister , the government and the UNP party have been rendered most unpopular among the masses.

The UNP working Committee and the UNP group of parliamentarians within the government therefore by this resolution express that they have no confidence in the minister of justice Wijedasa Rajapakse.
Based on reports reaching Lanka e news inside information division , Wijedasa in order to issue communiques in his favor , has paid colossal sums of money to chiefs of the monks . Some monks have been paid bribes as high as Rs. 5 million each ! The vehicle numbers of the two vehicles that were used to make those payments to the monks are as follows :
WP CAT – 3332 BMW 7411 Motor Car and WP PF -6791 Toyota double Cab .
Based on reports , Wijedasa the sly and slimy fox is moving heaven and earth to continue in his post by asking for pardon from the executive committee at today's meeting not with any honest intention in the best interests of the country but rather in order to go ahead again with his selfish hidden agendas and traitorous programs aimed at saving and safeguarding the crooks and the corrupt.
In the circumstances , the anti corrupt members of the UNP executive committee shall be warned and reminded of an old adage , 'a fool does not notice a venomous snake however vicious '
---------------------------
by (2017-08-17 05:14:27)
We are unable to continue LeN without your kind donation.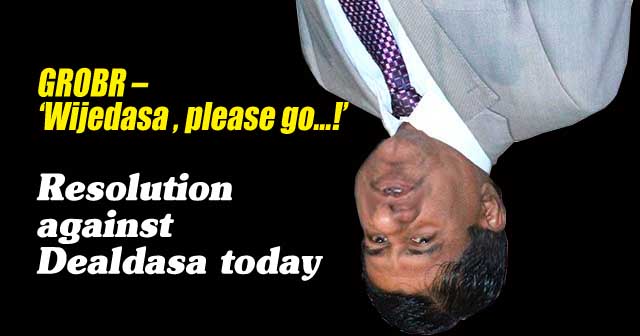 Leave a Reply