Renegade Dealdasa to resign on Monday- Tells Gota his destroyer cum advisor 'I am finished Sir '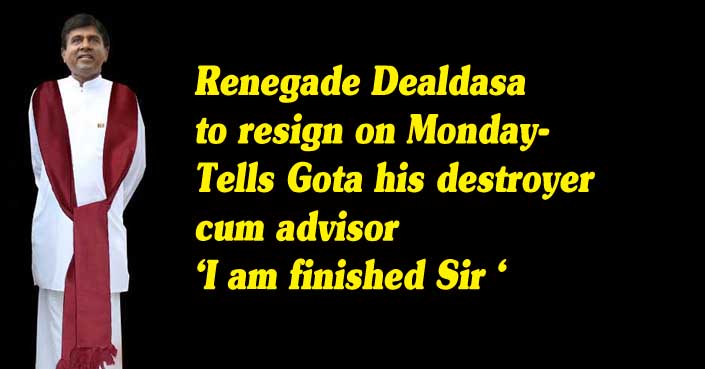 (Lanka-e-News - 19.Aug.2017, 2.00PM) Rajapakse Wijedasa alias Dealdasa ( a nickname given to him owing to his illicit wheeler dealer activities and rackets) has decided to resign his portfolio of minister of justice and Buddha Sasana on Monday after making a special statement in parliament based on reports reaching Lanka e news inside information division.
Wijedasa has intimated this to a business friend and his wife when they visited his home on 17 th night. ( Only the relatives of his wife Hallawa Ralalage Mala visit his house. Because his wife has an aversion to Wijedasa's relatives coming to their home , Wijedasa's relatives visiting his home is taboo).When Gotabaya via a mobile telephone of a businessman inquired about the situation , Wijedasa replied 'I am finished Sir.'
Since Wijedasa was discussing until midnight that day on what should be done next, his sugar level too has shot up. Wijedasa being a diabetic patient takes insulin injections to control the sugar level . When his family doctor Mathew , who is the owner of Blue Cross medical center ,Rajagiriya was informed by phone his sugar level has risen , the doctor told him to increase the insulin dose to combat it.
Wijedasa's wife Mala had advised her husband to resign from the post , and accept whatever ministry portfolio Ranil decides to give him later , so that he can continue enjoying ministerial perks and privileges. Following this sudden development , Mrs. Wijedasa was in deep sorrow because the opportunities for illicit deals and massive earnings while her husband was a minister will now have to terminate. Wijedasa's elder son Rakitha was also in a state of fear and panic that with his father losing the portfolio he too may be dismissed from the defense ministry secretary post as well as from the ICTA director post .Therefore he advised his father not to resign until he is removed from the ministerial post. Rakkitha also advised Wijedasa to leave the UNP and join the SLFP of Maithri faction. Wijedasa who flew into a rage scolded Rakkitha .. ''Yakko, president must call me. Without that , am I to go behind him and ask , shall I come , shall I come.."
In any event next Monday he will resign his portfolio and for some time remain as a backbencher M.P., when he would decide what measures should be taken thereafter . But he will not change his present programs , Wijedasa has told his close friends.

The 'program' he meant was the sly and slimy activities he had been engaging in all along to impede the progress and programs of the government .In fact even at his final meeting on the 16 th at the ministry of justice he criticized the government .He revealed the GSP concessions the government secured is not going to confer any benefits on the country.
Meanwhile Ranjan Ramanayake expressing his views following the adoption of the resolution unanimously at the UNP working committee and parliamentary group meeting against Wijedasa , said at the media briefing yesterday , Wijedasa being given the women's affairs portfolio will not be an issue. Ajit Perera declared if Wijedasa has any sense of shame he should tender his resignation.
On the other contrary the pro good governance masses said in one voice that an individual like Wijedasa alias Dealdasa who is best known for his worst illicit deals and as a renegade should not be allocated any ministry . There is a plethora of talented youngsters in the UNP who deserve those portfolios , they pointed out.
(By an inside information division reporter of Lanka e news)
---------------------------
by (2017-08-19 08:36:48)
We are unable to continue LeN without your kind donation.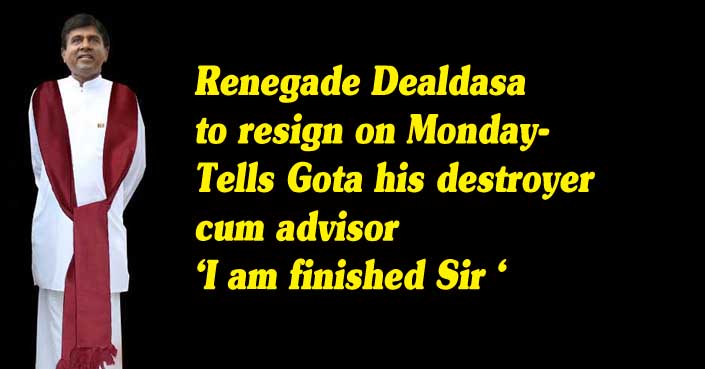 Leave a Reply