Poojitha is more a rowdy and less an IGP ! He has inflicted torture on 70 officers including OIC before too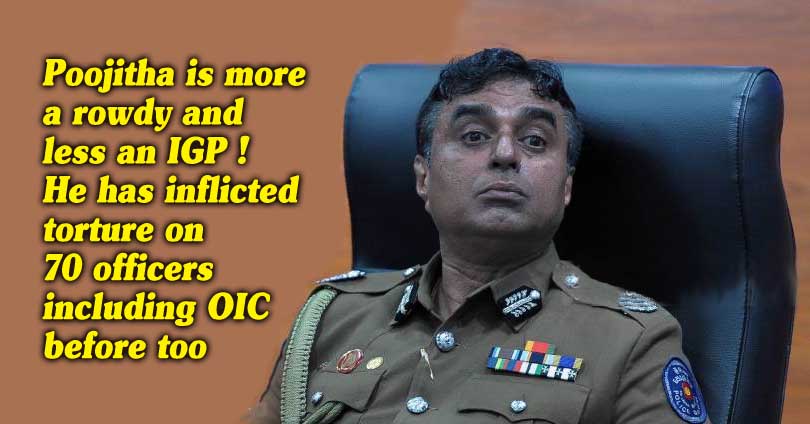 (Lanka-e-News - 19.Aug.2017, 2.00PM) IGP Poojitha Jayasundara even when he was a DIG has been shamelessly behaving like a rowdy assaulting and inflicting torture on the subordinates , based on reports reaching Lanka e news.
In September 2013 Poojitha had made 70 police officers including the OIC of Kathankudy police station to kneel down for more than an hour in public.
By this action , the law enforcing officers were disgraced beyond measure before the pedestrians and people on the roads. Just because a lower rung officer committed a wrong , a superior police officer has no powers to insult or make the subordinates kneel down.
The IGP Ilangakoon at that time dispatched his special investigating unit officers under him , and conducted an investigation into the incident aforementioned . The officers following their investigations submitted a report to Ilangakoon which held Poojitha was indeed a wrongdoer. Ilangakoon made a written request at that time to the Public Service Commission to take action against Poojitha , but because Poojitha was sneaking on everyone to notorious corrupt Mahinda Rajapakse the then president who too had an affinity to inflict cruelty and torture on innocent citizens , Poojitha somehow managed to suppress the incident.
It is evident therefore Poojitha is not only an award winning IGP ( dubbed Imbecile General of Police because of his eccentric and hooligan conduct) for ruthlessly torturing , insulting and assaulting police officers , but one who knows how to escape punishment too by shamelessly resorting to all the sordid and unscrupulous activities.
---------------------------
by (2017-08-19 08:51:57)
We are unable to continue LeN without your kind donation.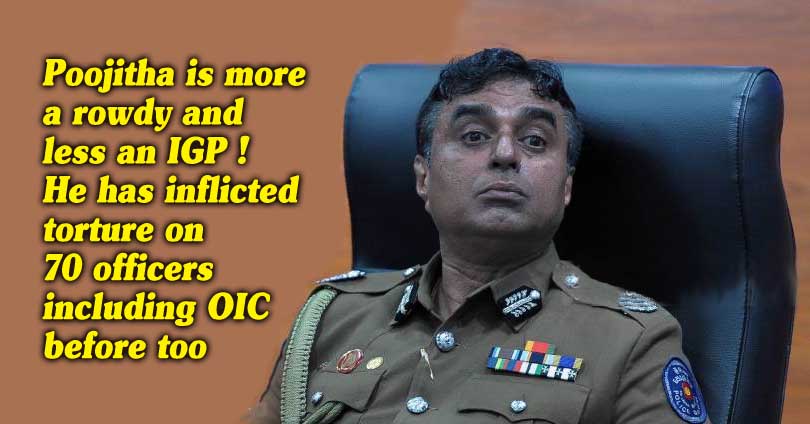 Leave a Reply