Wijedasa ousted from both portfolios ! Already decided by P.M. – official letter to president tomorrow(22) morning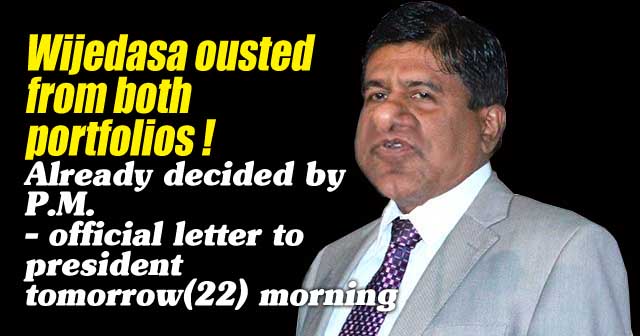 (Lanka-e-News- 21.Aug.2017, 11.30PM) Minister of justice and Buddha sasana Wijedasa Rajapakse alias Dealdasa who despite incurring the deep resentment and opposition of the UNP working committee and UNP parliamentary group owing to his open betrayals of the government , but yet went even further to publicly display that he is an arch enemy of the government of good governance instead of rectifying his egregious wrongs, was just a few minutes ago based on a decision taken by the prime minister, divested of both his ministerial portfolios . It is with great joy we report this long awaited and much longed for news to the pro good governance masses. Indeed the expulsion of this infamous cutthroat turncoat has received the support of the president.
The official letter of the prime minister to the president with the request Wijedasa shall be divested of both ministerial portfolios is to be sent to the president tomorrow morning. Accordingly , before the parliament meets tomorrow(22) by 1.00 p.m Wijedasa would have been removed from the ministerial post.
So far it has not been decided for sure who shall replace Wijedasa , though it is the wish of many that the justice ministry shall be allocated to Dr. Jayampathy Wickremeratne .
Wijedasa owing to his own mischief , villainy ,cut - throat activities, and by biting the hand that fed him finally carved a short cut to his own disaster. His fate is now writ large on the wall.
Ranil Wickremesinghe P.M., at the UNP parliamentary group meeting this afternoon revealed he will be meeting with the president tonight to take a decision in regard to Wijedasa as the time granted to the latter to ask for a pardon or to tender his resignation ends today , and because he has started the mudslinging now even more vigorously against the party leaders .
The UNP parliamentary group meeting convened this evening lasted only 20 minutes , and Wijedasa did not participate in it. When the people's representatives Ajith P. Perera , Ranjan Ramanayake , Harin Fernando and Marikkar inquired from P.M. what is the action that is going to be taken against Wijedasa , the P.M. gave the reply mentioned in the aforementioned paragraph.
---------------------------
by (2017-08-22 03:07:12)
We are unable to continue LeN without your kind donation.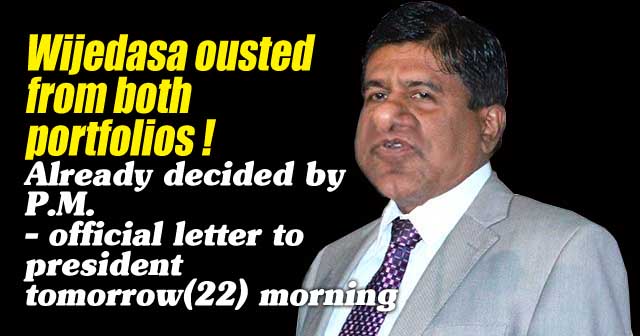 Leave a Reply