Torturer Poojitha marginalizes Shani the efficient honest CID Officer and prefers Mevan his stooge for CID Director post !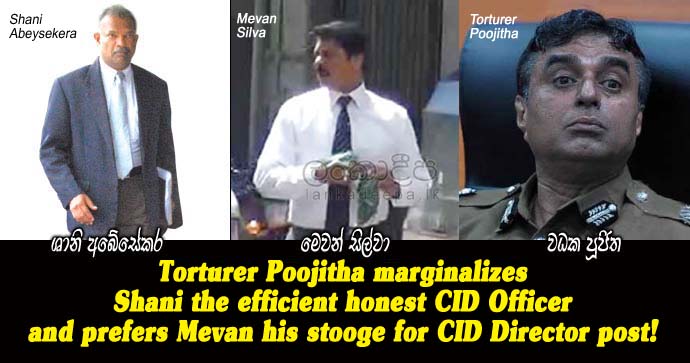 (Lanka-e-News - 27.Aug.2017, 5.15PM) It is an incontrovertible fact that Sri lanka's IGP Poojitha Jayasundara has by now become most notorious for his egregious wrongdoings - openly insulting , humiliating as well as inflicting harassment and torture on the police officers including a woman police officer , and thereby had earned the displeasure and resentment of the entire public . Not enough the disgrace he has brought upon the police force owing to his misconduct ,and having come to know the heinous criminal charges he is facing , instead of honorably resigning is now engaged in another deadly mischief to the detriment of the police force and the entire country . That is , he has made deadly and sly moves to appoint his henchman Mevan Silva as the director of the CID in order to extricate himself from the criminal charges already tainting him, based on reports reaching Lanka e news inside information division.
Following the promotion of SSP Nagahamulla , Director CID to the post of DIG on the 19 th , the vacancy of post of Director , CID arose.
It is the consensus of all without exception that the most suitable candidate for this post of Director CID which has now fallen vacant is , Shani Abeysekera a senior police officer who has served in the CID for a long time. He is not only most efficient but also well known for his integrity and commitment to his duties. Besides, being not an outsider and is already in the CID , and the post of director CID is filled by somebody within the CID , Shani is most eligible for that post .

This was borne testimony to when Mevan asked for a transfer to Airport services earlier on. This was obviously because he knew that is the place where bribes are plentiful and offered on a platter . But because his venal habits and favorite despicable hobbies were too well known he was not appointed. Mevan Silva created a commotion in the CID for not appointing hm. Hence appointing such a Mevan Silva as director CID is tantamount to plunging the CID into unprecedented doom and gloom.
The special investigation unit (SIU) which is a section of the Police internal information searching division which is answerable only to the IGP was entrusted by Poojitha to Mevan Silva . This was because Mevan himself is suffering from megalomania like Poojitha , and like him is venally inclined.
Now, the IGP's desire is to make his closest stooge Mevan Silva the director of CID for obvious reasons. It is learnt towards this end ,Poojitha is being ably supported by a minister who is currently incriminated in a most notorious crime , but parades as a paragon of virtue among society .
Incidentally , the IGP had forwarded only the name of Mevan Siva to the Constitutional Council on 24 th. As a rule a single name is not forwarded to the Constitutional council for its approval . In any event the Constitutional Council put off its decision until a later date .
---------------------------
by (2017-08-27 11:51:40)
We are unable to continue LeN without your kind donation.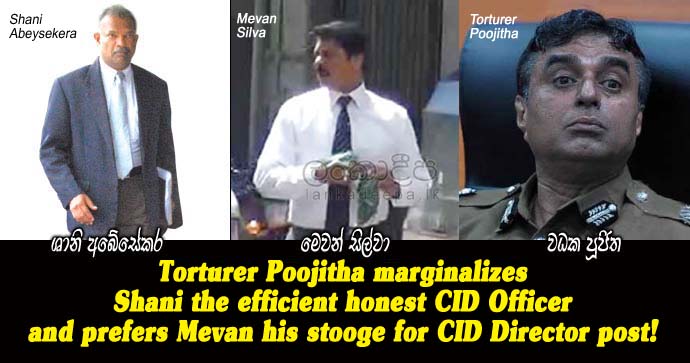 Leave a Reply