'Police day' made into a Police day trauma like Namal's car races by torture prone Poojitha! Public harassed !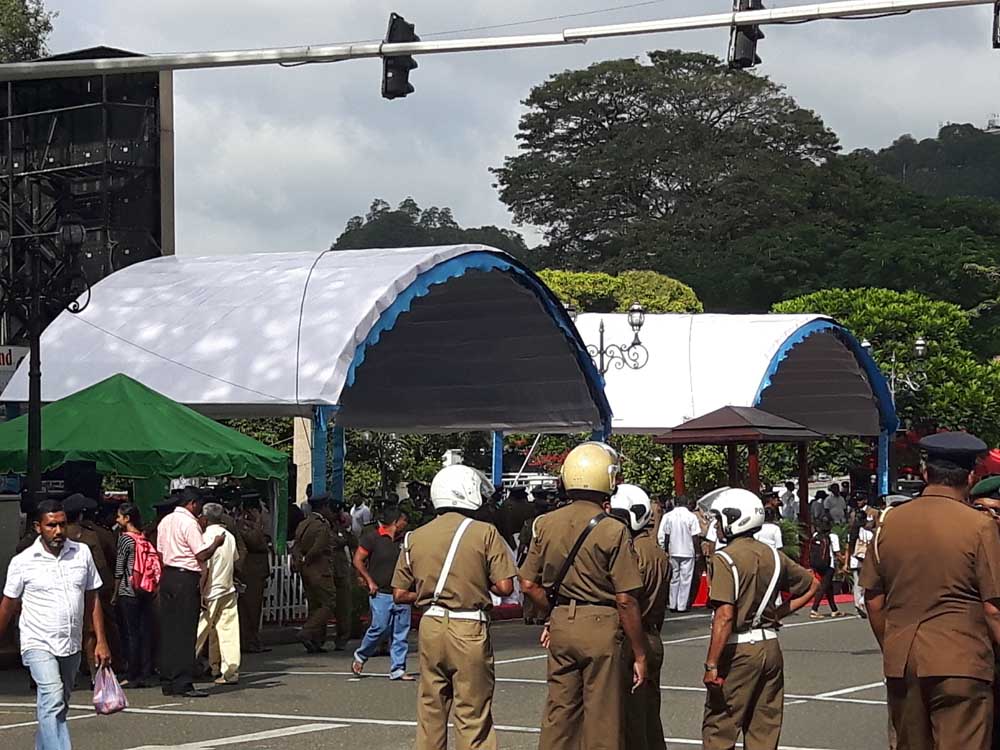 (Lanka-e-News - 27.Aug.2017, 5.20PM) In the same way as during the period of the nefarious decade when night races were held causing monumental inconvenience to the public , yesterday (26) at the center of the sacred Kandy town the 'Police day' celebration which transformed into a Police day koloma (Police day trauma) is being held creating unnecessary traffic snarls ,road blocks, and causing severe hardships to the public and pedestrians.

IGP Poojitha Jayasundara alias 'Poojitha the torturer' who is by now confirmed before the public as a criminal , though so far he has not been hauled up in courts , because of his incurable extreme megalomaniac dementia chose Kandy city which is his village area to hold the Police day celebrations this year . It is noteworthy all these years the Police day was celebrated in Colombo at the Police Park ground. However , as everything is topsy turvy with the present eccentric and megalomaniac IGP so the latter had celebrated the Police day as though to deliberately harass the public and hamper their daily activities in Kandy.
Poojtha who has a morbid affinity to inflict torture on his own subordinates ,using the police day to harass and hinder the public is not a matter for surprise .No matter what ,because it is the public who have been targeted to torment and traumatize by this IGP police koloma , the people of Kandy are furiously and rightly questioning , why did the minister in charge of the Police and the police commission allow this eccentric IGP to perform this traumatizing 'drama' to the detriment of the public while knowing very well his unhinged nature ? When everyone knows him as Imbecile General of Police (not Inspector General of Police) , how come the minister and the Commission did not take extraordinary precaution ? Is the minister of law and order himself suffering from a mental disorder ? the suffering public have questioned with concern.
On the 25th the public were greatly inconvenienced beyond measure with the closure of main roads when grandiose preparations were being made for the Police day celebrations . The photographs depict how the police clowns made the Kandy town a mad circus arena , and closed main roads on yesterday (26).
The people of Kandy openly expressed their bitter resentment against this police insanity under the IGP alias imbecile general of police . They said this harassment of the public is only second to the sufferings and inconvenience they faced during the cruel and corrupt Rajapakse era when Namal closed the Kandy town for him to hold car races.
---------------------------
by (2017-08-27 12:10:37)
We are unable to continue LeN without your kind donation.
Leave a Reply