Namal takes his gang of lawyers to Vietnam to provide wine, women and merriment – an obvious conspiracy !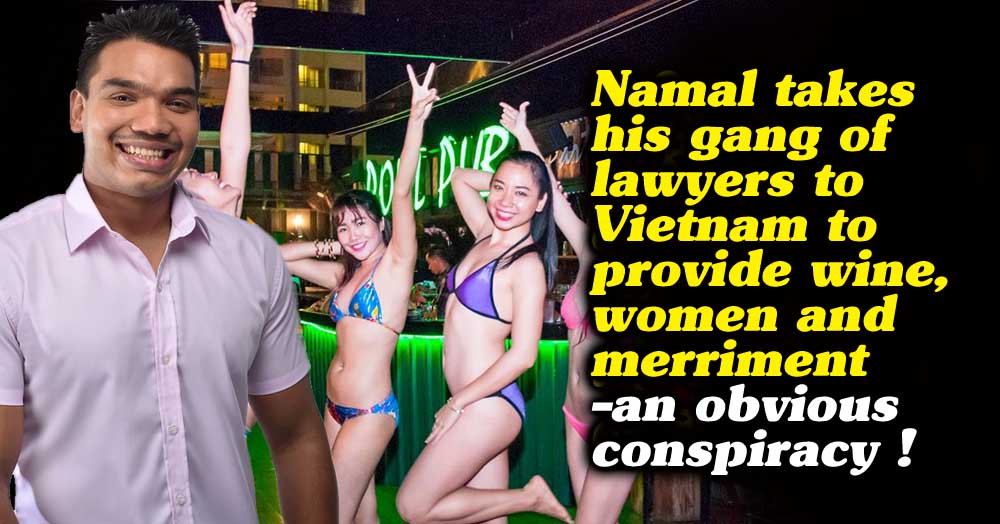 (Lanka-e-News - 29.Aug.2017, 8.10 PM) Medamulana Namal Rajapakse the infamous synthetic lawyer who shocked the country to its foundation when he became famous as a richest billionaire despite the fact his declared income is only his monthly salary as an M.P., is now after enlisting a group of high court lawyers of his own despicable and disgraceful caliber , engaged in another dangerous racket . That is, through this group of villains bogus complaints are being filed against the high court judges of integrity and rectitude hearing the cases of the synthetic lawyer who is now having a revolving door in prison to facilitate his frequent going in and coming out of prison on account of his many criminal involvements. This group of frustrated lawyers has been provided with 'Vietnam massage' too as a reciprocal gesture , based on reports reaching Lanka e news inside information division.
Their initial conspiracy is to send out Colombo high court judge Gihan Kulatunge best noted for his integrity and not kowtowing to pressures from any quarter .This is because many of the cases of the corrupt and crooked Rajapakses are heard in the Colombo high court , and unlike 'Money-lol' the high court venal judge , Gihan is clean and cannot be bought over. Since Dealdasa alias Wijedasa the expelled justice minister who corrupted and contaminated the judiciary wholesale is no more , Namal and Rajapakse den of crooks are desperate and in mortal fear because there aren't double faced double dealing Dealdasas now to rescue them.
Previously , Namal did not have such a group in the high court for his dastardly and illicit activities. Namal therefore formed a bogus football team of lawyers in SL and took them to Vietnam purportedly for a football tournament at Rajapakses' expense.

Namal who is forbidden by courts to leave the country because of his many criminal involvements however managed to get permission to go abroad citing this tournament as an excuse. This tour was undertaken some months ago , and the other Rajapakse sibling who too is facing charges crept into Vietnam. The lawyer group that went to Vietnam with them were indulged beyond anything they had ever been accustomed to .Wine , women and food were made freely available . All kinds of liquor and all varieties of whores were in plentiful supply though there is no confirmation that the Rajapakse siblings acted as direct pimps too.
Among the high court lawyers in the group taken to Vietnam by Namal were Nihal Perera ,Pitigala and Penni Fernando . Though Pitigala was with the UNP for a while , after having enjoyed thoroughly in the company of Namal, Yoshitha , pimps and prostitutes on the tour he says they are the best to keep company with. ' Yako they are real jolly boys, machang.'
Two more had now walked into Namal's gang . They are Nimal Weerakody and Heellage. Werakody is well known as a member of the JVP who helped to commit murders during the 1988-89 period.
Lawyer Heellage was notorious for transacting deals with 'Money-lol' the crooked judge and collected bribes for and on behalf of 'Money-lol'. In other words Heellage was more a broker than a lawyer. 'Money-lol' was so cruelly and craftily venal that though his illicit transactions are concluded in Colombo the kickbacks are collected through a lawyer broker in Kurunegala.
Of course the Rajapakse siblings , namely Namal and Yoshitha did not forget to introduce the group comprising Nihal Perera , Pitigala, Penni Fernando and Nimal Weerakody to Mahinda Rajapakse the chieftain of the crooks (Alibaba) . After all ,like birds of a feather flock together the buddies of the same feather are precariously rocking together.
Currently , there is a group of lawyers who appear in the high courts whose primary aim is to ensure that Gihan Kulatunge is precluded from hearing the cases of Rajapakses ,and be replaced by Money-lols . Basil's lawyer U. R. De Silva and present president of the Bar Association who claims Basil is not a rogue , is also with the gang , based on reports
---------------------------
by (2017-08-29 14:57:06)
We are unable to continue LeN without your kind donation.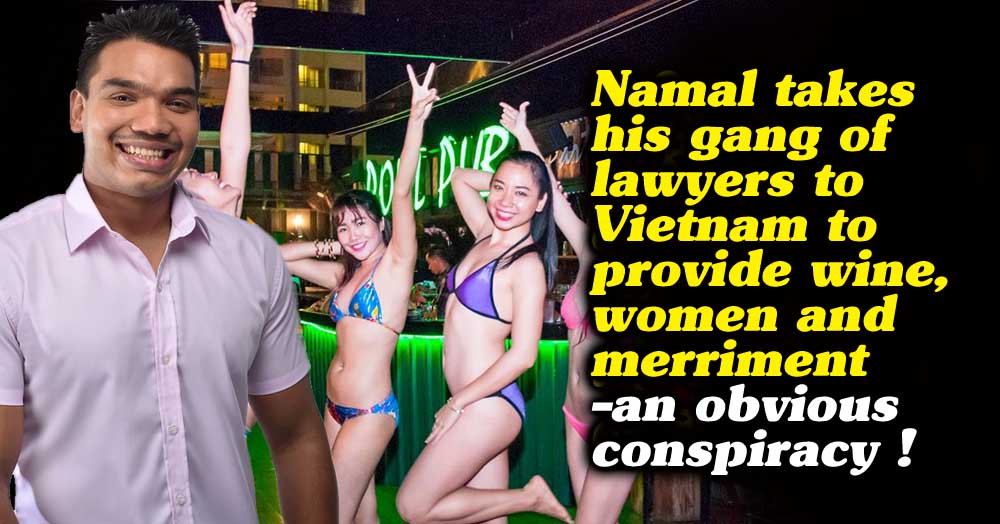 Leave a Reply