MR resigns from SLFP accepting defeat finally ! - His UPFA M.P. post too in the balance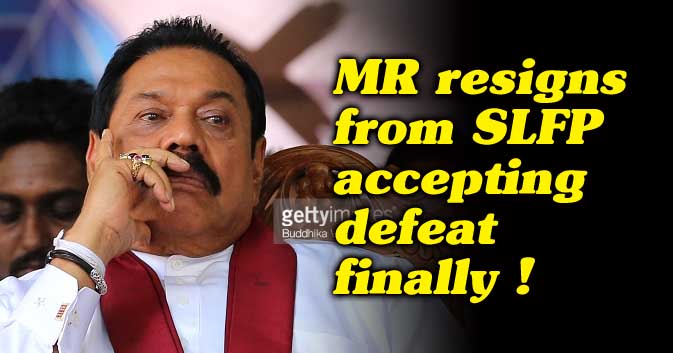 (Lanka-e-News - 06.Sep.2017, 11.05AM) Machiavellian mendacious Mahinda Rajapakse who fled to Medamulana beating all Olympic sprinting records after he was defeated at the presidential elections on 2015-01-08 , but went on blabbering , buffing and bragging he was still the president of the SLFP , finally accepted defeat on the 3 rd.
Mahinda Rajapakse for the first time revealed at a meeting in Deniyaya on the 3 rd , in the future he will be contesting elections under the 'Common People's Front' (All the rogues , murderers , racketeers and hooligans have found their places in this Front)
It is significant to note it is on this same day (3rd ) the 66 th convention of the SLFP under the leadership of president Maithripala Sirisena was also held most enthusiastically .
By Mahinda Rajapakse not attending the SLFP convention on the 3 rd and making the announcement on the same day that he will be contesting under the Common People's front, he made it abundantly clear that he has now abandoned all his aims and ambitions to grab the powers of the SLFP party and has accepted defeat.
Meanwhile , Mahinda Rajapakse has filed a case in court that he is the legitimate president of the SLFP , and its decision is to be delivered on the 29 th.
Mahinda was elected to parliament as a member of the SLFP under the betel leaf symbol of UPFA. Now he has openly revealed he is resigning from the SLFP and going to contest under Flower Bud . This means that he can be ousted from the SLFP and UPFA , and the M.P. post can be granted to another.

Following the resignation of Mahinda Rajapakse from the SLFP who was a biggest thorn in the side of the party , the doors are now open for the SLFP to reform itself and restore its image as a party which is free from murderers and fraudsters .
It is well to recall not even popular and endearing leaders like Vijaya Kumaratunge , and skilled politicians like Lalith and Gamini who created a third force could not capture power . It is therefore a vital question how Machiavellian, mendacious and most notorious Mahinda Rajapakse the ace confirmed Blue Brigand rogue who was thrown out lock ,stock and barrel by the people is going to capture power ? May be in the next life and that too in the dream world.
---------------------------
by (2017-09-06 05:42:32)
We are unable to continue LeN without your kind donation.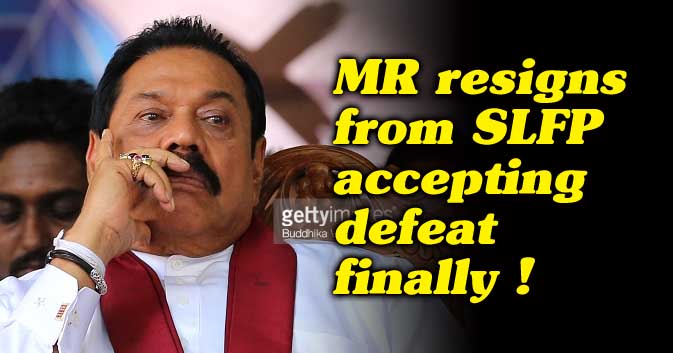 Leave a Reply