Weerawansa who is led by a spittoon of a mouth in deep despair . Rs. One billion compensation claimed !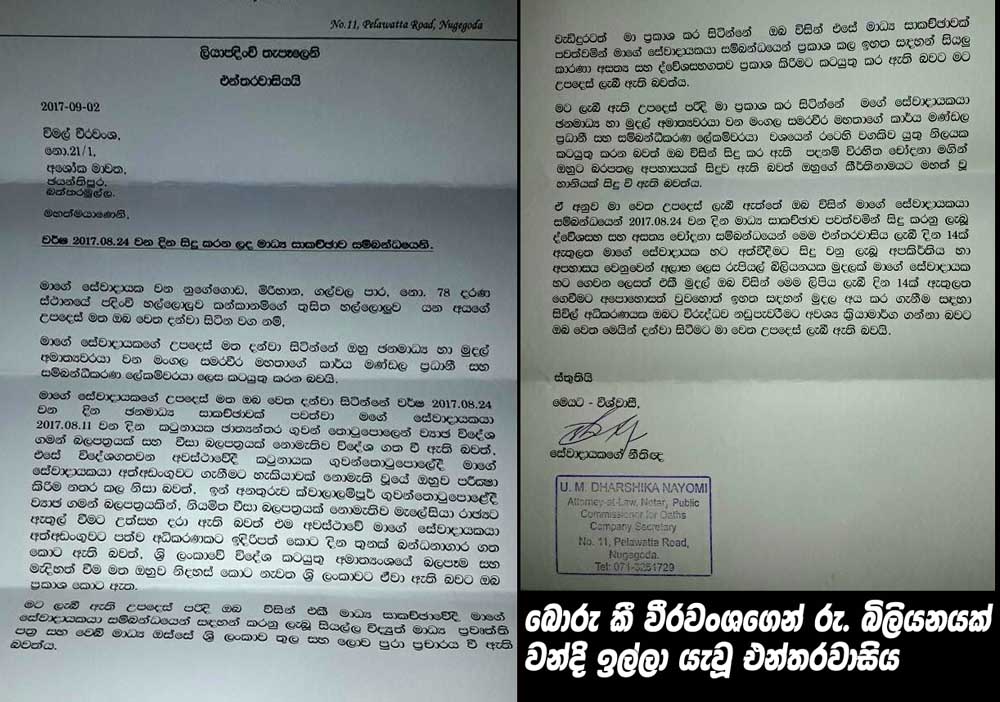 (Lanka-e-News - 06.Sep.2017, 11.15AM) Like a woodpecker that got trapped when trying to peck a plantain tree , Wimal Weerawansa M.P. too whose spittoon of a mouth is more deadly than the beak of the woodpecker finally met his Waterloo.
Thusitha Haloluwa the co ordinating secretary and chief of staff of ministry of finance and mass media of minister Mangala Samaraweera has sent a letter of demand claiming a sum of Rs. One billion through his lawyer Ms. U.M. Dharshika Nayomi from Weerawansa alias Modawansa over the defamatory false statements made by him against Haloluwa (Copy of the letter of demand is herein). The letter of demand states that if he does not respond within 14 days , a court case will be filed to collect that sum.
Based on reports reaching Lanka e news , Weerawansa alias Modawansa who leaps before he thinks and never thinks before he talks had got panicky and jittery . When he inquired from lawyer friends of his , the latter had told, the evidence presented by Haloluwa substantiates latter's claim , and also proves Weerawansa has uttered lies.
The lawyers have inquired from Weerawansa alias Modawansa why he made such malicious and false statements which cannot be proved. They have also told him , at least he could have kept his mouth shut after speaking in parliament without convening a media briefing also to make a display of his spittoon of a mouth.
The lawyers have advised Weerawansa , if those defamatory utterances were made within parliament , no case could have been filed , but since he has defamed Haloluwa even outside of parliament , it is best Weerawansa comes to an amicable settlement with Haloluwa via discussion and pays some amount to Haloluwa . Otherwise Weerawansa is surely going to lose the case, the lawyers have warned.
Weerawansa who does not know how to guard those between his lips and legs is headed for serious trouble .It is likely he would lose both - not only what is between his lips !
The letter of demand sent by Halolowa's lawyer is hereunder.
---------------------------
by (2017-09-06 05:45:11)
We are unable to continue LeN without your kind donation.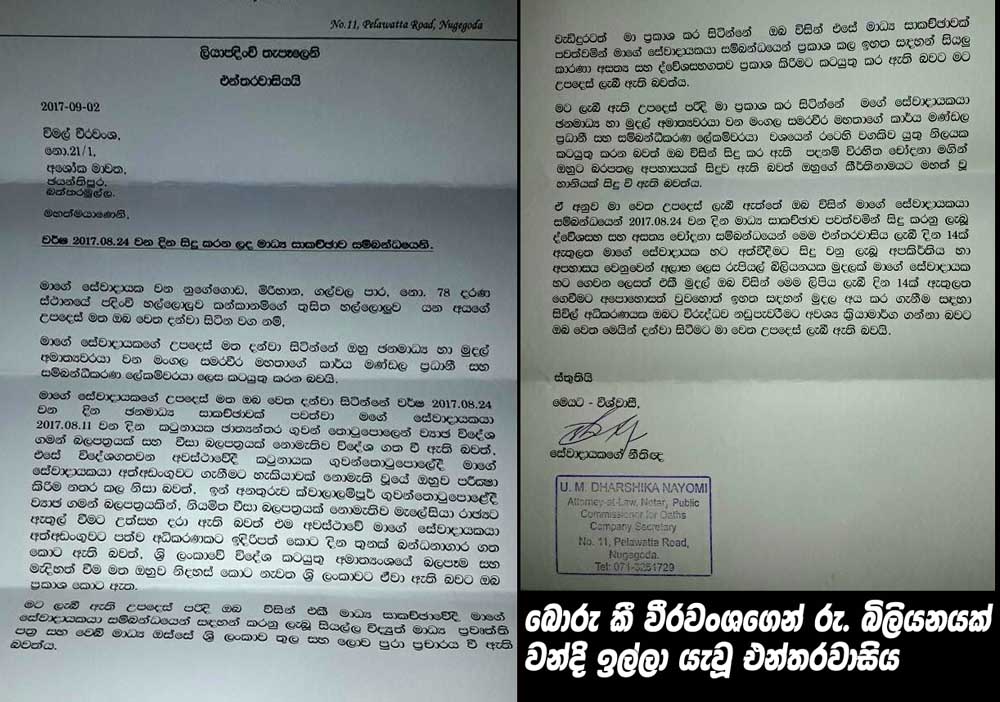 Leave a Reply