Expose` -Criminals Duminda Silva , Major Tissa, Vaas and Sarana still enjoying 'Royal' comforts in prison – Rule of law is impotent !!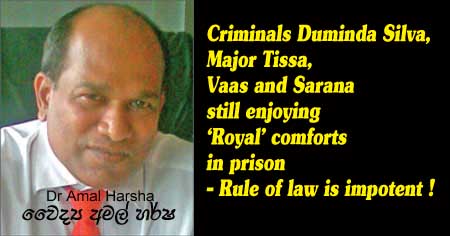 (Lanka-e-News - 06.Oct.2017, 4.15PM) Duminda Silva convict in the Baratha Lakshman murder who is now in the death row has been permitted to be in the prison hospital despite the recommendations made following investigations of a group of doctors of the prison hospital and of the health ministry against it . Owing to this the doctors are bound to continue providing all the 'royal' luxurious comforts to notorious murderer Duminda Silva and keep him in the prison hospital .
Two high officials of the health ministry are the culprits who have been continuously exerting illegal pressures not to place Duminda Silva, suspect in Thajudeen murder Major Tissa , and Sarana Gunawardena, in the prison cells for reasons unknown .
On the recommendations of the committee comprising five members (doctors of prison hospital and health ministry ) , Duminda Silva's luxurious comforts in prison hospital was halted on the 29 th of September and transferred to the prison cell.
On that same night however he had complained of a headache and got himself admitted to the prison hospital.
On the 28 th of September , Vaas Gunawardena who was in the prison hospital for 3 1/2 years was transferred to the prison cell , yet on the same night before one could say Jack, he was back again at the prison hospital.
It was following a direct instruction from Dr. Amala Harsha of the health ministry , Vaas Gunawardena had been so transferred to the prison hospital. Again on 3rd October when (Tuesday) Vaas was transferred to the prison cell, he has gone berserk -screamed and threatened
That he would be going out within a year , and he will look after the balance .
The other suspect who is enjoying 'Royal' comforts in prison is Major Tissa , the driver of Shiranthi Rajapakse who is the suspect in Thajudeen murder. He is being supplied with food from a house of an elite in Colombo. A ministerial security division police officer in a defender vehicle is supplying him with meals daily.
The other police officer Kelum who committed the murder of Shyam the Businessman along with Vaas Gunawardena and was incarcerated with Vaas too is enjoying 'Royal' comforts in the prison hospital for the last 3 1/2 years . A Naval officer too is enjoying similar comforts in prison hospital for a long time.
Sarana Gunawardena who is on remand is also in prison hospital on the excuse he is having an eye disease on phony documents .After he was admitted to the Colombo eye hospital he had made the fake report . Yet he is forever claiming ,as he is suffering from Diabetes to admit him to Jayawardena hospital . He is receiving cooked food daily from luxury hotels in Colombo . Though remand prisoners can get food from their homes , convicts like Duminda Silva cannot. Yet Duminda gets luxury food for his three meals per day from home.
Following opposition mounted by parliamentarians , Lanka e News and other media , as well as various groups for over four long weeks , the former prison hospital chief medical officer Nirmali Thenuwara was transferred. The newly appointed doctors on the other hand are providing comfortable beds to those who have no ailments at all too .
The number of 'patients' who are supposedly receiving treatment in the prison hospital and its mental hospital for over two years are 19. A majority of them are the crooked politicians , wealthy heroin dealers and criminal security division officers.
In the circumstances , doing lip service to good governance is of no avail. Talking about the rule of law while creating a lawless climate is of no use . The words must be matched by deeds. Flashy verbiage is worse than smelly garbage !
By a special correspondent
---------------------------
by (2017-10-06 10:52:07)
We are unable to continue LeN without your kind donation.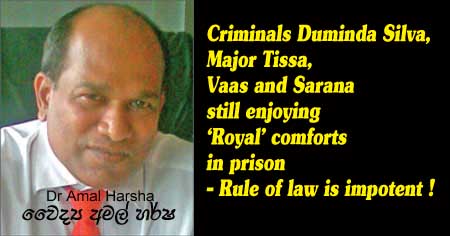 Leave a Reply