Demented paranoid Rupavahini DG wreaks havoc ! interdicts information officer 'TMG 'on flimsy foolish grounds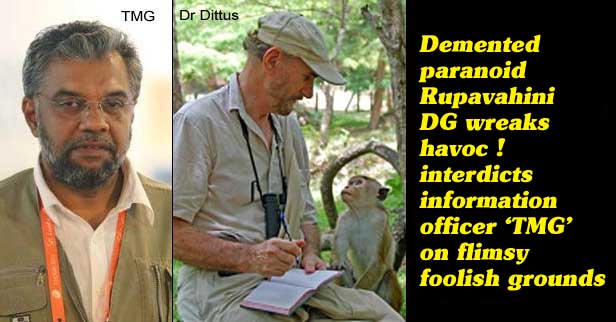 (Lanka-e-News - 08.Oct.2017, 4.00PM) The Rupavahini Corporation Director General Thusira Melawethanthri best known for his eccentricities appointed by the good governance government has interdicted the information officer T. M.G . Chandrasekera a senior journalist with effect from 4 th.
What is most bizarre about this interdiction order is the very 'accusation' itself that the information officer passed information to an outsider .
However the true reason behind this vindictive action is a report published by Lanka e news captioned 'an invitation to oust mentally deranged Director General ' pertaining to a letter sent to the president , Prime Minister and the media minister by a group of media personnel of the National Television who worked with commitment to install the good governance government in power . Just as the report revealed about the lunacy of this Director general , so the latter has acted. He has begun taking revenge on all those whom he suspected as have prepared the letter against him . In his demented state the DG had accused that TMG passed a video tape in the archives of the library to an outsider without authorization.
The factual story behind this is revealed hereunder ..
There is a group in SL which is engaged in research on monkeys over a long period . When the Walt Disney Co. produced a most popular international film 'Monkey Kingdom' on monkeys of SL , this group rendered invaluable assistance to them .

The chief of this production unit is a world famous Zoology (Behavior and Ecology) scientist , Dr.Wolfgang Dittus , a Canadian national. He was for a long time living in SL jungles, and had supplied a number of his video documentaries worth many millions of rupees free of charge to National Rupavahini. One of those relates to a sorrowful tale about an antelope caught in a trap . Recently the BBC was readying to produce a documentary film on Dittus, and for that a part of the documentary aforementioned about the antelope caught in a trap was necessary. Unfortunately Dittus did not have that documentary video with him.
Dittus therefore forwarded an application to National Rupavahini television requesting a copy of that video footage which Dittus supplied free . Though the Rupavahini chairman authorized the release of that video to Dittus in compliance with his request, because there was an inordinate delay to release this copy , T.M.G. Chandrasekera had taken steps to expedite this .

Sadly , the demented Director General Melawethanthri who was lying in wait for an opportunity take revenge has made use of this Chandrasekera's effort to pay off his grudge against Chandrasekera , and interdicted him on the 4 th .
Though famous Dittus could be recognized even by the monkeys of SL , infamous Melewethanthri the ungrateful two legged monkey of the Rupavahini could not identify Dittus. That is how the so called 'grateful' good governance discards showed their gratitude to Dittus who provided free documentary videos to Rupavahini.
It will be in the best interests of the so called good governance if they refresh their memories on what TMG did too for them in the past vis a vis the gross ingratitude shown to him now……
It was TMG who led the opposition against Mervyn the vermin Silva during the nefarious decade when the latter stormed into Rupavahini station and created mayhem . TMG was at that time a news director. Mervyn even assaulted TMG because the former's speech made at Matara was not given publicity.
It was because the malicious speech of Mervyn at Matara against Mangala Samaraweera's father was most vilifying and too crude , TMG did not publicize that since it was so obscene and offensive to public taste. TMG had to suffer and became a victim of Mervyn's assault owing to that. The present media minister Mangala Samaraweera was in the opposition then.
By taking advantage of an unfair situation and creating an issue against TMG , the latter has been interdicted – a wonderful way of reciprocating TMG by the good governance government for all his services and sacrifices on behalf of good governance !
Perhaps the minister in charge is unaware of this recent incident . However ,it is imperative when making high rung appointments , the minister ensures that he appoints most eligible, knowledgeable and clean individuals instead of selecting garbage bin dwellers and discarded lawyers.
In any case , in this instance minister Mangala Samaraweera had rejected this discard initially and when Mangala took over as media minister all of them resigned to give way for the minister to make new appointments.
In fact the minister appointed another as a Director General in Melewathanthri's place , but after Melewethanthri meeting the president and whispering to him that they shall be reappointed , the minister was obliged to re appoint the same discards to Rupavahini Corporation.

These discards have muddled up the administration so much so that no chiefs have been appointed to the financial division , programs vision and commercial division yet despite the fact these divisions are the nerve centers of an Institution . Unbelievably , Rupavahini is the only Institution that is running such 'headless divisions' without chiefs . Certainly this is something that deserves a place in the Guinness book of records.
It must be revealed with regret , Samaraweera since assuming duties as media minister has not so far visited the Rupavahini station and spent even an hour.
Following LeN's report on the 22 nd of September exposing this Director General the demented paranoic and his domineering demonic administration , on the 29 th of September , the Executive officers association of the Rupavahini Corporation had sent another letter confirming in writing the mentally deranged state of the Director General to the Rupavahini chairman and directors of the board , demanding that a decision be taken against him . They have also threatened that if no solution is found they would be forced to resort to external remedial measures .
The full text of the letter of the Executive officers association addressed to the Board of directors is hereunder. It can be read by clicking on the image.
---------------------------
by (2017-10-08 10:47:17)
We are unable to continue LeN without your kind donation.
Leave a Reply