Three member Commission muddle hearing bond issue thrusts its tail between its legs again !
By Wimal Dheerasekera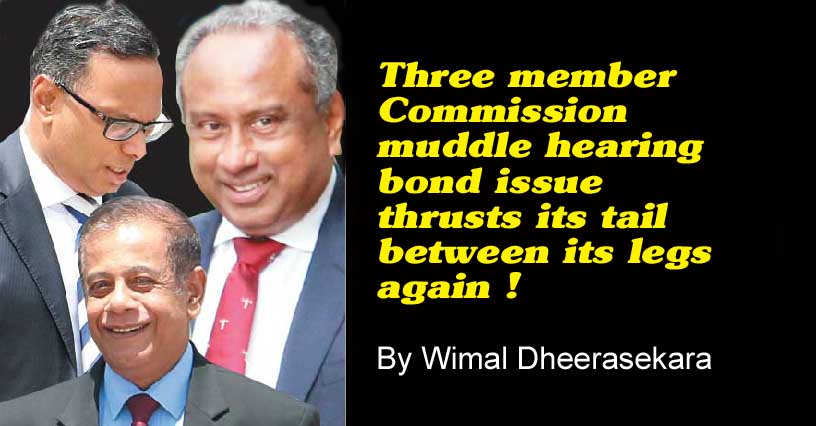 (Lanka-e-News - 10.Oct.2017, 11.00PM) The Presidential Treasury bonds Commission which is day by day deteriorating into nothing more than an irresponsible political mudslinging den once again thrust its tail between the legs in shame.
This happened when the evidence of the chairmen of three banks were being heard on the 5 th. The three chairpersons were : Hemasiri Fernando , Roland Fernando and Ashwin De Silva of Peoples bank , Bank of Ceylon and National Savings Bank respectively .When they were questioned about biddings , all three of them said , ex minister Ravi Karunanayake had instructed them to make low bids , and they acted accordingly.
The first question that should be posed by any intelligent individual sans political affiliations in these circumstances should have been : When minister Kabir Hashim is in overall charge of all the banks , why did they adhere to the instructions of Finance minister Ravi Karunanayake and for what reason ? If the responsible chairmen of banks are to follow the orders of a minister who has nothing to do with them , it is a pertinent question , are they going to abide by instructions issued by minister of women's affairs Chandrani Bandara to make low bids ? Indeed that must have been the question which ought to have been asked immediately by the Commission from the bank chairmen.
Surprisingly , neither 'Dopey Livera 'nor the presidents of the Commission have asked that question from the bank chiefs. Because of this lapse , and the Commission accepting their revelation , the following day the media splashed " because Ravi ordered to make low bids – a huge profit was lost" as headline news.

How could Ravi K. give orders to Institutions that do not come within his purview ? Sadly , nobody asked this vital question. Neither did they ask , alright if by low biddings the state banks incurred losses , isn't that loss of profit , if any going to turn into a profit to the Central bank when it issues treasury bonds during the next round ?

Some have questioned us why Lanka e news does not report about the Bonds Commission ? Some have even scolded us. Our answer to them is , we do not want to waste our limited reporting space on a comical Commission headed for a tragic end. We have already in our previous articles clearly explained and amplified on this. One reason for our view is , no case can be filed on this ad hoc Commission report.

If this report is to be considered to file a case under the Criminal procedure code , the CID must conduct an investigation , and charges against each accused should be individually filed in court , the judges would point out. Judges expressed such a view in respect of a report of a special Presidential Commission. Accordingly , after the conclusion of this inquiry , the CID has to be sought if a case is to be filed. The main reason for this is , though the Commission is that of the president , what it conducts is an inquiry and not an investigation.
It is to be noted an investigation is imperative to file a criminal case. It is the police that have the resources and methodology for that. This Commission without teeth and only with a tongue , and which cannot take even any action when a witness says " I cannot come and give evidence ", has deteriorated into a political mudslinging den . In the circumstances , after being fully aware of all this ,Lanka e news does not want to waste its time on making reports about this damp squib , which serves no use or purpose.
In fact the Parliamentary COPE committee conducted a more exhaustive and extensive inquiry into the Treasury bonds issue than the three member Commission of the president . The speaker too forwarded its report to the Attorney General (AG) to file action. It is learnt the AG has also instructed the CID and the Bribery Commission to take action .
Therefore it is very clear Maithripala Sirisena appointed another Commission despite it based on his sole and whole objective to malign and sling mud at selected individuals of the UNP that put him on the pedestal of power , through the media channels of Maharaja and other channels for which he has an affinity .
It is our conviction that the presidential Commission is a waste of time and public funds while not serving the purpose it should, going by the following questions that were posed …
It was questioned whether R.K. refers to Ravi Karunanayake or Roo Kantha?
On another occasion it was questioned whether A.M. refers to Arjun Mahendran or Angelo Matthews ?
Except a three member Commission muddle who else will ask such stupid questions ?
Besides , the Government Auditor General appearing before the Commission is another comical scene : His statement that it should be probed whether there is a sure methodology in SL to ascertain the losses which can result to the government owing to the issue of bonds
If there is no methodology , what should be done is , invite experts and explore what is the sure methodology in accordance with their recommendations instead of indulging in mudslinging . Isn't that the best solution ? Won't that be the best way to avert such risks and situations in the future too? Presently isn't it clear such a positive approach is not being taken?
This raises another question . When the Central banks world wide resort only to the system of issuing bonds to secure funds , then why is this 'circus' being staged harping on this bond issue that concerns only 60 % shares, which was carried out through private registered broker companies without following a direct issue of bonds, and when it is also known those brokers make a profit ?
I don't think there is a more befitting description than 'raving madness on the loose ' for this circus of clowns.
By Wimal Dheerasekera
Translated By Jeff
Connected report
Is president honest ? Witch hunt against Ravi is to retain executive presidency ?
---------------------------
by (2017-10-10 18:12:49)
We are unable to continue LeN without your kind donation.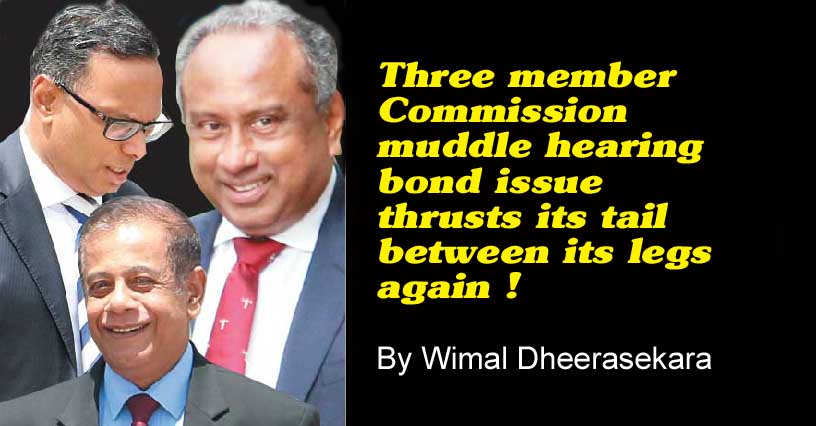 Leave a Reply