'Gammanpila' breaks world records in fraud and corruption! Purchases properties worth over Rs.780 million! Wife too in Australia (Video)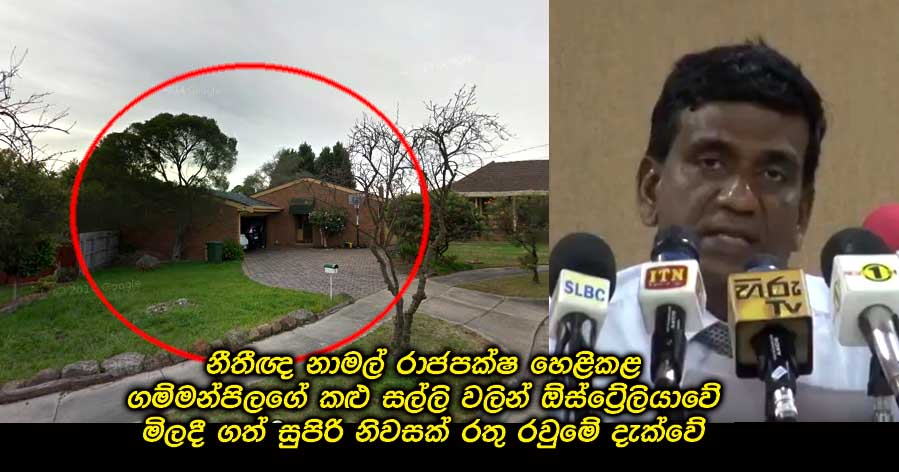 (Lanka-e-News - 13.Oct.2017, 8.00PM) Pivithuru Hela Urumaya leader Udaya Gammanpila is breaking world records in cheating and swindling! He has purchased a large number of properties to the tune of SL Rs. 781,538,385.97 ! (based on present market value of properties ) out of his illicit earnings. These properties have been purchased in the name of a company 'Saman and Abaya Pvt. Co.' registered (registration No. 13/2 /14 ABN 168039147) in Australia . He has committed this colossal racket (one out of the many of his) jointly with two doctor friends Saman Aluthbaduge and Abeykoon Gunaratne residing at No. 3,Austral Court Wheelers Hill Vic. 3150 .
This was revealed by lawyer Namal Rajapakse (not the crooked synthetic lawyer of the Ali Baba thieves den) on 29 th September to the Police special investigation unit (SIU) , along with evidence.
In response to this shocking revelation , Gammanpila the notorious fraudster cum liar from whose mouth a lie never fails to drop each time he opens his cavernous mouth said , that was a false complaint , and he will file action claiming compensation from lawyer Rajapakse. Gammanpila addressing a media briefing also said, he would file a case claiming compensation against the private television channel which telecast that complaint .
Namal Rajapakse following the comments , convened a media briefing on the 12 th at the Library and documentation services board auditorium. Rajapakse at the media briefing disclosed , Gammanpila had invested a huge sum of money in the property purchases in Australia through the two doctors , and justifiable suspicions have arisen as to how these monies were earned in such a short time. Rajapakse also revealed he has documents regarding these properties which were purchased , and all information in writing of the registrations done at the Australian land registration office are in his custody . These details were furnished when the complaint was lodged by him , ,Rajapakse added.
Besides, Dinesha the wife of Gammanpila who is wanted by courts is now in Australia and residing in the house of one of the doctors .Gammanpila has stationed her and by now Gammanplia's wife and two children are citizens of Australia , Rajapakse further revealed.
World record breaking fraudster Gammanpila after these stark revelations is panic stricken , and there is no truth in the denials made by Gammanpila, Rajapkse noted. Earlier on Gammanpila disclosed he would be filing cases against Rajapakse for exposing the frauds and corruption of Gammanpila , but the latter has done nothing , Rajapakse pinpointed.
There are two cases being heard already in courts against Gammanpila on charges of misappropriation of many millions of rupees and properties belonging to an Australian national .Gammanpila had sold the properties of the Australian national by preparing fake documents . All these bear further testimony to the massive frauds and corruption committed by record breaking fraudster Gammanpila , Rajapakse observed.
The assets which belonged to Brian Shaddick , Australian National …
Metal Recycling Colombo Ltd. establishment
Ceylon Tea Gardens establishment
Triple S establishment , and several others
All these enterprises have been sold fraudulently by Gammanpila , and monies collected illicitly , Rajapakse highlighted.
In addition , Gammanpila together with his crony Sydney Jayasinghe a businessman got the approval fraudulently on 2014-03 -08 from Pavithra Wanniarachi when she was the power and energy minister, for the two solar power projects namely, Anrorchi Buruthakande and Irish Buruthakande which were considered as failed projects by the Technology evaluation committee . Subsequently, with that fraudulent approval obtained those were sold to Livera Holdings , England for US dollars 7 million on 2014-09-24 , and the sale proceeds were collected illegally , based on information that has come to light, Rajapakse revealed.
Rajapakse elaborating further said , via his complaint he has insisted that an exhaustive formal investigation be conducted into the colossal frauds of Gammanpila because the public are harboring justifiable suspicions as to how Gammanpila amassed so much wealth and bought properties aforementioned. In the complaint he had also urged to take appropriate legal action following investigations to get these colossal amounts of monies smuggled out as well as those earned by fraudulent means abroad back into our country.
Meanwhile there are reports that during the period of the equally corrupt and criminal government of Medamulana mendacious Machiavellian Rajapakses , Gammanpila citing various reasons has been making frequent tours to Australia which is borne testimony to by his passport endorsements. Besides, if the bank accounts and the past records of the two doctors are scrutinized it can be determined from which sources these funds have come in , Rajapakse went on to point out .
In the photograph is the house whose address Namal Rajapakse disclosed.
Namal's video footage is hereunder
---------------------------
by (2017-10-13 14:33:25)
We are unable to continue LeN without your kind donation.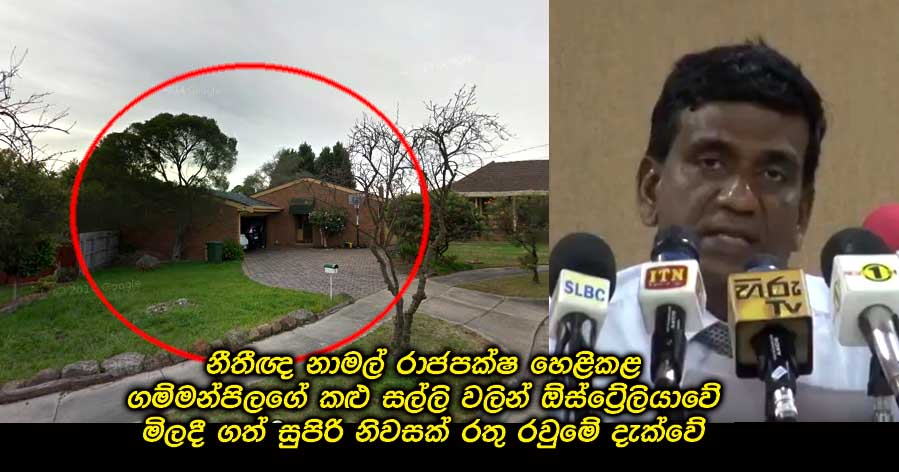 Leave a Reply