Appointing Chandrika as Attanagala organizer is not a reciprocation but a calculated insult !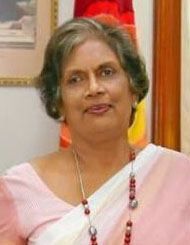 (Lanka-e-News - 16.Oct.2017, 9.20PM) President Maithripala Sirisena who appointed Ananda Sarath Kumara a most barbaric brute and criminal still serving a suspended jail sentence who made a teacher to kneel down before him as the SLFP organizer for Anamaduwa after dismissing Priyankara Jayaratne from that post , had also ousted SLFP's alliance MPs Kumara Welgama and Mahindananda Aluthgamage from their electoral organizer posts.
Kumara Welgama was the SLFP organizer for Matugama and Mahindananda Aluthgamage was the organizer for Nawalapitiya electorate. Kumara Welgama has been replaced by Priyangani Abeyweera and Aluthgamage has been replaced by H .A. Ranasinghe who polled the least votes among the candidates selected for the provincial council.

Nimal Chandraratne P.C . member who was the Bandaragama electoral organizer has been removed and in his place Malith Jayatileke , the SLFP national list M.P. has been appointed.
While these new appointments are being made , a most bizarre insolent appointment has also been granted – appointment of ex president and SLFP advisor Chandrika Kumaratunge as organizer for Attanagalla electorate. Though it is true Attanagalla is Chandrika's native place and an ancestral electorate , an organizer is appointed as a rule with a view to make him /her contest the electorate at parliamentary elections.
It is not known whether Maithripala's SLFP is intending to field Chandrika as a parliamentary election candidate , but it is a well known fact that Chandrika had always told repeatedly she will not enter active politics, and that Maithri had not even given an opportunity to her to meet him.
It was Chandrika who propelled Maithripala and bought him in as the common presidential candidate , and it is Maithripala who vowed and solemnly promised to her that he would be non partisan after he wins. Chandrika only requested him as the leader to transform the SLFP into a civilized party. Besides she did not ask for any posts.
Sadly , Maithripala after becoming the president did not fulfill any of his pledges. Today ,granting a post of electoral organizer to her the leader who turned around the party to victory which was on a losing streak for 17 years is therefore not a reciprocation rather an insult.
On the other hand , the present SLFP leaders who are wishing deposed president Mahinda Rajapakse a happy retired life , appointing Chandrika as an electoral organizer is something topsy turvy , and nothing but a tomfoolery .
---------------------------
by (2017-10-16 16:24:40)
We are unable to continue LeN without your kind donation.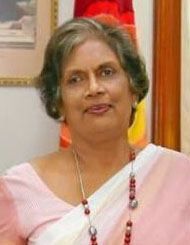 Leave a Reply