Robed rascal Arambewala Rathnassara who is even deceiving the police arrested with two phony identity cards !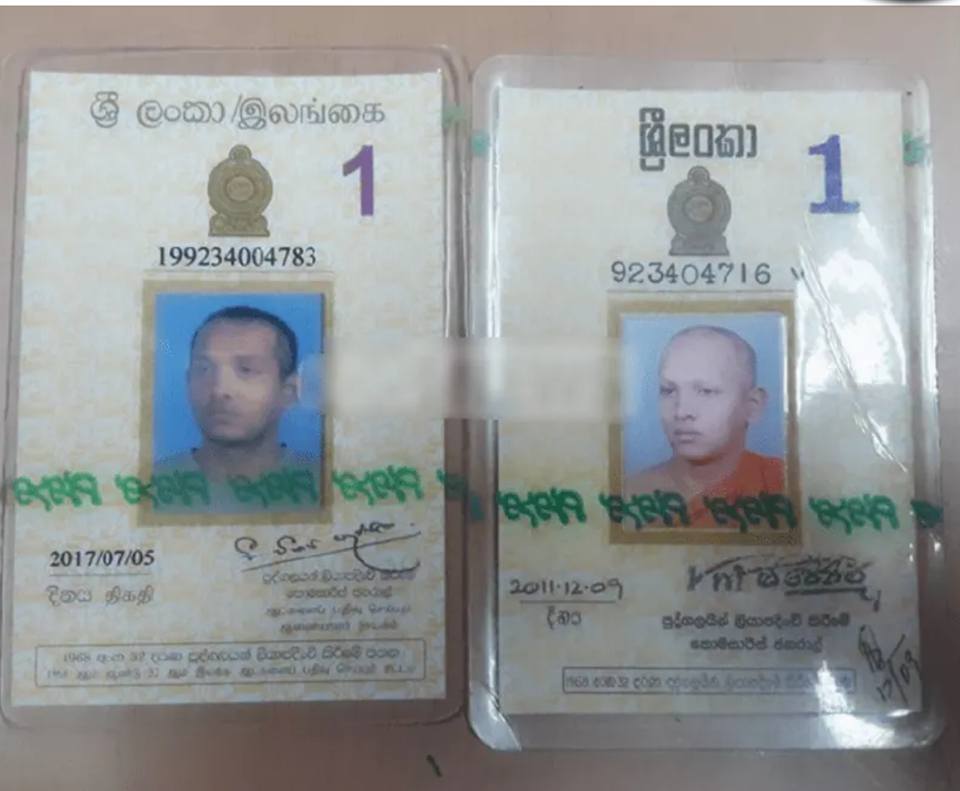 (Lanka-e-News - 23.Oct.2017, 10.45PM) Arambewala Rathanasara the robed rowdy monk and shameless fraud who attacked innocent Myanmar refugees at Mt. Lavinia , and thereby disgraced the country before the world was arrested by the special police team of the police headquarters 20th along with two forged identity cards under the name of Arambepola Mudiyansalage Chamara and Dharmasiri Tennekoon .
This robed criminal monk who was in hiding while pulling the wool over the eyes of the police was arrested at Nittambuwa this morning when he was in a bus coming from Kandy.
At the time of arrest this shameless scoundrel who disgraced even the sacred saffron robe he was wearing had two phony identity cards which he has been using to dupe the police , country , Buddhism and commit sacrilege most insolently on the very sacred robe he was draped in.
This incident which is one in a series of crimes committed by these robed criminal monks bore testimony to the accusations consistently leveled by Lanka e News that these are rascals and rowdies wrapped in robes , who treat the sacred robe as less worthy than even a wrapping paper . At least a wrapping paper covers something valuable whereas the robe in the case of these rogues covers nothing worthy at all. It is still worse because they are using the sacred robe to commit the worst frauds and heinous crimes with impunity . Arambewala the robed rogue proved this to the entire world today. Many of these cursed humbugs and pretenders wear trousers and shirts when committing the heinous crimes , and then drape themselves in the saffron robe to cover and camouflage their hypocrisy and sacrileges.
Many such scoundrels have made provisions to grow hair without shaving their heads and moustaches so that they can escape from the arms of the law via their masquerades. No wonder they are a disgrace to themselves as well as Buddhism the religion they profess to follow . Therefore we urge the true devotees to chase these rascals who are gourmandizing – eating freely and fattening on free food, instead of self mortification (what Lord Buddha preached) , since these are the monks in robes who are insulting their own religion without following the strict Buddhist clergy's code of discipline. We make this earnest request because this action will be a great service to true Buddhism, and without which action the sacred Buddhist tenets cannot be safeguarded.
It is the consensus if only the Buddhist clergy can be purged of these robed rascals , frauds and rowdies, Buddhism as preached by Lord Buddha will survive in Sri Lanka .
The two counterfeit identity cards of robed rascal Arambepola Rathnassara are hereunder…
---------------------------
by (2017-10-23 17:45:32)
We are unable to continue LeN without your kind donation.
Leave a Reply