Weerawansa who wanted to bomb parliament in deep trouble: Speaker to issue notification !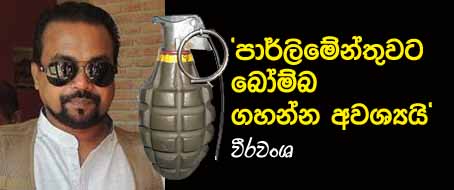 (Lanka-e-News - 26.Oct.2016, 11.30PM) The bomber Ajith Kumara the terrorist who hurled a grenade within parliament on 1987-08-18 is a brother in law of Wimal Weerawansa , and is the elder brother of Wimal' s wife Sashi Weerawansa.
As a result of that brutal bomb attack two individuals died including an M.P .and 16 others were injured among whom were ministers too. Now , the media division of speaker of parliament has issued a communiqué pertaining to the outrageous and most portentous statement ' if the constitution is adopted , parliament shall be bombed' recently made by Wimal Weerawansa who is closely connected to the previous bomber Ajith Kumara.
The full text of the communique is hereunder…
Wimal Weerawansa M.P. recently made a statement that a bomb shall be hurled at the parliament . As this statement is not only a grave threat to the conduct of affairs of a democratic parliament but also to the people's representatives ,their lives and security, the parliamentary members of the government and opposition , as well as various other groups ,have persistently drawn the special attention of the Hon. Speaker to this grave threat .
All these groups in unison have requested the Hon. Speaker not to treat this threat which was directed against the parliament that plays a model role in Democracy lightly under any circumstances.
The Hon speaker hereby informs ,no sooner the parliament meets again than its attention will be drawn to this dire situation , and appropriate action will be taken.
Media unit of Hon. Speaker.
---------------------------
by (2017-10-26 18:37:09)
We are unable to continue LeN without your kind donation.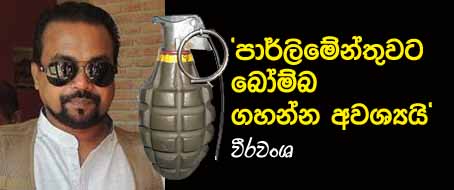 Leave a Reply