Gota's "Vipath maga" (Disaster route) is "Terrorist route": Those supporting new constitution shall be murdered (Video)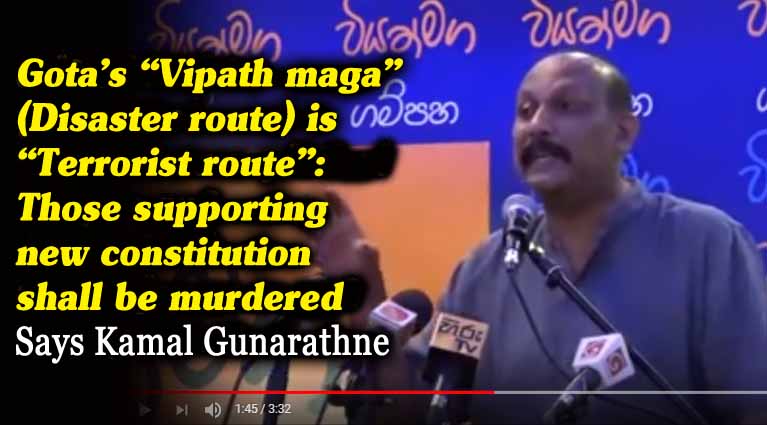 (Lanka-e-News - 26.Oct.2016, 11.30PM) The organization under the name of 'Vipath Maga'(Disaster Path) of Gotabaya Rajapakse is indeed the route to national disaster because it is clearly welcoming terrorism when it is claiming ' the new constitution will divide the country , and since only traitors will extend support to that, those traitors shall be exterminated .'
This claim was publicly made by Major General Kamal Gunaratne a chief of the organization at a meeting held by Vipath Maga at Gampaha on the 21 st .
Gunaratne went on to insist like during the terrorist period in 1988-89 ,'murder for traitors' orders were issued by the terrorists, these traitors too should also be murdered. During the period 1988-89 , in the way the remains were carried with their knees up and bodies down to the cemetery after so murdering , these traitors should also be disgraced , he added.

In the first part of his speech , Gunaratne made a confession that the forces then told lies to the people. The spokesman for the forces told falsehoods about how many members of the forces died , and it was only the funeral parlors which knew the true number , he added. Gunaratne while admitting the falsehoods remarked ' how many lies we told you. '
While Gunaratne was making these revelations , ex defense secretary Gotabaya Rajapakse was right in front. It is significant to note it is this same psychotic Gunaratne who is making such an insane and obnoxious announcement , was the one while working at the SL embassy in Brazil killed an employee by attacking him with an iron rod. Though a complaint was received in that regard under the present good governance government , and even Lanka e news exposed the crime with evidence , on president's intervention however the criminal episode was suppressed , and investigation was halted again.
Herein is the video footage of extracts of Kamal Gunaratne's speech
---------------------------
by (2017-10-26 18:45:20)
We are unable to continue LeN without your kind donation.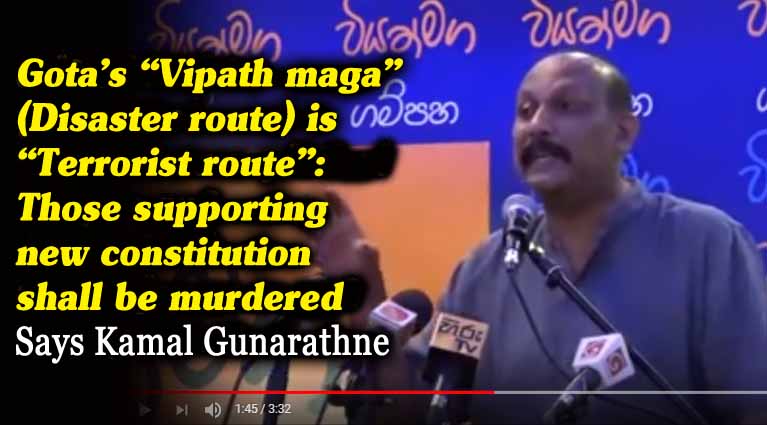 Leave a Reply