Court conspiracy against Ranjan : summons not served – a most bizarre incident in court ! (video)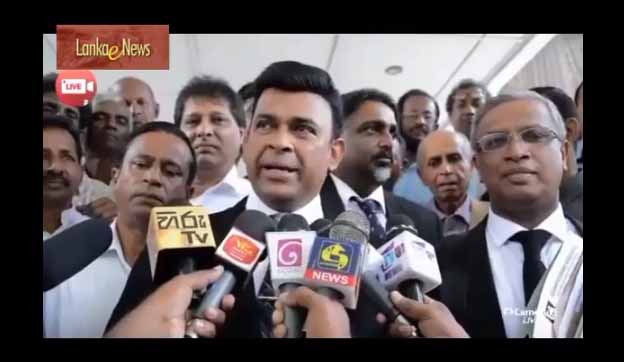 (Lanka-e-News - 28.Oct.2017, 11.30PM) It was apparent that a conspiracy had been hatched in order to paint the picture that deputy minister Ranjan Ramanayake was evading court when the case filed against him on charges of contempt of court was heard on the 25 th. Though summons was issued to Ramanayake to appear on the 23 rd , until 25 th night even when this article was being written , that notice was not received by him.
Ramanayake after coming to know of the court date from newspapers had gone in search of the notice to the postal department. He had visited the Colombo post office which delivers his letters sent by the Supreme court (SC), the Nugegoda post office, and inquired from the Post Master General without avail. The summons was nowhere.
In any event Ramanayake and his lawyer ,Sumenthiran M.P. a well known figure in the legal circles , appeared in court on the 25 th , the date of hearing. In order to prove he Ranjan will not evade court he was notified to be present in court today (26 ). On that occasion the judge stated he issued the notice on the 23 rd.
From the foregoing it is deducible there had been a conspiracy within court to preclude Ranjan from attending court , and It is therefore the responsibility of SC -the apex court to investigate how this most important summons got lost, and who is behind that?
After the court hearing ,Ramanayake speaking to Lanka e news revealed a most bizarre incident within court involving the complainant .That was when monk 'Sudantha' of the party that made the complaint accosted Ramanayake , and after holding his hand said , he had no necessity to file a case against Ramanayake , and that he respects him.
The monk Sudantha making such a statement in public must also tell in public at whose behest therefore he filed the case.
The case was postponed until 21 st of November.
The video footage covering the views expressed by Ramanayake and his lawyer Sumenthiran M.P. is hereunder
---------------------------
by (2017-10-28 20:53:24)
We are unable to continue LeN without your kind donation.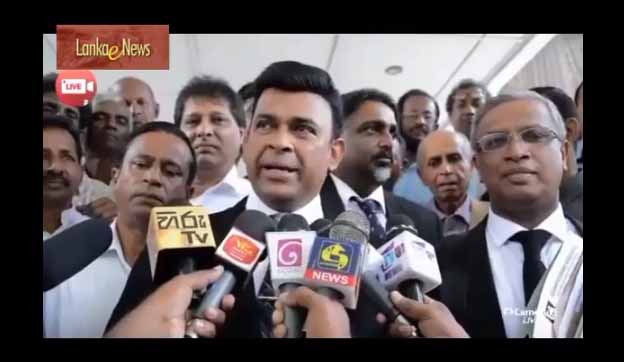 Leave a Reply