Airtel leaves when President's coordinating Secretary 'Project thileke' racketeers on 'Mathu Parapura'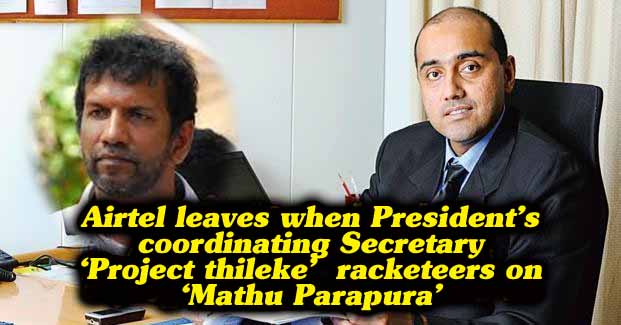 (Lanka-e-News - 28.Oct.2017, 11.30PM) Most notorious co ordinating secretary to the president Shiral Lakthileke alias 'Project -thiileke" alias 'Racket -thileke' who has an indelible putrid antecedence as a misfit and moron wherever he worked , has treated Gopal Vitel , the CEO of Airtel Co. a reputed super grade local and international communication Co. most disdainfully and insolently before president Maithripala Sirisena according to reports reaching Lanka e news.
Lakthileke who was seeking to combine Airtel Co. and the I.D.M. Co. with a view to introduce the proposed project 'Mathu parapura' (Future generation) ,which was to be launched through the presidential secretariat has subjected Gopal Vitel the CEO of Airtel to this uncalled for and unwarranted nasty embarrassment .
The introduction of the proposed 'Mathu parapura' project was planned to coincide with 'Gramashakthi' program which was held recently at the Sugathadasa Indoor stadium, and the main sponsor of that program was Airtel Co.

For this event the Airtel Co. chief who was abroad was specially got down stating that a special token gift is to be presented to him. It is to be noted the Airtel Co had agreed to release many millions of rupees for this project , and had already spent a large sum of money on advertisements and propaganda activities.

However eccentric Lakthileke who co ordinated this project being well noted for his inefficiency , ineptitude and who is incapable of doing anything without ulterior motives has invited another foreigner in the front row to the stage , and exchanged the token gifts with president Maithripala, to the utter dismay and disappointment of Airtel chief and other directors of that Co. Consequently , the Airtel chief was enraged, ashamed and gravely embarrassed . At the same time the officers who coordinated with Shiral in this project too were thoroughly disappointed and driven into a most embarrassing situation before their chief.
The Airtel chief who felt cheated and insulted had remarked ' how can a project be carried out with individuals who cannot even plan it properly ?' , while immediately instructing his Directors to halt the project at once.
In other words, yet another project which Shiral Lakthileke a byword for racketeering and bungling tried to handle had gone awry even before it was launched ! It is learnt Un-Luckthileke alias 'Project -thileke' is hoping against hope for better luck next time to accomplish his ulterior motives.
---------------------------
by (2017-10-28 21:02:34)
We are unable to continue LeN without your kind donation.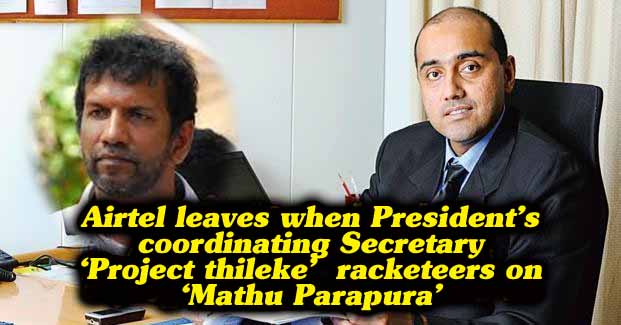 Leave a Reply