Finance minister's 'artificial intelligence' leaks on M.P.'s head - had to use the umbrella !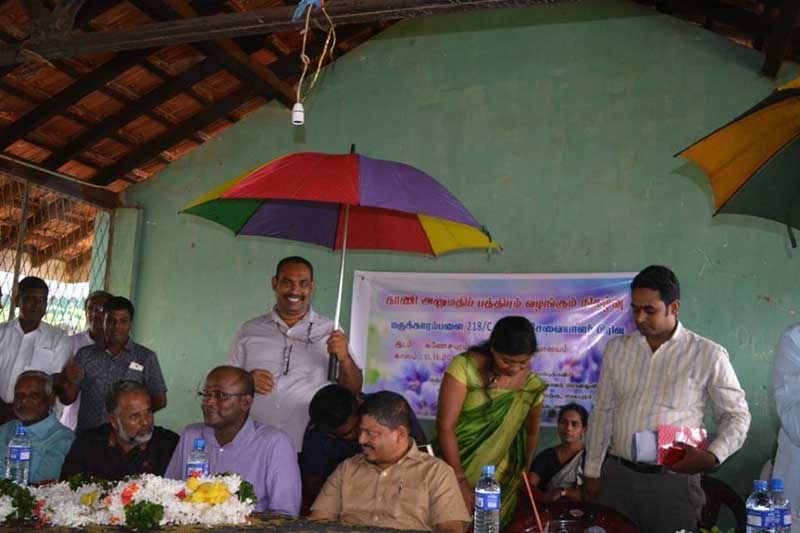 (Lanka-e-News - 13.Nov.2017, 11.30AM) The minister of finance in the last budget spoke very highly about the introduction of 'artificial intelligence' and Robot technology to Sri Lanka .Yet when a function was held recently at a primary school the rain water began to leak through the roof of the school right on to the head of an 'artificial intelligence' M.P. necessitating him to use an umbrella. The report filed by Lanka e news reporter Dinasena Rathugamage is as follows :
During the function held at Vavuniya Ganepuram Vinayagar primary school , when Wanni district M.P Cader Masthan arrived on the 11 th forenoon , the M.P. and his group had to face a strange experience.

After the function began , there was a sudden downpour and the tiled roof of the school's best hall started leaking. As though the sky knew the M.P. had never bathed before , the water seeping through gave him a good bath .
A group of the security detail trying to save the M.P . ,immediately took the umbrellas of the people who had come for the function and opened them for him.
In any case , since those who were without umbrellas began going back home in the heavy shower , the M.P. could not conclude the function successfully.
The M.P. who left while it was raining cats and dogs pledged before leaving to the villagers , that during the next school vacation the dilapidated building will be fully renovated .
Photos and report by Dinasena Rathugamage
---------------------------
by (2017-11-13 06:11:38)
We are unable to continue LeN without your kind donation.
Leave a Reply