Banning Lanka e news is tantamount to good governance govt. stripping itself nude ! Lanka Teachers union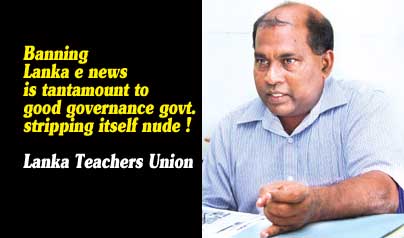 (Lanka-e-News - 13.Nov.2017, 11.30AM) The ban imposed on the popular news website –Lanka e news within Sri Lanka (SL) by the government is tantamount to good governance government stripping itself nude, stated the communiqué issued by the Lanka Teachers Union under the signature of its general secretary Josef Stalin. The communiqué is hereunder…
The government that came to power on solemn promises to recognize and ensure media freedom , is toeing the same line of the despotic Rajapakse regime . The Lanka Teachers association bitterly frowns upon this action of the government , the communiqué added. It is very evident because the news website was critical of some of the actions of the government , this ban was imposed.

The present government that came to power to install good governance by rooting out the oppressive and violent Rajapakse government has taken this un-democratic action because of its inability to face criticisms . Such un-democratic actions of the government are most reprehensible . Every media publishes reports based on its views. Permitting such critical reports is an accepted basic tenet of Democracy , and taking action to stifle them is anti democratic .
This is not the first time the ruling government had acted undemocratically , and this ban on the news website is not just an isolate instance where the government stripped itself nude. This is one in a series of anti democratic actions of the government

In the circumstances , Lanka Teachers union while bitterly condemning this action , strongly urges the government to lift the ban on Lanka e news , thereby upholding media freedom and vesting in the people their right to information.
Josef Stalin
General Secretary
Lanka Teachers union
---------------------------
by (2017-11-13 06:18:08)
We are unable to continue LeN without your kind donation.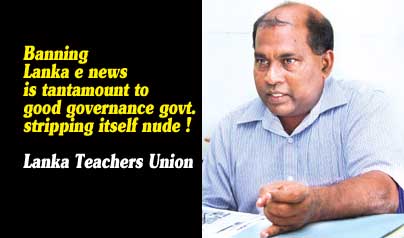 Leave a Reply