Mudslinging campaign 'P.M. shall resign' of Lakthileke alias Muckthileke comes to light with proof !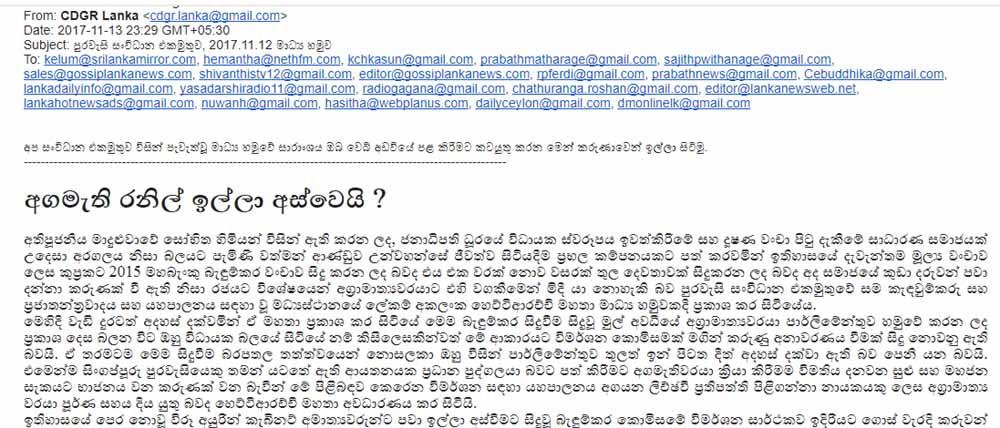 (Lanka-e-News- 18.Nov.2017, 11.55AM) Prime Minister (P.M.) Ranil Wickremesinghe is due to give evidence before the Bond Commission on Monday the 20 th. According to many political analysts , his appearing before the Commission is a clear demonstration that he respects the rule of law and is a contribution towards further strengthening the Democracy in the country .Besides his action will repulse the calculated mudslinging attacks of enemies , they pointed out.

Meanwhile , the vicious and vituperative campaign conducted by NGO crook cum brief-less lawyer Shiral Lakthileke alias Muckthileke best known for throwing stones at Sri Kotha and mucking around wherever he worked (therefore chased out in the past ) , that P.M. must resign because he is the first P.M. who is going to give evidence before the Commission ,has come to light .
Muckthileke formed a 'Citizens organization United' against 'Citizens Force' sometime ago. That organization was comprised of only himself and some of his henchmen. This so called organization has sent e mail messages to a number of websites which publish Muckthileke's mudslinging campaign that one individual by the name of Akalanka at a media briefing ( never held anywhere in Sri Lanka) revealed , "P.M. should resign. " This e mail however was not supported by any photographs of the supposed media briefing.
Of course many websites did not publish this report because it was false and malicious . However a number of infamous websites run by 'Parangi Lekam' published that bogus news. The first photograph herein confirms the e mail had been sent via his mudslinging personal website. The most ludicrous part of this malicious drama enacted by comedian Muckthileke is , in the face book of so called Akalanka , nothing is mentioned of the media briefing he held. Instead , there is mention of a book that was taken from him by his friend , and abusing the friend for not returning it.
Akalanka scolds his friend in the face book ' Oyy Charith Jayanetti , return my faculty of sex book .What are you doing with this book for so long?' . Hence he has not stated anything about the P.M. or about Akalanka's press briefing. If he has truly held a media meeting , is it not a matter for surprise if he does not mention that in his personal face book page ? (second photograph).
Shiral Lakthileke alias Muckthileke the NGO crook had proved beyond doubt by this false report 'P.M. should resign,' that the president and his group that ban the news website which publishes the stark truths have themselves transformed into mudslinging 'Magodiyas'
---------------------------
by (2017-11-18 06:26:03)
We are unable to continue LeN without your kind donation.
Leave a Reply