Nobody has right to ban Lanka e News ; we totally oppose as Convener of trade unions- Saman Ratnapriya !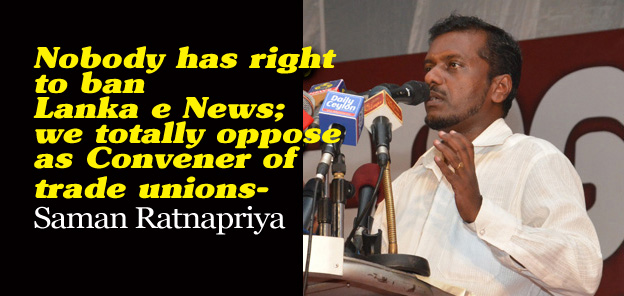 (Lanka-e-News - 18.Nov.2017, 11.30PM) Nobody has the right to ban Lanka e news, as joint convener of Trade union movement and leader of Citizen's Force we absolutely oppose it, said Saman Rathnapriya.

Rathnapriya responding to questions posed by Lanka e news reporter Menaka Ambepitiya revealed as follows …..
"As members of the civil society we do not under any circumstances concur with the unofficial ban imposed on Lanka e news. As Trade union movement too , our view is the same. Banning a media is not an appropriate action. The news reported by the media , may be sometimes bearable sometimes unbearable.
If the reports are unbearable those can be questioned and legal action can be taken. Instead of that imposing bans are unbecoming within a civilized society . In addition such action is not in consonance with Democracy and good governance .
Besides , Lanka e news is a most popular website which is in the vanguard of bringing about changes in the country's political landscape presently. It is a media website that contributed indefatigably towards that. People can express diverse views about it. Yet it is a media that was committed to bringing about the salutary political upheavals in 2015-01-08 and in 2015-08-17. Moreover , after the new government was formed , it not only stood by it all along , but also exposed its faults. We believe that is a responsibility of a dependable responsible media.
We too do not conceal the faults. We too contributed towards the formation of this government . Our need was more to send the government in power out more than installing a government. Hence , we think it is our responsibility to point out the wrongs, if any of this government.

Therefore , while that being the situation , we do not condone this ban at all. This ban should be lifted immediately. Nobody has the right to impose such a ban . There are no ethical or moral grounds for that. One of the basic tenets of Democracy is to permit the media to function freely sans bans. It is our opinion that situation should prevail ."
Discussion with Menaka Ambepitiya
---------------------------
by (2017-11-18 18:12:33)
We are unable to continue LeN without your kind donation.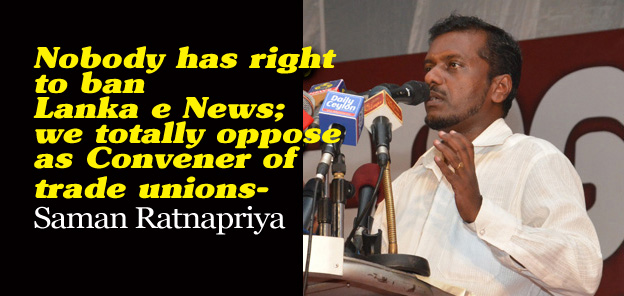 Leave a Reply