Maithri -Maharaja mahajara (filth) deal and decision wreak havoc ! Factual story behind Russia's ban on SL Tea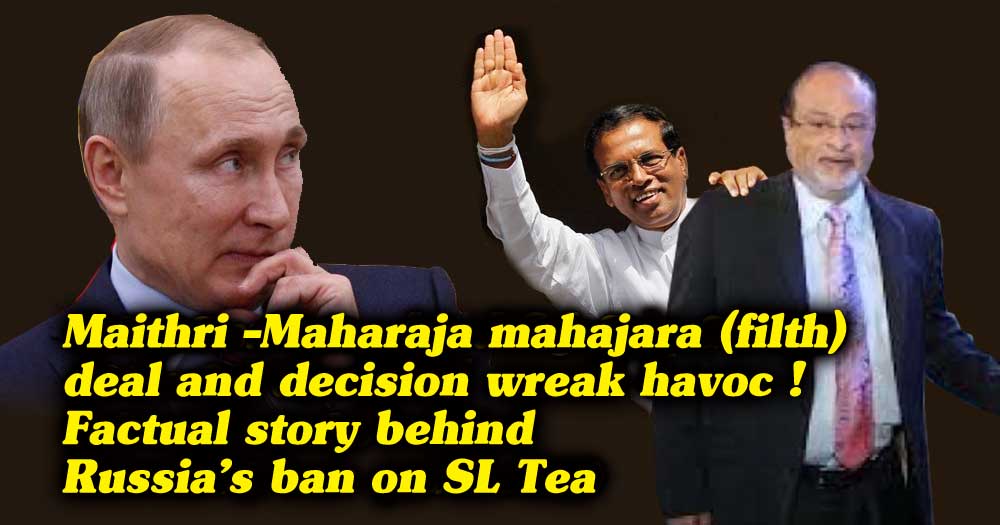 (Lanka-e-News - 18.Dec.2017, 11.25PM) The decision taken by Mathripala Sirisena and Kili Maharaja alias mahajara (filth ) wheeler dealer group who have no knowledge of State diplomacy, and because their gaze are solely and wholly fixed on rackets, has plunged the entire country into doom and gloom on an unprecedented scale . The saddest part is , It is the helpless and hapless people who have to bear the brunt of all the problems generated by their illicit deals.
Even before the saliva that oozed out of the mouth could dry of president Maithripala when he was saying , Russian president Putin is his bosom pal , while Maithri was on a tour of South Korea , it is the same so called bosom pal Putin who decided that the import of Tea from Sri Lanka shall be halted with immediate effect despite the fact SL has been exporting tea to Russia for decades.
Even as president Sirisena was bragging that the leaders of foreign states whispered to him ' give me just a call for any assistance' , Russia without any intimation took this disastrous decision against SL.
The reason cited officially by Russia for this action is , the Tea in the container imported from SL contained the insect 'trogoderma granarium' alias 'Kapra'
These insects do not live among tea leaves, and are found in seeds. This controversial SL tea export had been dispatched via Turkey Port and in Turkey's containers. The insects have been detected not in the SL tea but among the cardboards meant for packing the tea . These cardboard materials had been transported sans the necessary written certificate along with the tea consignment . Though the insects were allegedly found in the container of tea , the ban was imposed not on tea alone , rather on all plantation products of SL.
Russia is a main import hub for SL tea , and about 50 million kilograms are exported to Russia annually. That constitutes about 17 % of the total tea export of SL. The SL tea export makes up as large as 23 % of the Russian tea market. (It was 33 % before the present government) . During the first ten months of this year alone , 141,300 tons of tea valued at US dollars 436 million had been exported to Russia.
In the circumstances the action taken by Russia has metaphorically speaking , given a slap in the face of SL. Moreover , because of the publicity given to this incident through the European media , already SL's tea market has been most adversely affected in the long run.
It is the consensus that all these are the evil fallout of the decision taken unilaterally by the Maithri- Maharaja group to ban Asbestos ceiling sheets within SL on the grounds that those cause lung cancer , without any medical data or technological report to substantiate that claim.
Notorious Maharaja the mahajara wheeler dealer orchestrated this camouflage because he had plans to manufacture S- Lon variety asbestos ceiling sheets. When asbestos sheets are unavailable maharaja the mahajara would have no competitor.
It is noteworthy when president took this decision, UNP the main constituent party of the government was not consulted. In any event , by 2020 , asbestos ceiling sheets will be completely eliminated from the SL market .
It is significant to note asbestos sheets are mainly imported to SL from Russia. The ex Russian ambassador to SL , Alexander Kerchavo expressed his bitter resentment in Colombo to the SL government against this decision taken without any research report . It is a pity President Sirisena who gleefully and proudly said ' I am the one who was invited to Russia after 44 years and Putin is my friend ' did not have any sense of diplomacy despite being a president of the country. Sirisena who knows only to brag does not know how to resolve diplomatically or give diplomatic answers.

In any case , let us say a few words about president Sirisena 's much vaunted invitation to Russia after 44 years . This was not an invitation extended to president Sirisena by Russia , rather an invitation extracted via inducements. When President Sirisena was earlier invited to the G 8 conference he had occasion to meet the Russian president most briefly. Our president's translator told Putin ' our president likes to see your country as he has not seen Russia'. Putin 's reply was ' then pay a visit .' After casually saying that Putin left the venue. That was a very brief meeting lasting just a few seconds . President Sirisena who returned to SL , began writing letters after letters to the Russian foreign ministry .Your president at the G8 conference extended an invitation to president Sirisena, the letters stated .The latter sent letters begging to make official arrangements towards that . It is only thereafter , unable to endure the pestilence that the invitation from Russia was sent .So that is how the invitation after 44 years was solicited .
Sadly, this close friendship flaunted by Sirisena however was reciprocated in a most weird way by president Sirisena's so called bosom pal Putin - he imposed a ban on SL 's tea and plantation product exports. Though this reaction did not match the obnoxious action taken by SL in exactitude , by July 2017 itself there were signals that Russia is going to retaliate. It is the present minister of foreign affairs now in Russia , who speaks Sinhala fluently and considers SL as his second homeland who revealed what was in store. Even Sirisena's maturity had been ignored.
In November, four Inspection centers were established at Russia's four Customs departments of the State to obtain quarantine certificates pertaining to imports of agricultural products . However Sirisena's present ambassador in Russia, Saman had been unconcerned and had been blind to this development.
While there was no need for a quarantine certificate when SL tea was imported into Russia after 2012 , Saman who is there after getting an extension had not inquired why these changes are being effected. This unconcern of his was natural because Saman is there to facilitate the warship deal engineered by Maithri-Maharaja group , and the gaze is only on colossal illicit commissions which are part and parcel of the deal.
The decision taken by Russia against SL will apply to four other countries -Kazakhastan , BeloRussia , Kirgisthan and Tajikistan .Syria which is a close friend of Russia is also likely to abide by this decision. Since SL exports tea to all these countries , the situation is most grave and portentous.
Earlier on following a political issue that erupted between Russia and India , a similar ban was imposed in regard to import of rice , and it took over 6 months for India to get that withdrawn.
It is very unfortunate due to the 'mature' decisions taken by Maithri-Maharaja , Naveen Dissanayake has been made the scapegoat. Though Naveen with a delegation left for Russia , it is unlikely he can meet any minister or official these days because of the Christmas holidays.
Having got the opportunity therefore to drink Vodka and enjoy the flesh of body peddlers at State expense to kill time , they are sure to thank the 'Kapra' insect which paved the way for their mirth and merriment at public expense.
By Special correspondent
-
---------------------------
by (2017-12-18 17:57:08)
We are unable to continue LeN without your kind donation.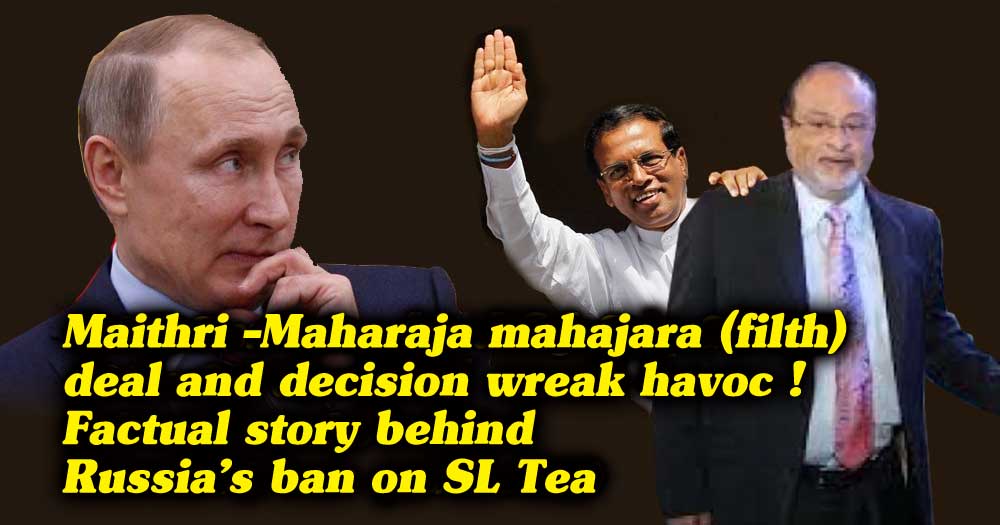 Leave a Reply