CJ faces stiff opposition over his controversial appointment of a junior as JSC secretary !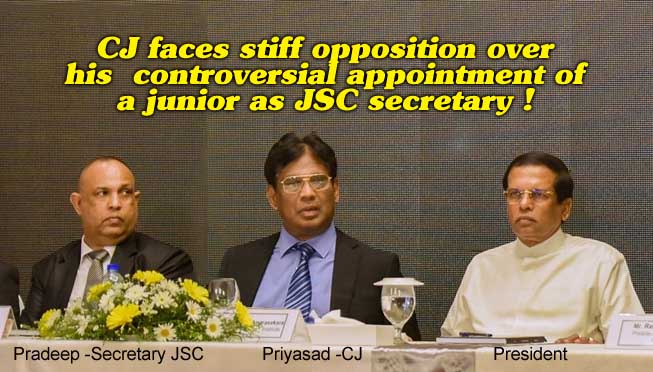 (Lanka-e-News - 23.Dec.2017, 11.00PM) The removal of judge Pradeep Jayatileke who was performing duties as the secretary of the Judicial service Commission (JSC) and replacing him with Sanjeewa Somaratne a junior judge on a controversial decision taken by the Chief Justice (CJ) has triggered tremendous opposition . The judicial sphere has bitterly resented this.

It is worthy of note , following the appointment of senior district judge Pradeep Jayatileke as the JSC secretary , the JSC took stern action against corrupt judges , and the culprits were transferred after holding disciplinary inquiries . His determination and commitment to his duties enabled to maintain the independence of the judiciary which was borne testimony to by a number of instances.
Two of the three judges who are members of the Commission recommended the extension of the term of Jayatileke as secretary of the JSC after 21 st December , yet the CJ on the other hand decided unilaterally to transfer Jayatileke to the civil appeal court , Kalutara, and named the present deputy secretary Sanjeewa Somaratne of the Commission for the post of secretary .
Apart from CJ Priyasad Dep who is the president of the JSC, the other members are Sisira Abrew and Eva Wanasundara . The latter two judges have also expressed their resentment against CJ's decision.
Based on information and reports reaching Lanka e news ,many within the judicial circle too are up in arms about the appointment of Sanjeewa Somaratne because he is a district judge very low in the seniority ladder, and not because he is corrupt or for any other reason.
On the seniority ladder he is at the 23rd rung . When such a junior judge is appointed to the post of JSC secretary , the senior judges above him being subjected to deep embarrassment is inevitable.
In any event , only a few judges below hundred in number attended the year ending party held recently for district judges and magistrates at the official residence of the CJ . This was because they were displeased with the decision taken by the CJ , according to reports reaching Lanka e news.

The president who attended the annual conference of the district judges and magistrates revealed , as far as he is concerned there are issues regarding the names recommended in the final list of candidates sent to him.
---------------------------
by (2017-12-23 17:39:06)
We are unable to continue LeN without your kind donation.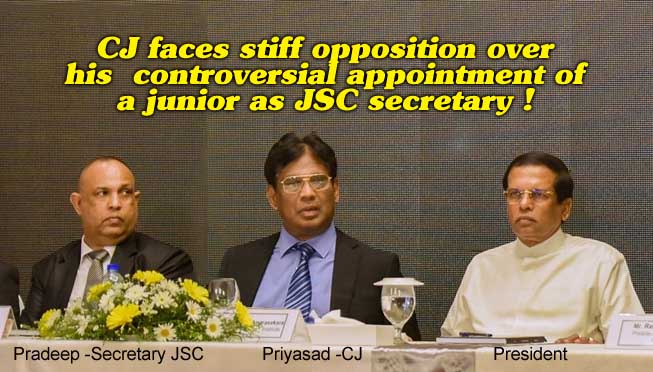 Leave a Reply