Are sex , lust and crimes of Medamulana nefarious era moving into Paget road residence? (video)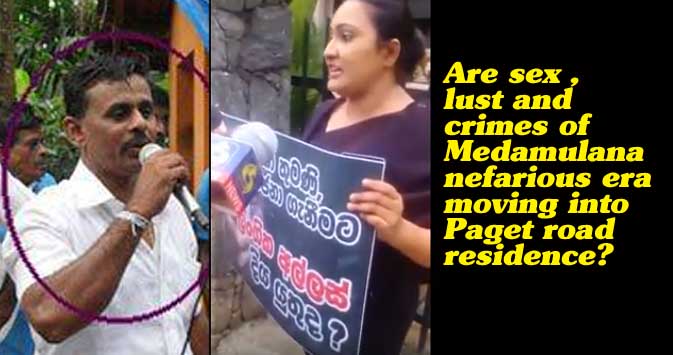 (Lanka-e-News - 23.Dec.2017, 11.00PM) Actress Madusha Ramasinghe who requested nominations for the forthcoming local body elections through the Rajapakses' flower bud symbol has made a complaint to the chairman of Elections Commission that secretaries of two leaders of that party demanded sexual favors from her . While staging a protest in front of the elections office , she also made a long confession in this regard before the media (Vide infra for video footage).
Whether Madusha Ramasinghe is an actress or not is unimportant and is of no relevance ( She was sans make up ; and not wearing any ornaments – not even a pair of ear rings) . What is most paramount in this criminal scene is she has made that complaint as a Sri Lankan, and her charges are most grave .
It is very evident from this incident the bankrupt sex starved politicians are trying to gratify their sexual lust and lascivious propensities exploiting even the rule introduced by the government that there must be a 25 % women representation in the nomination lists of local body elections .
In addition , this is a clear index , these political rascals haven't still divested themselves of their favorite squalid habits and hobbies which were the result of the abominable and criminal policies of the Rajapakses during their corrupt nefarious decade. During that decade a member of theirs of the pradeshiya sabha,Saruwa Sunil threw a grand party to celebrate his hundredth victim of his sexual lust . That is ,he celebrated his sexual enjoyment with his hundredth sleeping partner and to flaunt his promiscuity . Mind you , many 'Honorable' (so called) ministers and M.P.s at that time attended that party .
During the same Rajapakse decade , Pushpakumara , the chairman of another pradeshiya sabha committed gang rape on a Russian tourist , yet enjoyed impunity from the heinous crime .
The latest incident involving Madusha clearly goes to prove even today that villainy and barbaric culture is continuing vigorously , and those sex lust crimes including rape , sexual molestation and harassment of the Rajapakse era are moving into Paget road residence , and the criminals are taking refuge there.
Going by the grave complaint made by Mudusha , it can be deemed , this is the first struggle that is being launched after the rule there must be 25 % representation of women at elections was introduced aimed at boosting their safety and rights.
Based on this complaint , the women and child protection Bureau must take immediate steps to arrest the culprits and enforce the law because under the Sri Lankan laws , soliciting sexual favors from women is a most serious offence and the suspects can be arrested without any further evidence. Merely the molested victim's evidence will suffice.
The way laws are being enforced under the good governance too is unsatisfactory . Even after a most dangerous and ominous announcement 'the parliament must be bombed' and threats were made like a terrorist , there was no law enforcement against that 'terrorist'.
Meanwhile Lanka e news was proscribed illegally without any court order because the LeN website exposed the illicit commission that was going to be collected by the Maithri-Maharaja team from the sordid warship deal.
When a legitimate question was asked who was behind the ban ? The answer given was , the ban was imposed on security grounds as it is an issue for the government . Moreover no other details were revealed in that regard. When such is the reaction of the president , it is a pertinent question , why were the independent judicial commission , independent Police commission and independent commission for right to information appointed ?
Was it because of an irrepressible incurable itch in the wrong place ?
No matte what It is incumbent on all those responsible to ensure punishment is duly meted out to the culprits rather than probing into the background of Madusha, or inquiring into who she is or what she is doing ? If the punishment cannot be meted out , it is only a clear testimony that SL's Medamulana criminal era is being perpetuated purposefully , and those criminals are being led into Paget road residence after being garlanded and cheered to accord a red carpet welcome.
Video footage hereunder
---------------------------
by (2017-12-23 18:08:54)
We are unable to continue LeN without your kind donation.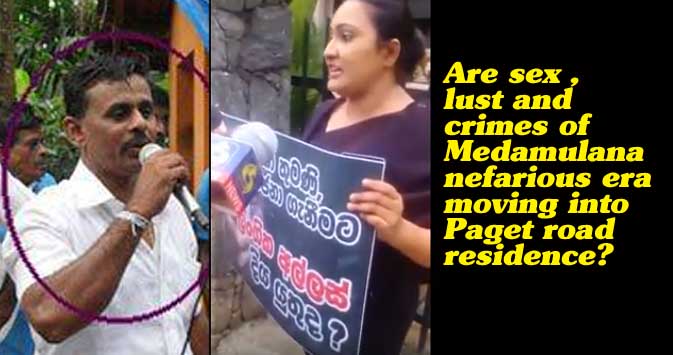 Leave a Reply