Details of the two sex maniacs who solicited sexual favors from Madusha Ramasinghe known : Will laws be duly enforced ?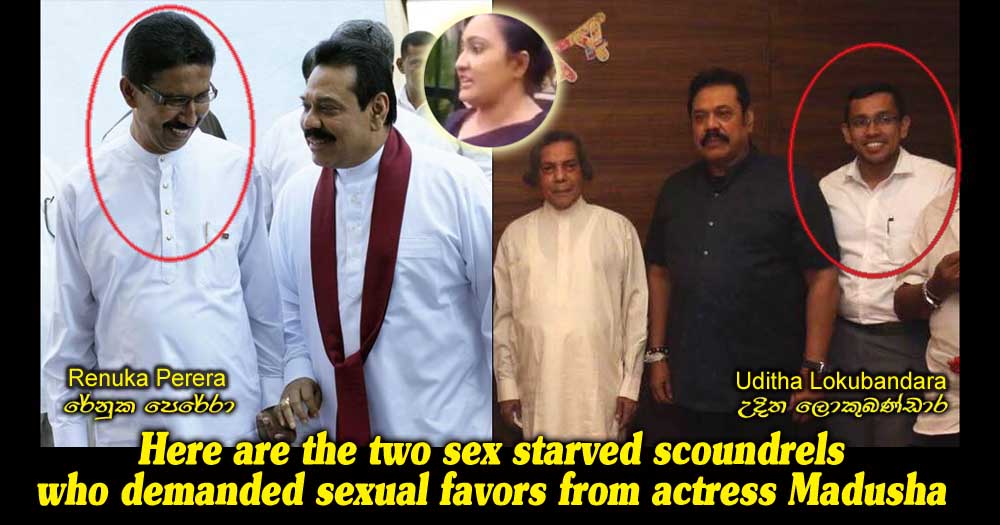 (Lanka-e-News - 23.Dec.2017, 11.20PM) Information regarding the culprits who solicited sexual favors from the actress Madusha Ramasinghe when she requested nominations under the Rajapakse's Flower bud party has seeped out and Lanka e news is now aware of the details of the sex starved scoundrels of the Rajapakse clan . Meanwhile the victim has also made a written complaint to the chairman of the elections commission.
The sexual favor was solicited first by Renuka Perera of Rajapakse's nomination committee and an ex member of provincial council. Unsurprisingly , he is a bosom pal of Mahinda Rajapakse , and that was also why he was appointed to the nomination committee.

When Madusha went to meet Mahinda Rajapakse to make a complaint against Renuka Perera and his most shameless disgraceful conduct, she was met by Mahinda's private secretary Uditha Loku Bandara . Believe it or not he too has demanded a sexual bribe from Madusha if she is to be granted nominations. Madusha who was degraded and disgraced instead of being accorded a warm reception from these brutes , was left with the only option – make a complaint to the elections commissioner, which she did.
It is an unassailable inviolable right of a woman to decide whom she should chose, and under the Sri Lankan laws it is a grave offence to force a woman to yield to a man's sexual lust or subject her to sexual harassment .
Not only soliciting sexual bribes , even to make simple vulgar gestures like ballooning out the cheek for fun are considered as serious offences , and are liable to punishment under the law. In such offences even if the victim fails to complain, merely on a complaint made by an eye witness, the suspect can be taken into custody. That is because the law views such crimes as most serious .
In the circumstances , the entire women population of Sri Lanka who even suffer sexual harassment of men while traveling in buses are waiting and watching anxiously until the law is duly enforced against these two vulgar criminals Renuka Perera and Uditha Loku Bandara , so that it will be a deterrent to other sex maniacs too on the prowl.

Enacting laws serve no purpose if those are not duly enforced. Laws without control is anarchy and control without laws is despotism.

It is women who constitute a greater percentage of the population in SL. Even the mere harassment of women in buses caused by groping at the hands of sex starved individuals is a serious crime , let alone sexual favors solicited by sex maniacs like Renuka Perera and Uditha .
Just because they are Mahinda Rajapakse's cronies and are of the same ilk does not give cause to excuse them on the grounds 'Sex maniacs of the same feather flock together somehow ' and ' Buddies of the same feather rob together somehow', and those are inevitable.
---------------------------
by (2017-12-23 17:58:05)
We are unable to continue LeN without your kind donation.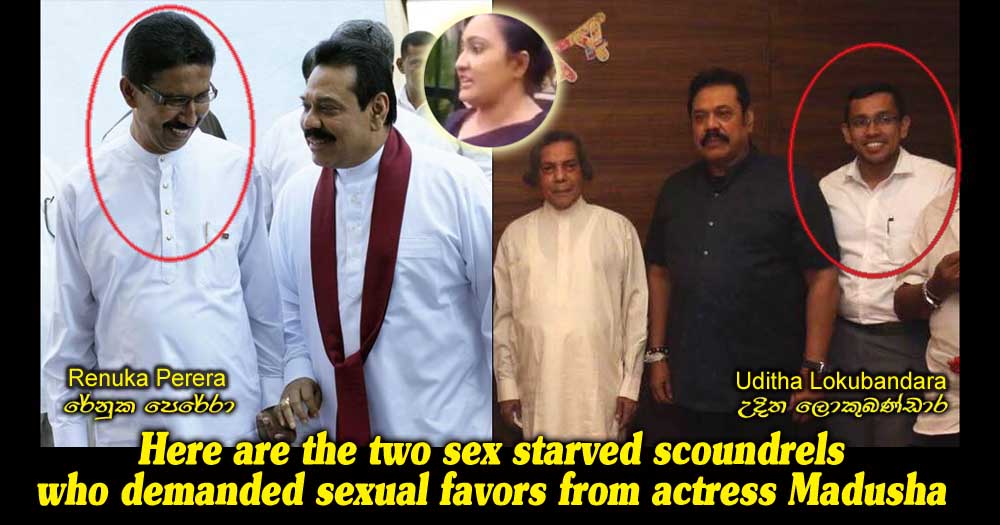 Leave a Reply