S.B. 's new Palace is so huge that a Bhikkhu who attended pirith ceremony loses his way !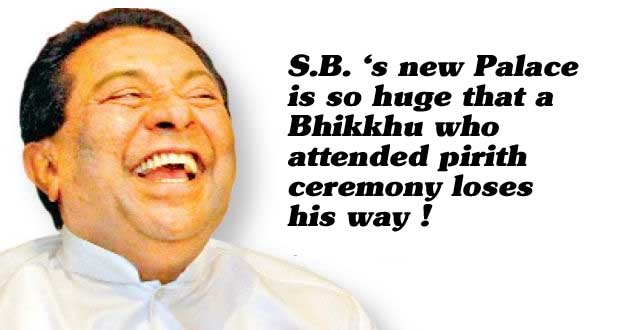 (Lanka-e-News- 28.Dec.2017, 8.15AM) Some weeks ago , minister S.B. Dissanayake who spent Rs. 115 million ! to construct a huge palace held a pirith pinkama ceremony following its completion. Unbelievably in a country where public funds going missing is most common , a most uncommon incident took place ! One of the monks who attended the ceremony went missing according to reports reaching Lanka e news.

Minister Dissanayake had built this palace of his on a large land about 4 acres in extent in the vicinity of Thalathu oya Marssana road , at Kapuliyedda . To mark the opening of the palace a pirith ceremony was held some weeks ago.

One of the bhikkhus who attended the ceremony had an urgent need to rush to the lavatory and one of the householders had accompanied the bhikkhu to the newly built wash room cum lavatory.

When the monk emerged from the washroom cum lavatory after attending to his need , the consort who accompanied him had gone missing. Consequently , the monk who tried to go back to the venue solo where the pirith ceremony was being held had to face a traumatic experience . This monk had lost his way because Dissanayake's Kapuliyedda palace is so monumentally large –Mind you ! a colossal expenditure of Rs. 115 million had been incurred to build that, and the money spent for the land is about Rs. 20 million !

This massive palace of Dissanayake is not in the google map prepared in 2015 , meaning that the Kapuliyedda palace was built after Dissanayake secured the ministerial portfolio under the good governance government which came into power subsequently .

Meanwhile Lanka e news had occasion to reveal details earlier on of the 100 acres land situated in Red Rock area belonging to S.B. The latter had started a coconut cultivation on that land , and according to reports reaching Lanka e news, during the drought season , the minister had been using the vehicles belonging to Samurdhi to transport water to his land .
The clearing of part of the forest land on 100 acres had been halted because a hotel is to be constructed for S.B.'s youngest son, sources close to the minister divulged.
Minister S.B. Dissanayake who has no additional income from business or any other ,otherwise than his ministerial emoluments must reveal to the people how he accumulated so much wealth ? As a representative of the people , it is incumbent on him to reveal the truth behind this. At least he can teach the other Sri Lankans too how to become wealthy using his method (provided he has earned legitimately) so the whole country too can become prosperous.
---------------------------
by (2017-12-28 02:54:38)
We are unable to continue LeN without your kind donation.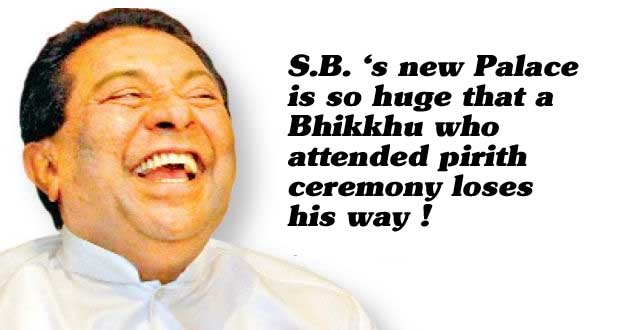 Leave a Reply