Lanka e news is pummeling me; MP's are calling me pickpocket ; I cannot run the government–president walks out abruptly!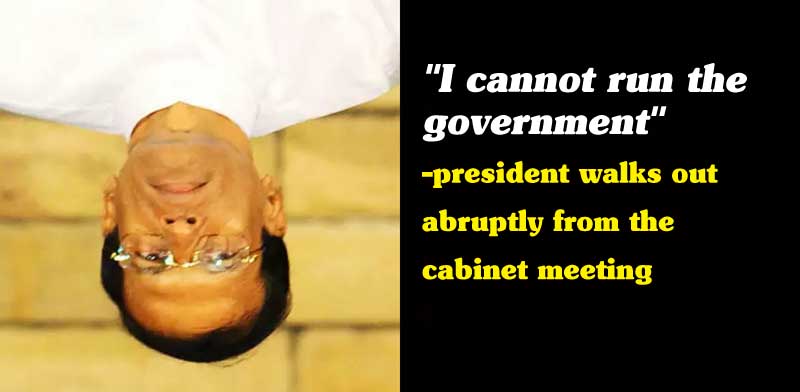 (Lanka-e-News - 17.Jan.2018, 11.00PM) President Pallewatte Gamaralalage Maithripala Yapa Sirisena got up from his seat during the cabinet meeting yesterday (16) and went away saying' I cannot run the government any longer.'
President Maithripala thereby created another ignominious world record , via this stupid conduct as the first State leader who went out abruptly leaving the cabinet members in the lurch when a cabinet meeting was in progress.
Sirisena behaved this silly and insanely , citing the grounds that Lanka e news is castigating him ,and M.P.s are calling him a pickpocket.
Lanka e news is slinging mud at him because Lotteries Board advertisements were not given to it , while Marikkar and other M.P.'s are accusing him as a pickpocket , president lamented. The president then like a madman to the shock of all the SLFP ministers left the venue of the meeting in a huff.

Later P.M. Ranil Wickremesinghe, the UNP ministers Malik Samaraweera , Akila Viraj Kariyawasam , Kabir Hashim, and SLFP ministers Mahinda Amaraweera , Mahinda Samarasinghe , Duminda Dissanayake , and others went and met him. Following a one hour discussion , the president agreed to come back to participate in the meeting .Sirisena who attended the meeting the second time , again confirmed he doesn't know how to conduct himself as a president and head of the state . He proved he is 'president moron' possessed by an evil resident within him , by terminating the all important cabinet meeting prematurely, to run away like a retreating shot rabbit.
Following this bizarre and crude conduct of the president despite being the highest in the hierarchy of the country , the SLFP ministers were dazed. One minister speaking to Lanka e news said, the 'grip' the president had over the government had now slipped out ,and he had only demonstrated his weakness before all .
Editor's comment :
The president leaving the cabinet sessions abruptly citing Lanka e news as a reason , we have one thing to say in that regard.. It is none other than the president who took action violating Democratic tenets when we exposed his illicit warship deal in collusion with wheeler dealer Maharaja, by illegally barring the viewers of the news website from accessing it. This undemocratic action was not ours but the president's . It is well for us to remember , for every action there is always an equal and opposite reaction , taught to us in grade 7.
President Sillysena by his foolish conduct proved another salient point : He even does not know what he should do if he cannot run the government – not to walk out of a meeting abruptly , rather tender his resignation from the presidential position !
---------------------------
by (2018-01-17 20:14:40)
We are unable to continue LeN without your kind donation.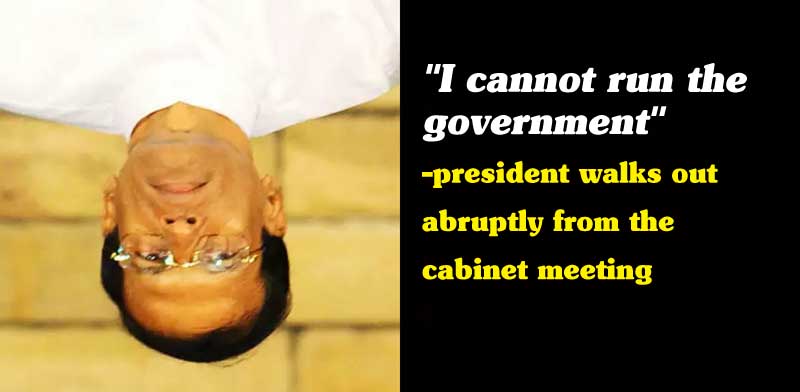 Leave a Reply