Smuggling of heroin in chocolates to SL from Italy detected! Here is the clue to trap the mastermind !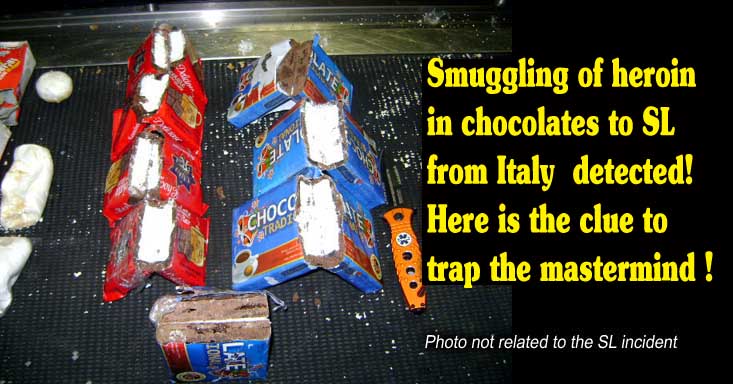 (Lanka-e-News - 17.Jan.2018, 11.00PM) A leading heroin magnate who was using the Air Cargo services between Italy and Sri Lanka to smuggle heroin to SL over a period of time had been identified by the SL Customs and the Police Anti narcotics Bureau.
The quantity of heroin smuggled in this manner was over 4 kilos hidden among perfumes, soap and shampoo, as chocolates.
Following interrogation of the suspects in Italy and SL by the relevant divisions , and the other suspects are in the process of being identified , K.L.Milton , one of the suspects was arrested in SL. The main suspects however had been able to evade the arms of the law though he and his accomplices are now being trailed by the law enforcers.

This heroin parcel had been sent to SL from a representative office located in the vicinity of Piazzele Loreto , Milano, Italy , which is a sub office of a popular SL main cargo dispatch office in Rome which sends air cargo to SL. Within a short period three such parcels have been dispatched to SL , it has been discovered.
The businessman involved in this is an owner of a luxurious two storied house and other properties near Keerihandigoda bridge ,Hikkaduwa . His name is Mapalagama Acharige Manura alias Manura Mapalagama .His date of birth is 1963-06-22; foreign passport No. is N 5212791 ;and his ID. No. is 631742025 V.
Mapalagama resides at Edmondo de Amicis avenue, Segrate , Milano .His wife NelkaKumari is a partner in this business. While the police were after her , she had given the slip , and fled to Italy. One of their sons is following higher studies in Australia while the other son is studying in Italy.
Owing to this SL –Italy heroin smuggling , dispatch of parcels by air is experiencing grave problems . Air cargo service is in a confusion , and dispatch of many goods have been halted . It is most unfortunate because of this heroin scourge , even getting down an urgent medicine for a critical patient in SL has been hampered.
It is hoped that the foreign minister ,law and order minister ,the IGP, SL Ambassador in Italy and SL Consul General shall treat this matter with the urgency it merits.
As Sri Lankan businessmen in Italy who earn foreign exchange for our motherland , we urge the Institutions enforcing the law to take prompt action to apprehend these criminals and bring them before the law with a view to safeguard the country's image.
By - Sri Lankan Business community living in Rome and Milan , Italy
---------------------------
by (2018-01-17 20:22:50)
We are unable to continue LeN without your kind donation.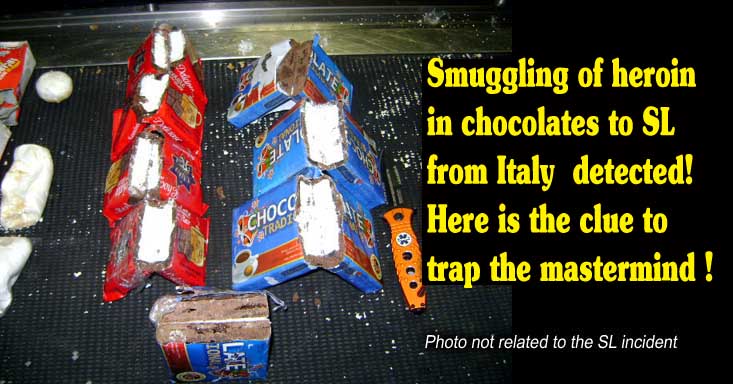 Leave a Reply