Criticisms made president to 'shit in his pants' and run out of the venue of meeting ? Rajitha explains..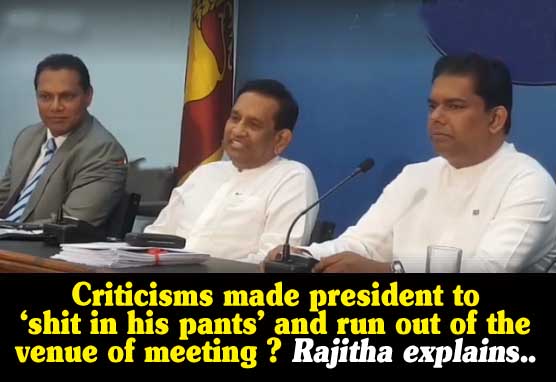 (Lanka-e-News - 17.Jan.2018, 11.00PM) Following the cabinet meeting on the 17 th , it had come to light the president had been hurt by the criticisms to the point of 'shitting in his pants,' and that is why he left the venue of the meeting abruptly , and ran helter- skelter.
It was learnt later he had run out of the venue of the meeting suddenly , not because he was hurt but to attend to a sudden urge to do a pee , according to Cabinet media spokesman minister Rajitha Senaratne who gave this explanation in response to a question posed by a journalist , at the cabinet meeting to reveal cabinet decisions.
When the minister was questioned why the president did not make a special statement , the minister said , he made a special statement but he left the meeting hurriedly because he developed an urge so sudden to pee , nevertheless he returned to participate in the meeting when taking decisions. The president while making the special statement revealed the criticisms that are being hurled at him by the MPs , Rajitha further explained. This alliance government is like a cage full of snakes and mongooses . The MPs must stop slating the president and the P.M., he vehemently insisted.
When Rajitha was asked , 'didn't he P.M. and you go behind to fetch the president ? The minister replied ' we also went out to get him back '
Responding to a question whether the president did not say anything about a media Institution criticizing him? Rajitha said , the president did not refer to a media Institution.
At any rate , no journalist asked Rajitha , whether the criticisms leveled did not hurt the president to the point of shitting in his pants , that he had to run out from the venue of the meeting ?
---------------------------
by (2018-01-17 20:29:52)
We are unable to continue LeN without your kind donation.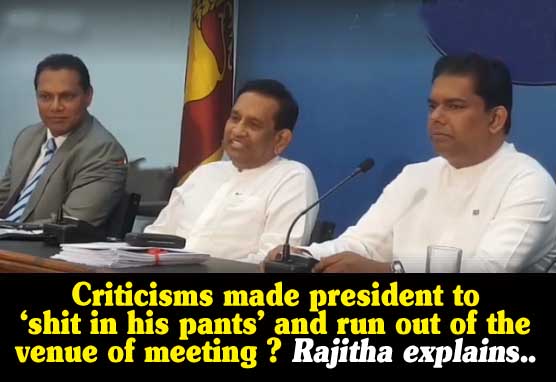 Leave a Reply