Rajitha lambastes Shiral Lakthileke ! Who is this non entity who is trying to appoint governments ?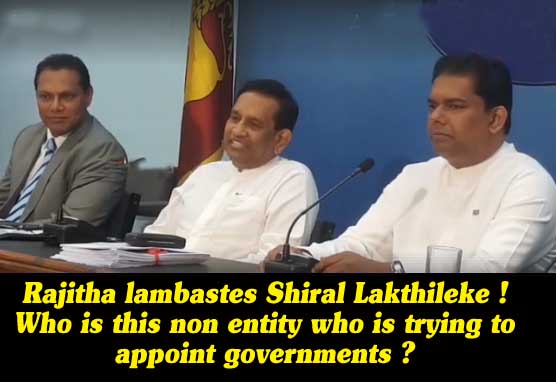 (Lanka-e-News - 20.Jan.2018, 7.35PM) Shiral Lakthileke the NGO crook cum brief-less lawyer who is evil personified and has been the cause of fiasco wherever he had been was 'torn into shreds' by cabinet spokesman cum minister Rajitha Senaratne . Shiral Lakthileke the discarded scoundrel from the scum of society who deservedly got thrashed with 'cardamom clubs' from the people for villainously going in procession on behalf of the corrupt criminal Rajapakses , and then in keeping with his renegade nature clung on to the sarong of Sirisena ( the only Sillysena who would tolerate him ), to finally become his co-ordinating secretary and now crawling like a maggot living on the decayed parts of Sirisena was lambasted and given a 'thundering slap direct in the face' by Rajitha which would never ever be forgotten by Lakthileke . Rajitha made his caustic remarks when answering a question posed by a journalist at the cabinet meeting to reveal the cabinet decisions on the 17 th.
The question posed by the journalist was , whether a caretaker government will be formed after the local body elections as revealed by Lakthileke .
Rajitha answered thus :
''Who is this Shiral Lakthileke? How can he appoint a government ? From which hellhole has he emerged to form a caretaker government , let alone any government ? If Lakthileke can , any idler on the pavement and junction can also form this government and that. Who the hell is he ?''
Journalist : ''He is a coordinating secretary to the president''
Rajitha : ''What ? If he can appoint a caretaker government , then what can the presidents appoint ? What is this nonsense ?''

Meanwhile , following the Supreme court (SC) decision on the term of the president , Shiral and his equally boorish buffoon , Keerthi Tennekoon of CaFFE were propagating the false view that , since president's term began in April 2015 it would end in April 2020. In reply to this fairy tale of these two clownish rumor mongers , Rajitha said , there is no doubt the presidential elections will be held on 8 th January 2020.
When a journalist questioned Rajitha , what are the preparations for that ?

Rajitha in his characteristic witty style said , 'if a man who is going to bathe in the Mt. Lavinia sea, is to wear his trunks long before on the road , he will be considered as mad. Wearing the trunks is no issue if he wears it on the beach '
---------------------------
by (2018-01-20 14:14:08)
We are unable to continue LeN without your kind donation.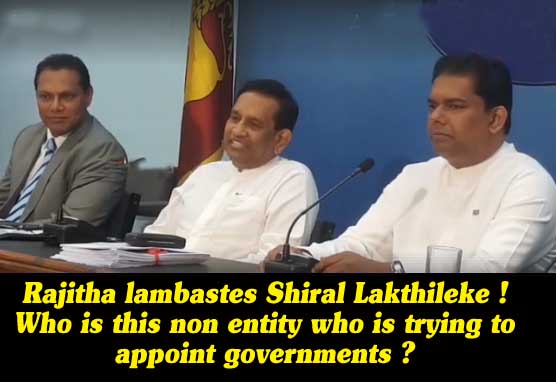 Leave a Reply