Sirisena and Mahinda Amaraweera 'sell' Fisheries Corp. to mysterious Korean Co. -cogent evidence! Fishermen will have to drink poison !!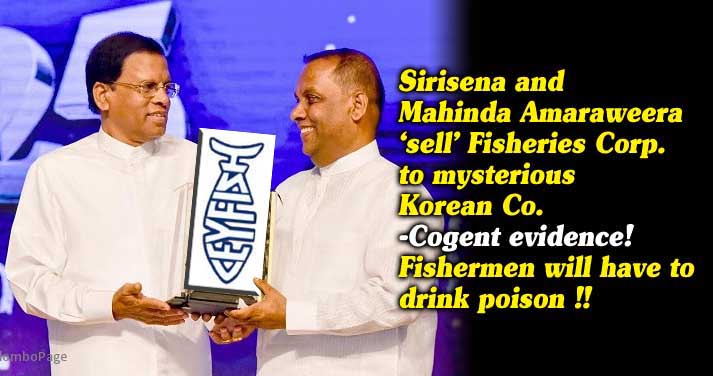 (Lanka-e-News - 21.Jan.2018, 12.45PM) Full details of a dubious agreement signed by president Sirisena in collusion with his unofficial pet son 'loku putha' Mahinda Amarawera the present minister of fisheries has come to light. This agreement has been signed with a Korean Co. which provided service to the Fisheries ministry over a long period . Their aim via this agreement is to introduce unjust laws which were not existent hitherto and by amending the existent laws create legal loopholes which will facilitate this massive scam . Though the sinister duo may gain , eventually it is the local fisher folks who will have to lose everything and drink poison in desperation.
Upon reading the details exposed by this report , one would be forced to wonder ,are these the traitorous rascals (including the highest in the hierarchy) involved in this perfidy and conspiracy who are making a big din on stage about their 'clean and unalloyed patriotism.'
Amaraweera who tabled a cabinet paper on 2016-07-20 , on Pontus Ocean Holdings Co; Ltd . Korea, in relation to a launch of a joint business venture between the Korean Co. and Fisheries Corporation under the name of Sagara Marine Resources (Pvt) Ltd. The UNP ministers gave the approval to this without probing into it and batting an eyelid because the president himself gave his blessings and wholehearted support to it. Usually a president of a country's deal is expected to be above board.
In any event at the time the cabinet paper was submitted on 2016 07-20 for approval , Pontus Ocean Holdings Co. was not a registered Co. in Korea. , and was registered only after the cabinet approval was obtained here, it is learnt. In other words this is a calculated pre meditated fraud of the so called 'clean patriots' Sirisena –Mahinda Amaraweera duo. In addition , 'Boralessa' who calls himself as a local representative through the son of Amaraweera the unofficial son of the president has left no stone unturned to steer this deal through.

When a google search was done on Pontus Ocean Holdings Co. Pvt. Ltd., it revealed the Co. is a mystery surrounded one and has nothing to do with the Fisheries Industry. Though it is stated in one place it is a Korean supply Co, in the same page down it is indicated it is a Hong Kong Supply Co. Anyway those are collaborating companies under Greenline Lanka Pvt. Ltd. Interestingly , it has only transacted a single deal .Nevertheless , when a search was conducted for Greenline Lanka Pvt. Ltd. Co. there was no information available. Hence , no great rocket thinking power is needed to figure out the racket of 'Amaraweeras' which is therefore a money laundering manipulation and a money making 'game'
Appointment of Directors by Amaraweera -most intriguing…
According to the draft of the memorandum of association of this dubious joint venture aforementioned , (the draft can be read by clicking on the link hereunder) , the board of directors has been appointed in a most intriguing manner. Based on the draft the Fisheries Corporation has 51 % shares while the Korean Co. is owner of 49 % shares. But when constituting the board of directors , four Directors of the Korean Co. with voting rights , and three Sri Lankan directors of the Fisheries corporation with voting rights have been appointed. In addition two more Fisheries Corporation directors without voting rights have also been appointed .
This is an absolute camouflage with vetoing rights when decisions are being taken vested in the Korean Co. which has more directors with voting rights though it is portrayed the Fisheries Corporation directors are more in number. It is very evident even to the most obtuse, owing to this subterfuge , when decisions are being taken in the future , grave issues can proliferate.

Moreover, there is no clear mention at all in the draft regarding distribution of profits.

Section 62 of the Fisheries Act makes it abundantly clear ,when shares pertaining to local fishing crafts are being distributed , greater percentage of shares shall be owned by Lankans. To overcome this stumbling block a request was made by the Korean Co. , to probe whether our fishing crafts can be registered as a foreign craft . But if that happens , those fishing crafts cannot carry on fishing activities in SL's territorial economic zone. Such a Permission to fish can be granted based on Law of the Sea article 62 , only when there is only an abundance of fish in the waters.
Except in those circumstances , the Korean Co. jointly with the Fisheries corporation using the crafts to enter the SL territorial economic zone to fish will be illegal , and is tantamount to giving a fatal blow to the local fishermen. It has not brought in a single dollar , and the craft had been registered via lies and deception.
No single dollar; illegally registered craft
Although it was said this Korean investment will bring in US dollars 68,000,00 , so far neither a single dollar has been received by the government overtly nor is there any indication the government will gain.

In order to show there has been an investment, a foreign craft has already been brought into SL by them, and because of the registration impediments here , it had been registered illegally with the NARA Institution as a research craft despite the fact it is not such a craft.
Although during the period when only there is an abundance of fish , the foreign fishing crafts have permission to enter the SL territorial economic zone , based on our sovereign rights over the zone , a fee ought to be levied. This is however neither mentioned in the Law of the Sea article 62, nor in the Act authorizing fishing methods . The Fisheries minister and the Korean Co. have crept through this legal loophole . This is an absolute injustice perpetrated against our fisher folks.
GM chased out
When the General Manager of the Fisheries Corporation objected to this villainous agreement detrimental to national interests , he was chased out after mounting bogus charges against him by the chairman of the Corporation who is a bootlicking henchman of the Minister. The present chairman is a close pal of ex minister Wimal Weerawansa the notorious fraudster, and is chairman of CeY Nor foundation.
It is clearly deducible following these subterfuges , maneuvers and machinations it is the aim and objective of the Korean Co. to slowly , stealthily and surely take control of the Fisheries Corporation and its businesses.
Minister Amaraweera who loudly announces our local resources shall not be allowed to be appropriated by foreign Companies has on the contrary demonstrated beyond any doubt when participating in the meetings held in connection with the joint Korean venture that he is absolutely determined to promote this villainous venture. His eagerness has outrun his sureness of his legitimate duties towards the motherland. Because every Institution including the Attorney General's department and Investment board is opposing this crooked project, those Institutions have come in for heavy flak from president's unofficial son Amaraweera.
Though Amaraweera always brags the Fisheries Corporation is making profit , the Corporation profits if any have been made out of the funds obtained from the treasury ,and because of the workers who were called back after their going on voluntary retirement , as a result of which the expenses were curtailed. When considering the amount of loans taken from the treasury on repayable basis and to be paid back to the treasury , as well as the loans to be settled with the buyers , it is apparent the Corporation has not made any profits.
The importance of knowing the tale of Amaraweera….
Knowing the tale of Mahinda Amaraweera will be helpful to the readers ….
Amaraweera is essentially a bus conductor . During the period of Rajapakse ( famous for bringing in all the infamous characters into politics ) , he somehow clung on to the cursed shawl of his to enter politics and contested the Angunakola pelessa local body and used his caste to full advantage when launching on his political journey.

Amaraweera who was a bootlicker of not only Mahinda but even Namal ( in fact their shoes shone because of his licking and not because of Kiwi polish) , at the last presidential elections helped the corrupt Rajapakse brigand by not allowing Sirisena's election rallies to be held in his electorate.
On 8 th January 2015 , cashing in on Sirisena's characteristic double faced nature and hypocritical traits, and coupling those with his own cunning, he ingratiated himself into the favor of Maithripala . Soon after Maithripala took oaths as president and even before he warmed his seat , Amaraweera the original bus conductor issued bus tickets free to pave the way for Miathripala to meet the Rajapakses.
It is well worth noting , it is none other than president's own advisor cum national list M.P. Malith Jayatileke who said in his book ' January 8 th – what I witnessed,' that Sirisena went in the vehicle of Amaraweera and met the Rajapakses .
Thereafter , Amaraweera secured the posts of secretary , UPFA, , Fisheries minister and Mahaweli State minister from Maithri. He is now the mollycoddled 'loku putha' of the president. Hence there is no doubt, Maithripala's full blessings are with Amaraweera in this conspiracy.
It is therefore the duty of the genuine pro good governance masses to come to the fore against these sly and stealthy maneuvers of this duo –president Maithri and 'loku putha' Amaraweera, and their conspiratorial project to dissipate and destroy the local Fisheries Corporation through a Korean Co. which will inevitably compel the entire fishing community to consume poison.
Herein is a photograph of the document which was exchanged to appoint directors favoring the Korean Co. ; and by clicking on the link below , the most intriguing draft of memorandum of association for the joint venture between Pontus Ocean Holdings Co. Ltd; and Fisheries Corporation can be downloaded.
http://www.lankaenews.com/home/downloads/50/Sagara-Marine-Joint-Venture-Agreement.pdf
---------------------------
by (2018-01-21 07:28:32)
We are unable to continue LeN without your kind donation.
Leave a Reply