'Sword Sirisena' secretly invited 2 SC judges to Paget Road to smuggle out Gota ; Judges arrived in minister Mustafa's car !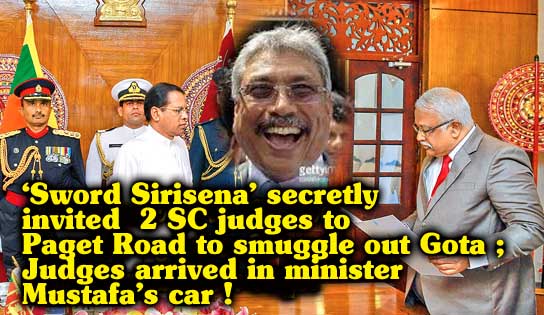 (Lanka-e-News - 26.Jan.2018, 10.00AM) It is no less a person than president 'Sword Sirisena' who has halted the arrest of notorious culprit Gotabaya Rajapakse , while the whole world is aware it is Gotabaya who misappropriated over Rs. 90 million public funds to build a mausoleum of his parents .The president also went as far as to secretly send Gotabaya out of the country when he was about to be taken into custody over the mass murder of prisoners committed within Welikade prison , Western province chief minister Isuru Devapriya stated openly in his confession . Unbelievably , the responsible president who acted this irresponsibly and criminally despite being the highest in the hierarchy of the country has still not denied those serious allegations mounted openly against him.
With a view to help Gotabaya to flee the country , the president has got down the then president of the appeal court L.T.B. Dehideniya and another judge to his Paget Road residence secretly , and issued instructions to them , based on reports reaching Lanka e news inside information division.
Faizer Mustafa the minister of local government and provincial councils who had transported the two judges on the sly in his car to Paget Road residence to meet the president.
It is well to recall it is Judges L.T.B. Dehideniya and Shiran Gunaratne of the appeal court who gave an interim order in a day to restrain the filing of action under the public Property Act against Gotabaya the crook. Besides, the restraining order that was taken up for hearing on 2017-12- 15 was extended until 2018-01-25. Meanwhile Gota fled to America on medical grounds. According to reports reaching Lanka e news , Gota who is in California is not suffering from any illness and he is meeting his henchmen there which has received publicity via You tube.
It is well to remember it is the same two judges L.T.B. Dehideniya and Shiran Gunaratne who even without hearing the trial acquitted Kumaran Padmanathan alias K.P. the only surviving leader of the three LTTE leaders on 2017-12-04 . The decision delivered by these two judges that there are no valid charges even to proceed with the case against K.P. a traitor who supplied weapons to the LTTE during the entire 30 years period of the War sent a wave of rude shock across the whole country.
Interestingly , Dehideniya who gave verdicts to suit Sirisena's whims was promoted as Supreme court judge , and Preethi Padman Surasena who was the president of Sirisena's presidential Commission was appointed to fill the vacancy which arose following Dehideniya's promotion from the post of appeal court president.
Dehideniya was elevated to SC judge position because the two SC judges , Anil Gunaratne and Upali Abeyratne alias Pissu Poosa went on retirement .There is one more vacancy in the SC . Saying , he would promote AG Jayantha Jayasuriya to fill that vacancy , the president has made the AG a puppet in his hands to exploit him to the maximum to serve president's villainies.
---------------------------
by (2018-01-26 04:54:31)
We are unable to continue LeN without your kind donation.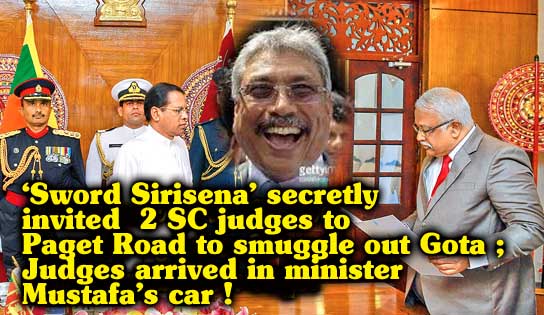 Leave a Reply