SL military attaché in London interdicted over bad behavior ; deported forthwith (video)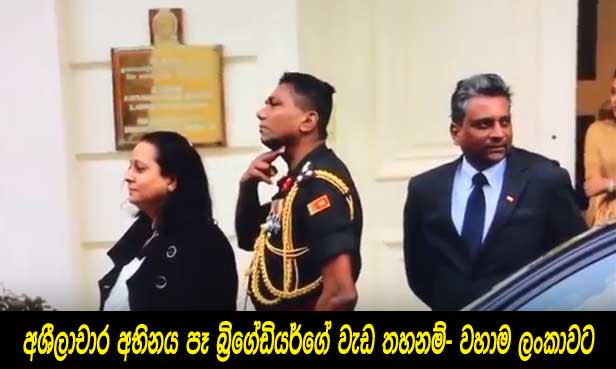 (Lanka-e-News - 08.Feb.2018, 11.30PM) Military attaché Brigadier Priyanka Fernando of the Sri Lanka High Commission in Britain who on the independence day of Sri Lanka (SL) conducted himself most repugnantly when the pro LTTE Sri Lankan Tamils with British citizenship staged a protest in front of the SL High Commission in Britain was interdicted with immediate effect and ordered to be deported immediately to SL . This is pursuant to the decision taken by the SL foreign ministry .The decision was also conveyed to the British High Commissioner on the 6 th.

The foreign ministry notification also states that an immediate investigation shall be launched by the SL army into the crude barbaric conduct of the Brigadier.
The uncivilized conduct most unbecoming of a brigadier was ,his making crude threatening gestures of cutting the throats . Subeshraj Sathyamoorthy a protestor had taken pictures of the Brigadier's misconduct while Geeth Kulasekeram released it to the social media for the first time. Following bitter opposition mounted , the SL foreign ministry had to take the punitive action.
When compared with the huge protests staged in Britain in the past which comprised tens of thousands of demonstrators , this protest had less than 500 supporters only . Lanka e news has no qualms about calling these demonstrators as LTTE extremists.
Though these protestors may think their demands are fair , if they are truly a civilized group and citizens of Democratic Britain they must feel ashamed over their behavior carrying flags of the LTTE terrorist cum murderers who not only wrought disaster on the Sinhalese but even on the Tamil population.
However , even such a minority group of extremists cannot be overpowered when brigadiers behave wildly and react as bad as the extremists . His foolish conduct only encourages one extremist to fuel and fatten another extremist unendingly. Because of this moronic brigadier ,what was a trifling contemptible protest received undue publicity . He therefore merits punishment for gross indiscipline which is the last and least thing that is expected of a high ranking state officer.
In conclusion , may we highlight , the military attaches who were appointed to our foreign missions abroad during the period of the war serve no purpose now in those posts. These appointments were made during the corrupt nefarious decade of presently discarded Rajapakses to pamper their henchmen , and not to make contributions to country's progress. Indeed ,a military attaché was appointed to Swaziland too , a country best noted for most nefarious reasons
---------------------------
by (2018-02-09 02:46:37)
We are unable to continue LeN without your kind donation.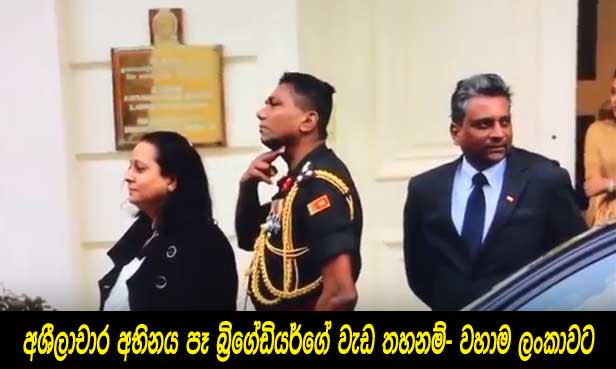 Leave a Reply