Why did China send here a 'queer ambassador' –suspicions grow..!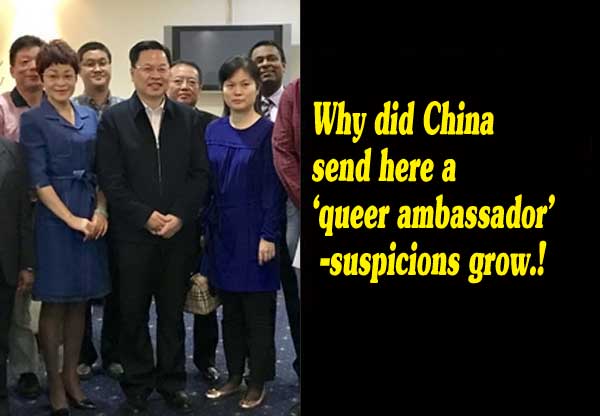 (Lanka-e-News - 04.March.2018, 11.30PM) China has sent a new 'strange' ambassador to Sri Lanka in pursuance of a conspiracy to topple the present good governance government in order to enable the corrupt criminal Rajapakses to take over the reins again , based on suspicions which have proliferated among Colombo based diplomatic circles .
Cheng Xuenyuan , the new Chinese Ambassador to Sri Lanka arrived in Sri Lanka on January 2 1 st during the period of the last local government elections.
What is most bizarre about this appointment is , China selecting a Communist political party member who is specialized in that sphere of activity, and not of the diplomatic service as China's new ambassador to SL. China as a matter policy ,does not appoint ambassadors who are not of the foreign service. Hence , the Colombo based diplomatic circles are of the view , China appointing a henchman outside the foreign service for the first time in respect of SL is with the objective of effecting a political upheaval .
Following his advent , the good governance government enemies are begging for the flow of 'Chinese aid' , it is learnt .
Meanwhile , at the conference in Singapore on the 2nd , Ranil Wickremesinge P.M. announced, while being with the ' preference to neighbors' policy of India , SL will work alongside the 'one belt one road ' policy with a view to implementing it.
Today(04) Sunday Times news paper reveals Mr. Basil Rajapaksha had a two hour long meeting with the new Chinese Ambassador Cheng Xuenyuan in last week
---------------------------
by (2018-03-04 21:58:04)
We are unable to continue LeN without your kind donation.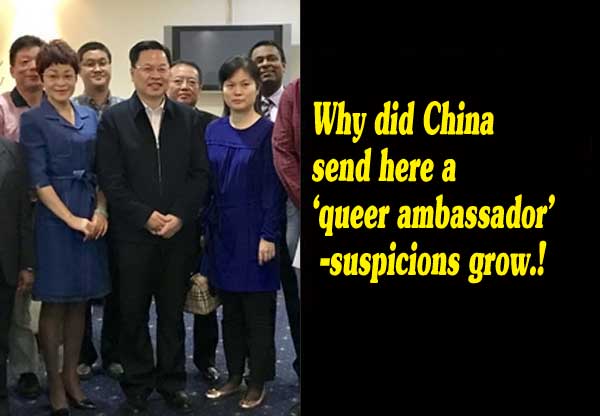 Leave a Reply