The true percentage of votes of the Bud is 40 %; Government is 42 % ; Media announcements are wrong !.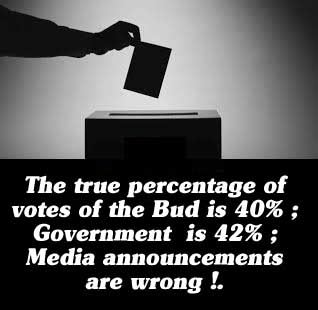 (Lanka-e-News - 06.March.2018, 4.45PM) It has now come to light that the national percentage at the last local polls published by media are erroneous ……
The true national percentage of Flower Bud is 40.66 %
(According to Media Institutions – 44.65 %)

UNP national percentage is 29.40 %
(Media Institutions – 32.63 %)
SLFP +UPFA percentage : 12.38 %
(Media Institutions- 13.38 %)
JVP percentage : 5.8%
( Media Institutions-6.27 %)
How did these errors crop up ?
Most media Institutions when reckoning the national percentage have taken into consideration all votes of the primary parties ( SLPP, UNP, SLFP+UPFA , JVP, TNA ) , that is 11,069, 417 as valid votes when counting them.
However , when reckoning remaining parties and the independent group , their total valid votes is 12,214, 901. Accordingly the national percentage of the various distinct parties ought to change.
January 8 th mandate and the future of the government …
What is paramount in this context is , Mahinda Rajapakse who is speaking about forming a government has only received 40 % . On the other hand , the UNP plus president's SLFP together with parties of national coalition government have received 42 % , while at the last presidential elections , the parties under the swan symbol received 51 % votes.
Going by this it is clear the people have still not moved away from their mandate of 2015-01-08 . Hence what is imperative now is , the two main parties getting together and implementing the national programs most expeditiously , and following a course of staying clear from allowing issues to proliferate among the parties of the coalition.
Patalie Champika Ranawake
Lanka e news comment …
The main mistake was committed by the Elections Commission.. They did not publish the district results or National results of the elections as soon as possible.
---------------------------
by (2018-03-06 11:28:34)
We are unable to continue LeN without your kind donation.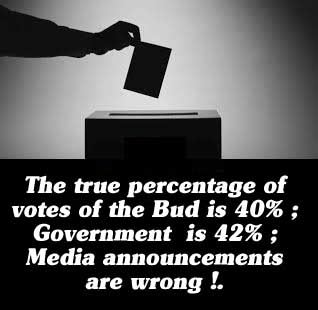 Leave a Reply