Sirisena's racism pops up in Japan too ! Gnanassara the drunkard racist monk is invitee –photo is evidence!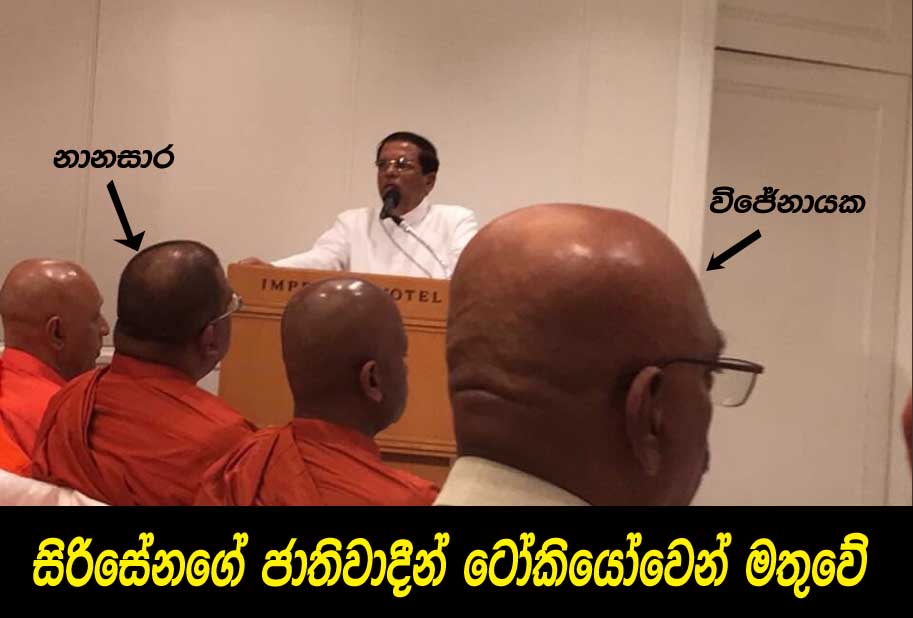 (Lanka-e-News- 14.March.2018, 11.00PM) Confirming the truth of the allegations mounted by Lanka e news that president Maithripala Sirisena is behind the racial conflict which erupted in Kandy , an out and out anti Muslim racist criminal dipsomaniac monk Gnanassara who was contributory to inciting the racial riots also joined the group of the president that is touring Japan currently.
For the meeting held on the 13 th in the most luxury hotel 'Imperial hotel' in Tokyo , Japan , Gnanassara the monstrous monk was invited . (vide photo)
Believe it or not ! Sirisena has taken along with him to Japan two most notorious racists but wearing the saffron robes and calling themselves a s monks, namely Piyasiri Wijenayake and Somaweera Chandrasiri spending out of public funds. Now, it is only these racists are the friends of Sirisena who is presently embattled and desperate .
The same Sirisena alias Sillysena who mounted accusations against Rajapakses during their era of wasting public funds on mega groups being taken on foreign junkets by them has himself on this tour taken a group of about 100 members comprising his group.
President Sirisena who is by now a confirmed traitor for kicking away the people's mandate of 2015-01-08 unconscionably and shamelessly , taking along with him on his foreign junkets any crook , racist , pavement idler, rabid dog or bitch is of no issue if he meets the expenses out of his own personal funds. But when he is wasting the funds of the public , the wrath of the abysmally suffering people is on him , for they naturally feel the losses , though Sillysena does not.

---------------------------
by (2018-03-14 19:39:53)
We are unable to continue LeN without your kind donation.
Leave a Reply