Gamarala leads illicit commission Russian warship purchase, whereas P.M. heads free Indian warship gift ceremony !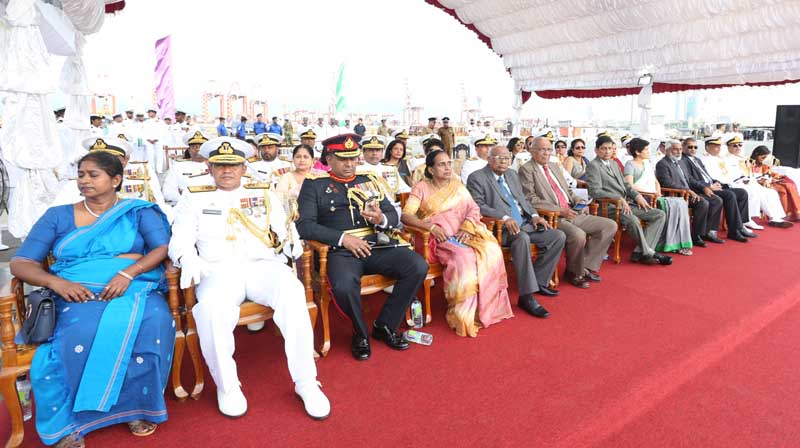 (Lanka-e-news 21.April.2018, 11.30PM) Strange but true , no matter what opposition was mounted against the sordid deal , president Gamarala and wheeler dealer Kili Maharaja who went pell mell despite it have concluded all the necessary negotiations to purchase a Russian warship valued at US dollar 158 million under the Russian aid program solely and wholly for the purpose of collecting illicit commission.
This Cheetah 5.1 class Frigate category ship which is going to plunge the country in a 15 years lasting colossal debt , is being portrayed as a new warship and not an old one (as was exposed earlier) by a news website which shamelessly stoops to do all the sordid biddings of the president despite the fact none has said anything officially in this regard .
Might we recall it is Lanka e news always first with the news and best with the views which exposed this deal first . We highlighted since a number of ships have been gifted free to Sri Lanka by foreign countries , if a loan is to be taken from Russia , it is best if that loan is used for development purposes of the country.
If we are to reveal the number of ships gifted to SL after the advent of this present government for coastal protection , it is as follows :
Two ships from India ; two ships from America; three ships from Japan ; and four ships from Australia. That is 11 ships in all. While there is a fleet of ships gifted free for coastal protection , if attempts are being made to buy another Russian ship at a colossal price while drowning the country in a sea of debt , the objective is obviously to permit the notorious Sirisena family to collect massive illicit commissions .
Meanwhile , SL has already received a Second high Tech ship "Sidurala' as a gift to be used for deep sea monitoring which was produced by Goa ship dockyard , India . The ceremony of commissioning this vessel led by Prime Minister Ranil Wickremesinghe took place on the 19 th at the Eastern Container terminal , Colombo Port.
This ceremony was attended by a number of invitees including Fisheries and aquatic resources development minister Mahinda Amaraweera , State minister of defense Ruwan Wijewardena ,Agriculture minister Duminda Dissanayake , Defense secretary lawyer Kapila Waidyaratne , Indian High Commissioner in SL Tharanjith Singh Sandu, Chief of staff of security Admiral Raveendra Wijegunaratne and Navy Commander Vice Admiral Sirimevan Ranasinghe .
Photos of the event are herein..
---------------------------
by (2018-04-21 19:58:42)
We are unable to continue LeN without your kind donation.
Leave a Reply