3 Rupavahini artistes win international awards despite villainies of its Chairman and D.G. against them !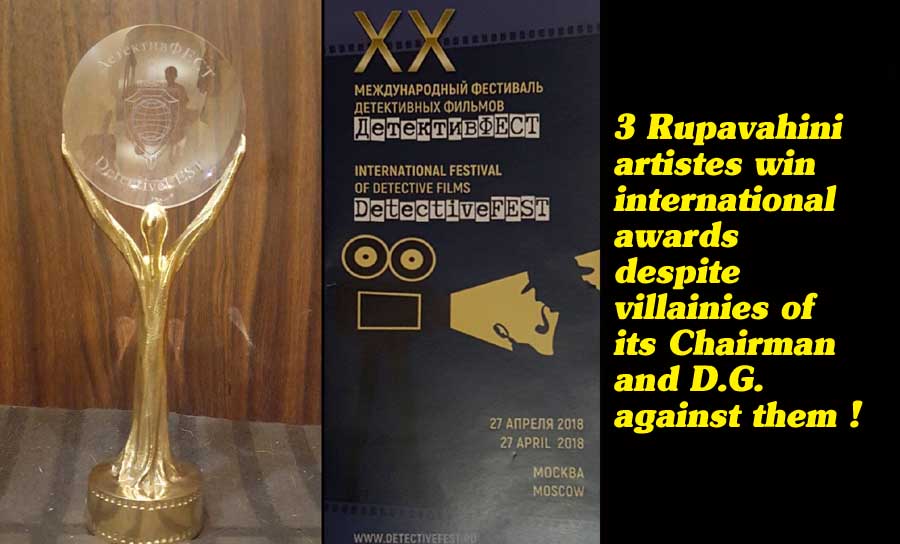 (Lanka-e-News - 28.April.2018, 8.45PM) Three teledrama directors of the National Rupavahini television won international awards yesterday (27 night) at the cinema and Television films awards ceremony held in Russia. It is most noteworthy these were won by them despite the obstructive and underhand activities engaged in against them by Rupavahini chairman Ravi Jayawardena and its Director General Thusira Malawathanthri the two notorious villainous and venomous clowns.
The three teledrama directors who won the coveted awards defeating the other participants of the world in the 'DetectiveFest 2018 ' ceremony are : Athula Peiris, Ranga Bandaranaike and Shiran Ratnayake.
The 21 mins. single episode teledrama 'sahurdayo'(Bethren) directed by Athula Peiris won the first place in 'humanity' category. The 54 mins. documentary telefilm 'Jeewithaya ahimi aadarayak; aadarayak ahimi jeewathayak' directed by Ranga Bandaranaike won the Diploma award in 'against terrorism' category. The 30 mins. short film relating to 'Road safety' directed by Shiran Ratnayake won the Diploma award in the 'Road safety' category.
Another well recognized Sri Lankan director Ms. Anoma Rajakaruna 's short documentary film 'Article 14' won two certificates under the 'documentary' category . She contested independently .

Sri Lanka thereby was able to secure 5 awards.

These awards won by these directors are specially laudable because 71 countries participated in this cinema and teledrama festival this year , and as many as 600 contestants vied for awards.
Underhand activities and villainies of worthless jokers Ravi Jayawardena and Thusira Malawatanthri …
While the award winners deserve the best praise and plaudits for their achievements , we cannot at the same time refrain from exposing the villainies and abominable underhand activities which were indulged in by the two rascally clowns , Ravi Jayawardena and Thusitha Malawatanthri at the Rupavahini who went out of the way to obstruct these winners . According to the staff of Rupavahini , those impediments placed against the award winners by these two rascally clowns and their villainous venomous underhand activities are as follows :
When these contestants following their nominations received invitations for the ceremony , these two rascally clowns did everything possible to obstruct these artistes instead of providing encouragement ….
Allegations were mounted against these participants that they are the 'flower bud' group , and therefore their air tickets and stay expenditure in Russia cannot be met . The worst comedy act was performed by these jokers when they accused these artistes were UNP ers during the period of the nefarious decade. These two worthless senseless jokers Ravi and Thusira who secured posts by bootlicking and arse licking bankrupt politicos surely cannot know the worth of artistes . These jokers can understand nothing except when they are stripped nude of everything in public.
Ultimately , Ranga Bandaranaike's father Dharmasiri Bandaranaike , a popular artiste had to furnish data to the president. Shiral Lakthileke the notorious NGO crook who is a friend of Ravi Jayawardena has influenced the president , and obstructed the grants that were to be made to these artistes. However the president has intervened to provide the ticket fare for them to leave for Russia. Though the president's intervention is welcome , he released funds for their tickets only.
Thereafter these two senseless scoundrels at the Rupavahini barred the disbursements to meet the travelling , food and lodging expenses of these artistes . At that point , it is the additional secretary Thilaka Jayasundara of the media ministry who had come to the rescue of the artistes. She warned if you all do not authorize this payment , you all can be charged for misappropriation of state funds. By then each artiste was released US dollars 210.00 per day for their travelling , food and lodging.
Following Thilaka's admonitions , Thusira has summoned the artistes and said , " I too studied in Russia. There are small huts in Russia where expenses are not this high. I also stayed in such a place. Hence I cannot grant more than US dollars 54.00 per day to each of you". Finally Rupavahini released only US dollars 54.00 to these artistes who brought glory to this country after defeating 600 rivals of 71 countries. ( Perhaps Thusira the two legged vicious dog must have been living in a kennel in Russia during the time Yuri Gagarin went on his space mission) . It is to be noted this two legged dog that lived in kennels had the cheek to disdainfully suggest 'huts' as the place of abode in Russia for these award winning artistes who did proud to this country.
It is well to recall Athula Peiris is an award winner all the way. His very first stage drama won an award , and has continued to win international awards over several decades . Some time ago when he won an international award for his teledrama he staged on behalf of Rupavahini , it was Ravi Jayawardena who halted him from traveling abroad to receive that award. Ravi who would readily strip nude in public if that would serve his selfish and self seeking ends, shamelessly , after shunting and sidelining Athula , went abroad to receive it.
The worst part of the atrocities and evil propensities of these two scoundrels is , these two despite their rackets parade as paragons of virtue among society . Men of virtue must not hesitate to spit in their faces and strip them nude in public. The faster these villainous masqueraders are chased out from their official posts the better, for that would do a great deal of good to the country. Allowing such rascals to be entrenched in such high positions is to court disaster not only to the Institution but even the country.
(photos herein were provided by LeN reporter living in Russia)
---------------------------
by (2018-04-29 23:46:46)
We are unable to continue LeN without your kind donation.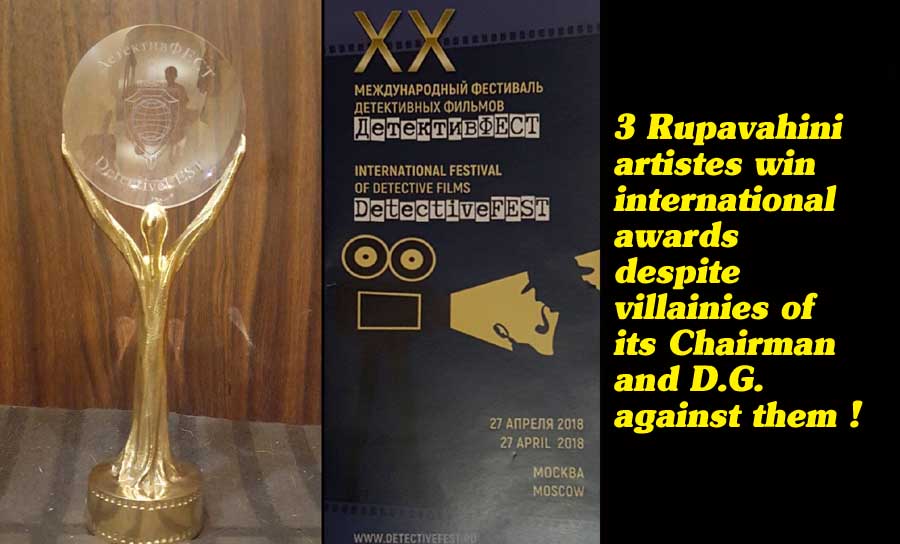 Leave a Reply