'Scientific and systematic' cabinet reshuffle of Pallewatte Gamarala is all flatulence no substance !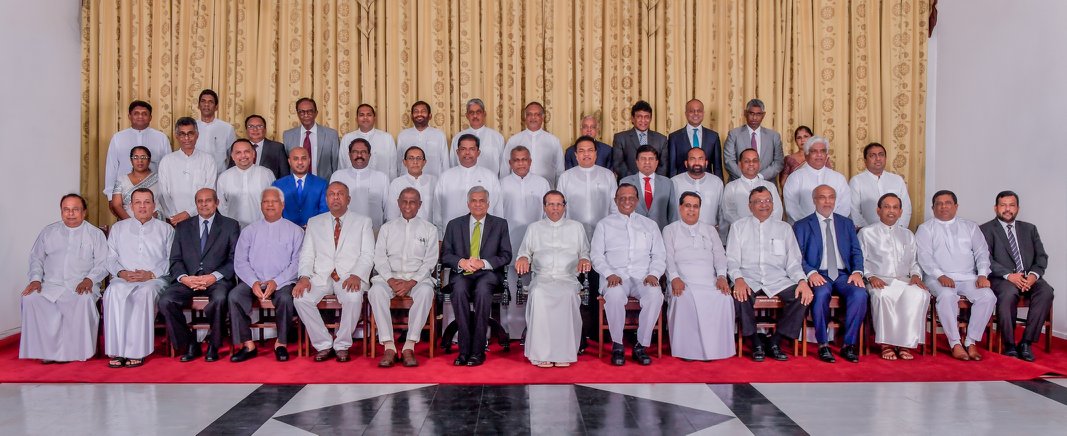 (Lanka-e-News - 02.May.2018, 8.30PM) President Pallewatte Gamarala whose popularity has plummeted to a precarious 4 %, and who lost his 16 ministers when trying to plot to oust the prime minister does not know how much is a trillion and does not know how many years ago the country received its independence , is therefore well and widely known as the most idiotic president ever to hold that post . What's more ! he has now after loudly and proudly bragging about his 'scientific and complete ' cabinet reshuffle has produced a toy mouse after much laboring .
Based on reports reaching Lanka e news, the cabinet reshuffle of Gamarala on May 1st morning had not been done in accord with the proposals forwarded by the UNP faction on Apriil 30 th night.
Gamarala's much hyped 'complete' cabinet finally related to only 18 changes while the rest remained the same. Unbelievably Lakshman Kiriella again took oaths as the minister for the same old portfolio , the only change made to his portfolio was instead of 'development of Kandy' that it was limited to 'Kandy Town development'. The ministry of social empowerment alias samurdhi ( which belonged to S.B.) of the SLFP group had been transferred to P.Harrison of the UNF. The 'rural economy' part of Harrison's portfolio has been hung on the neck of Vijitha Wijayamuni Soysa as a second portfolio. The fisheries ministry portfolio of UPFA secretary Amaraweera had been withdrawn , and the agriculture portfolio of Duminda Dissanayake (SLFP secretary) had been assigned to him . Duminda was axed.
It is most bizarre if the term 'scientific' is to be used to describe Gamarala's grotesque reshuffle .According to it : Kandy upcountry is distinct from Kandy town development . Water resources is different from aquatic resources. Village economy is different from pradeshiya development. Industry is different from primary Industries. Home affairs is different from internal affairs, and so forth.

When urgent and widespread requests were made to bring the police force under the army commander who concluded a 30 years old war , he is given the wild life portfolio. May be this decision was taken on the mad conception that he brought the four legged Tigers in the forest and not the Tamil 'Tigers' under control. Similarly Disaster management has been linked with Irrigation and water resources , perhaps because of a weird belief water is necessary to douse the flames when fire and flood disasters break out . Or else, based on the stupid logic , landslides and Tsunami disasters are the result of water.
If sane and sensible people learn of this , and still keep quiet without remembering the word 'mother' of Gamarala, it is simply that those people too have gone off their heads after reading this Gamarala Sillysena's muck up .
The sports ministry which should be under a separate minister has been tied around the neck of provincial and local administration minister Faizer Mustafa .
If there aren't worthy individuals in the SLFP group to assign the remaining ministries, it would have been in the best interests of the country to entrust those to the UNF group or avoid assigning them . It is evident moves are afoot to further destroy the sports of this country.
Though Gamarala said solemnly while he was inside a temple recently that 'I would give you all a splendid Buddha sasana minister' , it is the same former minister Jayawickrema Perera who is continuing in that post.
Though Wijedasa Rajapakse was opposed by the entire UNP , and the name of Ravi Karunanayake was proposed for a ministerial post if a portfolio is to be given to the UNP group , that did not materialize today. In any event , when the UNP cabinet was being appointed that did not become discernible in the reforms.
The reshuffle that can be concluded in a day had been dragged on for another day . The swearing in of new state and deputy ministers has been put off for tomorrow (May 2nd) at 10.30 a.m.
1. Lakshman Kiriella – State enterprise and Kandy Town development
2. Dr. Sarath Amunugama- science, technology , research , skills development , vocational training and Up country heritage
3. S.B. Nawinna – Internal affairs and Wayambe development
4. Mahinda Amaraweera – Agriculture
5. Duminda Dissanayake –Irrigation , Water resources and disaster Management
6. Vjith Wijayamuni De Soysa – Fisheries and aquatic resources development and rural economy.
7. P. Harrison – Social empowerment
8. Kabir Hashim – Highways and Road development
9. Ranjith Maddumabandara –Public administration and management , and law and order.
10. Talatha Atukorale- Prisons and prison reforms
11. Faizer Mustafa – provincial councils, local government and sports
12. A.M. Swaminathan –Resettlement , rehabilitation northern development and hindu religious affairs
13. Sagala Ratnayake- Youth affairs, projects management and Southern development.
14. Mano Ganeshan – national unity, reconciliation and State language
15. Daya Gamage- Social welfare and primary Industries
16. Field Marshal Sarath Fonseka- sustainable development , wild life and pradeshiya development
17. Ravindra Samaraweera – labor and trade union affairs
18. Wijedasa Rajapakse – higher education and cultural affairs
---------------------------
by (2018-05-02 15:02:55)
We are unable to continue LeN without your kind donation.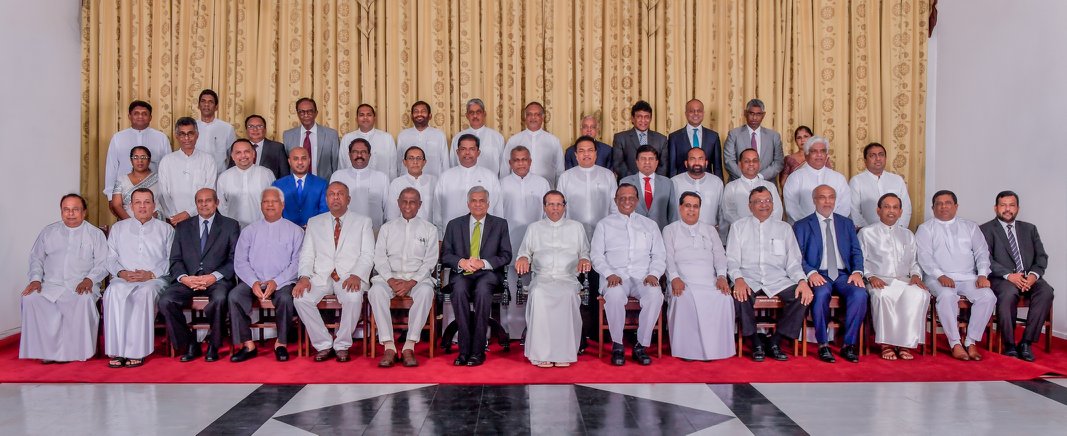 Leave a Reply