Bogus stories about Fonseka asking pardon from Gamarala because of Ranil- Malik 'ponna' politics
-Wimal Dheerasekera a political critic-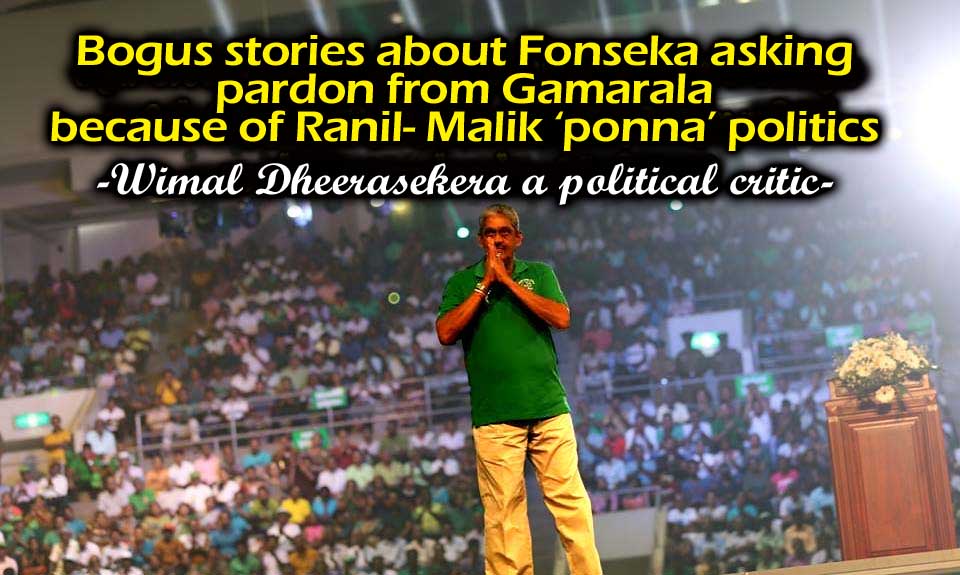 (Lanka-e-News- 14.May.2018, 2.00AM) The moves of Ranil Wickermesinghe P.M. and his sidekick , minister Malik Samaraweera to make Field Marshal Sarath Fonseka the only politician remaining in the country who had been able to protect his reputation without soiling it so far, another 'Ponnaseka' by getting him also into their effeminate 'ponna' politics had been thwarted because of Fonseka's rectitude and straight forward traits .

Pallewatte Gamarala who had by now earned a most unenviable reputation as the most incapable , incompetent failed leader ever in history owing to his own sinister and betrayer traits was justly criticized by Sarath Fonseka recently.
Intelligent justifiable criticisms which set the people's pulse racing
During a press briefing after Fonseka assuming duties as a new minister , he amplified the reasons why president did not appoint him as the minister of law and order despite the UNF making a request …..
The president said , a number of DIG's are against his (Fonseka's) appointment but did not reveal their names, Fonseka pointed out. 'When I was engaged in the war operations, I had cordial relationship with country's IGP and DIGs , besides , if I did not maintain such relations , I could not have won the war' Fonseka had told the president , he revealed.
Fonseka went on to elaborate that , in order to steer the incumbent president to power , he addressed over a 100 meetings , and his wife about 30 meetings. Yet not only he , even Ms. Chandrika Bandaranaike , has to wait for 3 months to get an appointment to meet him.
It is significant to note Lanka e news always first with the news and best with the views , had reported on this earlier on, but this is the first time , Fonseka himself disclosed to the great delight and pleasure of the masses.
Subsequently ,at the last May day UNP rally , Fonseka made a fair truthful criticism against the president. This was well received and the UNP party members rejoiced in it . Fonseka spoke thus …
'We have to think not only of the journey for the next two years , but even of the future after that. We must somehow compulsorily appoint a president of ours ' he said ,amidst great applause. 'Hon. Prime Minister , you will remember , I , as the Democratic party leader had a discussion with you prior to the 2015 presidential elections.'
'I reiterated and requested you all the time to contest as the presidential candidate as you can win it. At that time we did not take that right decision. Today we are facing the fallout of that wrong decision. The country is plunged in doom and gloom because of that.
It is because we propelled the wrong individual to the post of country's leader and put him in the wrong position , our government is being impeded , and now we are struggling to sustain our reputation' Fonseka highlighted amidst non stop applause ! 'We shall not make this mistake again. In 2020 , we shall work with commitment and dedication to make you the president .'
We must commit ourselves to that task. If we are to give precedence to personal agendas and selfish gains , then there can only be conflicts and disharmony within the party and the party will be crippled like in the past. In that event we shall be tarnishing our own image. Our beloved party members will certainly understand this.'
Unlike the criticisms leveled by buffoons like Dilan who are best at worst tomfooleries , and who are criticizing the P.M. , the criticisms of Fonseka were well thought out , far sighted and based on political acumen. Moreover his glowing speech was most pulsating rekindling the hopes of the people who voted to bring this government into power.

The profundity and truthfulness of Fonseka's speech was such that one social media chain critic declared , if Fonseka is capable of speaking like this , he deserves to be made a presidential candidate again.
Ranil – Malik duo in the doldrums..
Though the speech of Fonseka was highly lauded by the public , UNP leader Ranil Wickremesinghe and his sidekick Malik Semarawickrema could not ingest the wit and wisdom in Field Marshal' s utterances. Of course President Gamarala not ingesting Fonseka's speech is understandable, but Ranil and Malik the comic duo getting perturbed over Fonseka's outspokenness and his criticisms against Gamarala is most unbelievable . The effeminate duo was hurt so much so they were of the opinion , such statements should not have been made on that occasion , and Fonseka should make peace with Gamarala after meeting him.

The defense advanced by the duo was : because the president agreed with them to expel the 16 parliamentarians from their portfolios during the no confidence motion , in the future they should work with him cordially.
Accordingly , the Ranil- Malik duo met with the president along with Field Marshal on the 9 th.

A website run by a ministry media secretary by funds provided by president Gamarala's co ordinating secretary the notorious NGO crook Shiral Lakthileke, and Thilina's (president's son in law) funds (bribe collections) ,as well as an anonymous Lanka Deepa reporter publicized this meeting saying that Fonseka asked 'pardon' from the president .
The same website of media secretary even went as far as to say , that SLFP Gen. Secretary Duminda Dissanayake requested the president to dismiss Fonseka from his ministry post.
The stark truth ….
Lanka e news wishes to reveal taking full responsibility that media secretary 's website report is absolutely false. Duminda Dissanayake swore that he never told such a thing to the president. Besides , when Ranil-Malik-Fonseka Troika met with Gamarala , no pardon was asked by Fonseka from president .
The facts are as follows :
The president never spoke anything about what Fonseka revealed at the media briefing , neither did he speak about the law and order ministry not being granted to Fonseka. What President said was ' he was hurt over Fonseka's reference to the president at the May day rally that he played a deceptive character then in 2015.'
Fonseka in his reply said , that was a political statement and not personal. Beyond that Fonseka never uttered the word 'pardon'. President too did not insist on such a thing. It is well to recall Fonseka is one who refused to ask pardon when Rajapakses at that time demanded it , and preferred to go to jail instead. Will such an individual who preferred jail to demeaning himself ask for a pardon from Gamarala now ?
In any event the effeminate and 'ponnaya' politics of Ranil and Malik ought to be frowned upon. At the elections held in six months after Gamarala became president, while all were opposing , the Rajapakses were permitted to contest under the national list by him ; at the recent local body elections it is this same Sirisena alias Sillysena who went crawling on all fours to strike an Alliance with the corrupt and crooked Rajapakses who were discarded by the people , which attempt failed because of Basil's refusal . After that disgraceful rejection he returned like a beaten pavement dog ; what's more ! if Rajapakses will stand together with him he would the following day form a government, Gamarala bragged ; thereafter joining with the Rajapakses he resorted to all the tricks and treacheries in a futile attempt to oust the P.M.
It is such a venomous vicious unscrupulous rudderless aimless political scoundrel, the effeminate Ranil -Malik duo is reposing faith in after forgetting his putrid and sordid past . This ' ponnaya'attitude of the duo is most abominable , reprehensible and disgraceful . Trying to sacrifice a 'masculine'character like a national leader Field Marshal Fonseka who stands out among feminine petticoat wearing politicians is therefore even more detestable and despicable !
Along with the mad dogs….
During the past although there were strong unrelenting criticisms mounted against Ranil , we followed a policy of silence , because we thought before advising a man who is going to be bit by a mad dog about rabies , he must be given a club to escape from the mad dog .
The P.M. who was given the mandate to form a government of good governance by a majority of the people was barked at and hindered by Pallewatte rabid dog. Interestingly ,on April 4 th all the people got together and put the leash on the mad dog after catching it. Yet , the neck of this dog had still not been cut and sent to the MRI for examination. In these circumstances what Ranil- Malik duo is trying to do is , cuddling the mad dog , contract the rabies , and go along the same mad route it roamed.
Can Ranil –Malik duo given an assurance that unscrupulous , untrustworthy , ungrateful ,uncivilized Pallewatte Gamarala will not form an alliance in the future with the Rajapakses? Isn't he the mad dog who turned enemy on 2015 -01-09 itself of the very people who elected him . How can such a political villain , betrayer and scoundrel be relied upon ?
The recent election results proved that owing to the egregious blunders , bungling and villainies of Pallewatte Gamarala , it is not himself alone but the whole UNF government has to pay for the sins . It is high time Ranil and Malik realized that.

As long as an uncouth uncivilized president of a rare specie on this planet who is a ruthless betrayer and epitome of ingratitude , is in the seat and is biting the ear lobes of his own government , so long will that government have to perform not only its tasks but even those of its opposition. Ranil and Malik surely should understand this . Even among twins there are males and females born as a single twin. By a single referendum there can spring up an obscure executive and a parliament which are distinctly different like the heaven and earth. SL is a classic example of that to the world.
Though Ranil-Malik duo do not know a conventional consensual alliance can be a mirage like how there can be a mirage on the horizon where the sky and earth meet , the masses are fully aware of that. Little wonder the people did not cast their votes to them. They are so obtuse that they are the still unable to figure out the reasons why they were defeated at this election .
What remains for the intelligent UNP members and the good governance masses now is to leave the idiots and imbeciles to their self seeking political deals , and allow to destroy themselves via the plague or any epidemic , while the intelligent UNP members and good governance masses should take measures to save themselves from the plague, and move away from those who had contracted the contagion.
It is now very evident Ranil- Malik duo that does not have faith in people are suffering from a dangerous personality disorder so much so that the narcissistic symptoms are affecting them from top to toe. Otherwise , after having all the resources now to form a separate government , instead of doing that , if they are to say 'vote for us to form a separate government in 2020,' aren't they unhinged? Are there also healthy people who trust such mental patients ?

The moves made by Ranil- Malik duo to drag down Field Marshal Fonseka too into their 'ponna' (effeminate) politics , should be spat at by one and all regardless of party differences since , Fonseka is still before the people a character who has transcended the limitations of just a UNP er.
By Wimal Dheerasekera
Translated by Jeff
---------------------------
by (2018-05-13 20:56:02)
We are unable to continue LeN without your kind donation.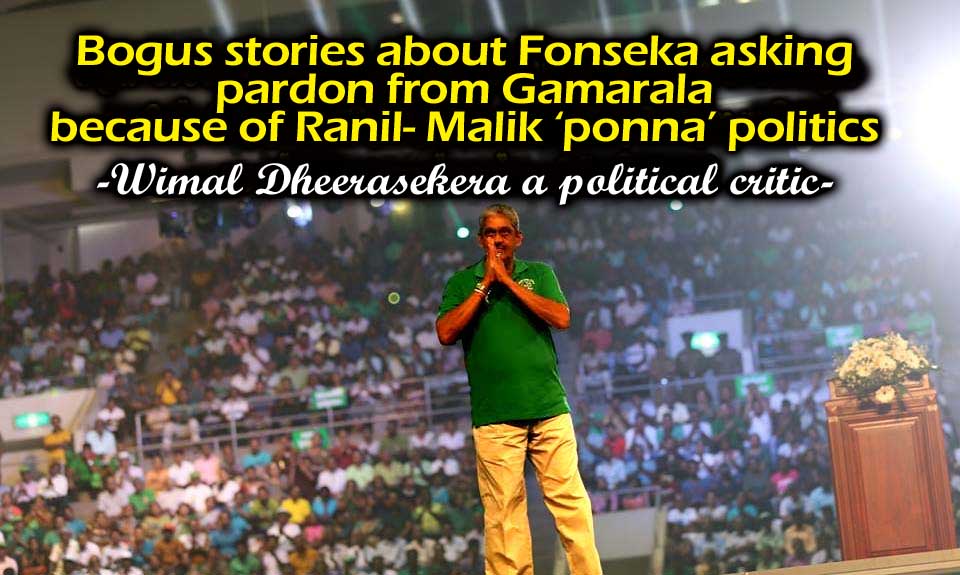 Leave a Reply