Fraudster Gammanpila's robed advisor is a sex starved molester – Pivithuru Hela Urumaya's another act of purity !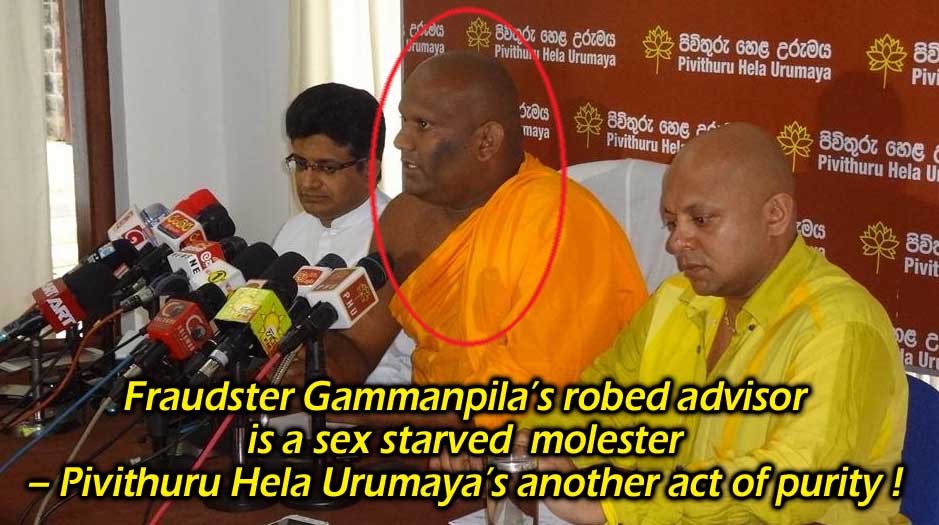 (Lanka-e-News- 15.May.2018, 7.25AM) Sigiriye Damminda Thera (a member of Dambulla local council ) ,a robed advisor of the Pivithuru Hela Urumaya (PHU) of Udaya Gamanpila ( the notorious fraudster) was remanded after being arrested on charges of molesting a woman who came to the temple to make religious offerings.
This sex starved molester a disgrace to the saffron robe who is a member of Dambulla local council representing Gammanpila's Pivithuru Hela Urumaya being a staunch supporter of the corrupt criminal Rajapakses , and an advisor to infamous Gammanpila is not a matter for surprise , for birds of the same feather flock together.
The victim of this 34 years old robed shameless monk (one among the latest breed of rascally monks in Sri Lanka who are on a rampage as though to deliberately disgrace true Buddhism and Lord Buddha) is a 46 years old mother of three children from Nagalawewa , Sigiriya. In the complaint lodged with the police , it is stated the disgraceful incident occurred on the 10 th of April when the victim went to the temple to offer alms. After she related this disgraceful criminal conduct of Gammanpila's bosom robed pal cum advisor monk to her elder sister and her husband , the complaint was made.

Later , the monk was arrested by Dambulla Police , and after being produced on the 9 th before the Dambulla Magistrate Kosala Bandara Ilangasinghe , the latter was remanded until the 16 th .
Sigiriya Police are conducting further investigations.
In the photograph are country's notorious fraudster Gammanpila and Temple's infamous molester Damminda the robed monk ( buddies of the same feather committing crimes together) holding a media briefing together.
---------------------------
by (2018-05-15 02:01:44)
We are unable to continue LeN without your kind donation.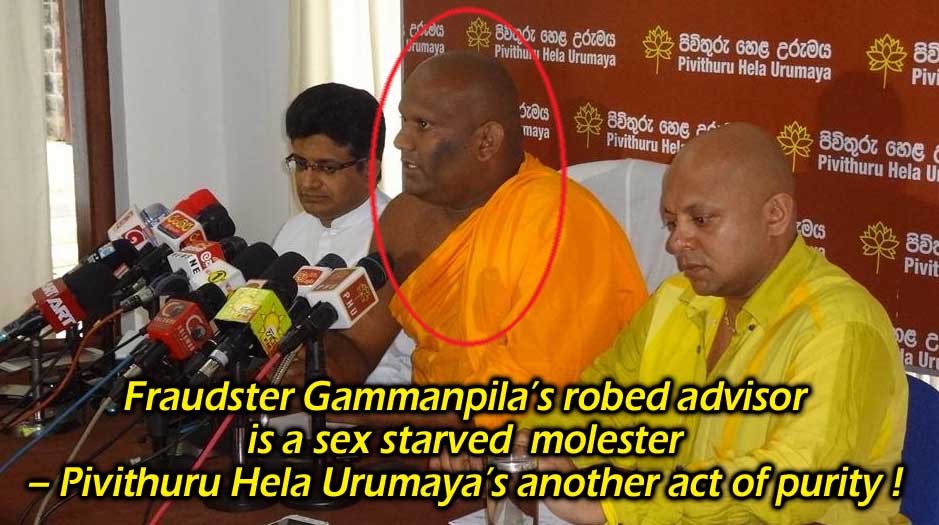 Leave a Reply