Gnanassara the debauched rascally monk found guilty by court ! Sentence on 14 th.
Not only me , all including genuine Buddhist monks will be buoyed up-Sandya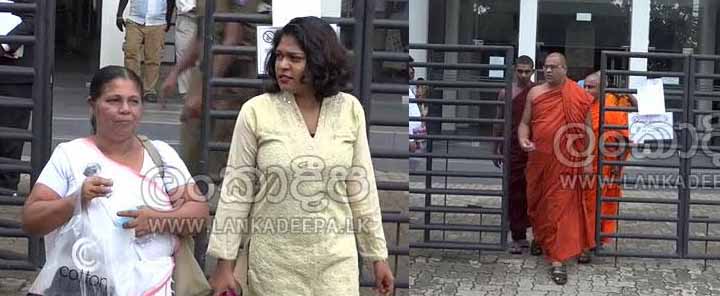 (Lanka-e-News – 26.May.2018, 2.00PM) Bodhu Bala Sena organization general secretary Galagoda Athe Gnanassara the notorious monk in robes who is by now better known as a monk of a rare monster specie deliberately disgracing Buddhism and Lord Buddha was found guilty by the Homagama magistrate court on the 24 th based on charges filed against him of intimidating and causing criminal harassment to Sandya Ekneliyagoda the wife of journalist Prageeth Ekneliyagoda (who went missing after he fell victim to white Van abduction committed by a criminal group of the equally cruel and criminal Rajapakses while he was employed at Lanka e news ).
Gnanassara who has become a byword for criminalities despite being a monk, and a disgrace to the saffron robe he wears intimidated and caused harassment to Sandya within Homagama court on 2016-01-25.
It is noteworthy , although Gnanassara wears the robe he is better known as a drunkard rowdy and ruffian leading a life of debauchery , and therefore an insult to genuine Buddhism and true Buddhist followers . Besides , there are a number of criminal cases against him pending in courts, though it is only on the 24 th he was found guilty for the first time.
This historic verdict was delivered to the great relief of the law abiding citizens and genuine Buddhist monks by Homagama Magistrate Udesh Ranatunge .The magistrate fixed the date as 14 th June to announce the sentence against Gnanassara. The judge ordered to take the fingerprints of Gnanassara on that day.
When the preliminary inquiry by the magistrate was being conducted in connection with the disappearance of Ekneliyagod a on 2016-01-25 , Gnanassara the robed rowdy rascally monk stormed into the Homagama magistrate court , and after insulting judge Ranga Dissanayake who was on the bench , began to abuse in filthy foul language Sandya while using physical force and pushing her ,within court . The monk was so aggressive that he screamed ' your husband is a Tiger. You go and beg' thereby intimidating and insulting her while also physically molesting her.
Gnanassara in a mad rage scolded State counsel Dileep Peiris too who appeared on behalf of Sandya, saying 'I will not get scared of officers of the State.' He also threateningly pointed a finger at the judge on the bench , and said, he is not scared of the laws of 'black Europeans' (Kalu Suddhas). His tirade did not stop at that .'War heroes are inside , tigers are outside. Our boys are inside and tigers are outside '. 'These rulers are betraying the country , war heroes and the nation' , he continued to shout.
It is while there is a case being heard against rowdy robed rascal Gnanassara who openly scorned and spurned the judiciary at the Colombo high court based on grave contempt of court charges , the case of Sandya against him was heard in the Homagama court on the 24 th .
Initially this case was filed under the protection of witnesses Act, later however , the Attorney General (AG) changed the indictment and filed the case based on charges of criminal harassment under section 386 of the Penal code and criminal intimidation under section 486 of the penal code.
Though the case was transferred to the reconciliation board , because Sandya refused to come for a settlement , the case had to be heard in court . Gnanassara was found guilty on the 24 th thereafter.
Gnanassara the Satan incarnate in robes who has a spate of criminal cases against him to his discredit was found guilty in another case too earlier on , when he paid a fine of Rs. 15000.00 after pleading guilty. This dipsomaniac monk in that case was charged with driving a lorry without license under the influence of liquor , and meeting with an accident . He had fled after the accident .
Following the verdict on the 24 th , Ms. Sandya Ekneliyagoda making a statement to Lanka e news said , this verdict has not only buoyed her up , but even those including dignitaries of other religions and even the genuine Buddhist monks who suffered at the hands of Gnanassara.
Connected report…
Gnanasara's satanic dream to become hero by going to jail turning true ! warrant issued on 4 charges against him in Ekneliyagoda case
---------------------------
by (2018-05-26 08:32:54)
We are unable to continue LeN without your kind donation.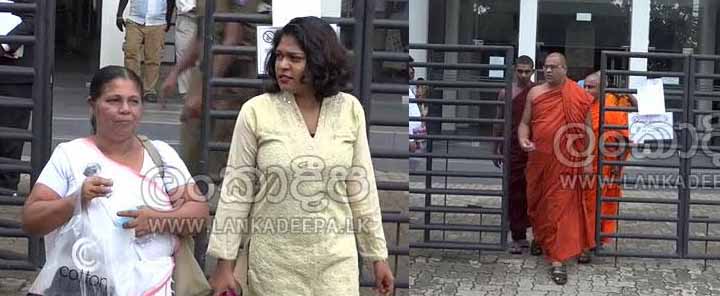 Leave a Reply