Dayasiri who parades as paragon of virtue has taken 1 million 'santhosam' from Aloysius –his bodyguard exposes whereas DSG suppresses the truth ! Shame !!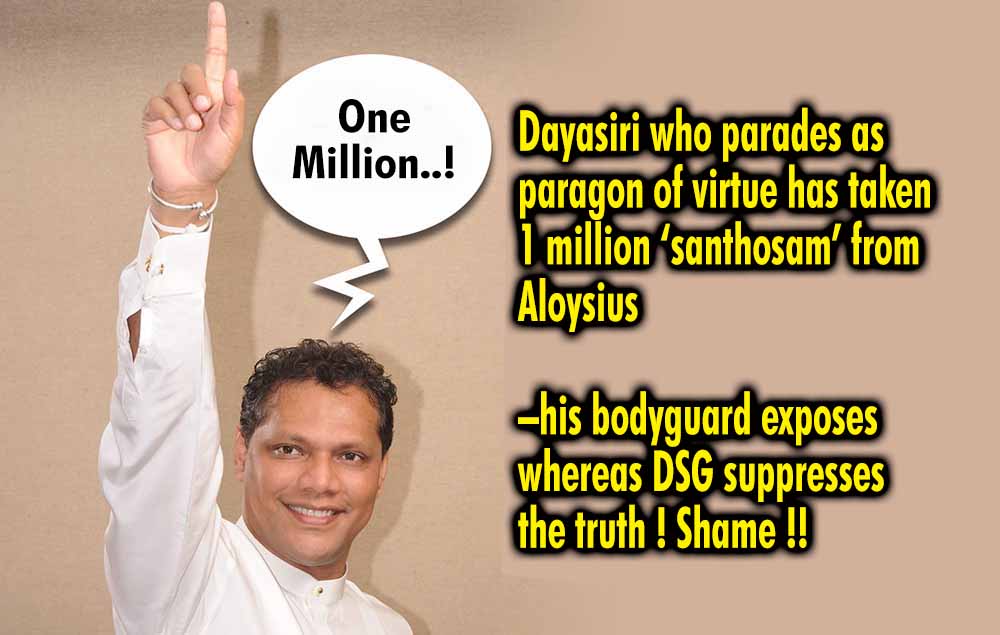 (Lanka-e-News – 26.May.2018, 2.00PM) Former sports minister who roared like a Lion and paraded as a paragon of virtue when steering forward a no confidence motion against the prime minister (P.M.) on the grounds that during the issue of treasury bonds by the Central bank , the P.M.was involved in the alleged bond scam and that he plundered funds jointly with Perpetual Treasuries Co., is himself (Dayasiri) a record breaking culprit and crook , it has now been proved.
The report submitted to court by the CID on the 24 th had confirmed Dayasiri is a downright crook. This two legged rat has collected a 'santhosam' (bribe proper) of Rs. one million from 'Walt and Row Associates' an affiliated Co. of 'Perpetual Treasuries' which is implicated in the alleged treasury bond scam.
The relevant B report of the CID was forwarded to court by the Deputy Solicitor General (DSG) Yasantha Kodagoda during the bond scam case trial which is now being heard in court against Perpetual Treasuries.
It is a well and widely known fact , many individuals who were not directly involved in this bond transaction were summoned to the presidential commission and several innocent individuals were embarrassed by the DSG making loud announcements in court merely because they had exchanged phone calls . Yet this same DSG failed to reveal the name of Dayasiri in open court despite latter's deep involvement and while his name was mentioned in the CID report . This is indeed most perplexing and intriguing . This is a grave lapse and must be frowned upon.
In the open court Kodagoda only referred to Dayasiri as 'an M.P.' He could have at least referred to this culprit as 'a former minister' .
In any case the M.P. mentioned in the B report produced in court is none other than this minister of sports Dayasiri Jayasekera to whom even racketing is a sport and play. The police security officer Amila Kumara Herath who worked under Dayasiri during the year 2015, has recorded his statement at the police in this regard. On 2015-06-15 Dayasiri has handed over a check worth Rs. 1 million to Amila and requested to cash it for him .
That check belonged to Walt and Row Co. affiliated to Perpetual Treasuries. The check No. is 566635 has been issued out of the current account No. 0073900773 of Walt and Row Co. In the statement made by Amila , it is revealed he cashed the check at the relevant Bank branch in Kurunegala , and handed over the Rs. one million cash immediately to Dayasiri ( waiting like a greedy raven to eat the muck) at the car park of the bank .The B report forwarded to court mentions the details.
In the same way , another check worth Rs. one million issued by W.M. Mendis Co. affiliated to Perpetual Treasuries had been cashed and handed over to the CEO of that Co. It is suspected that sum too was a 'santhosam' in the same way like how Dayasiri received.
After considering the pros and cons of the submissions, Lanka Jayaratne the Fort magistrate decided to remand Director General of Perpetual Treasuries conglomerate Arjun Aloysius and its CEO Kasun Palisena who have been in remand custody for the last about three months, for a further period until 7th of June.
Now that Dayasiri's clean slate he tried to maintain and his pretenses while indulging in all the vilest corruption have been smashed to smithereens , the next pertinent question is , why did Dayasiri grab so much cash ? If he had collected the santhosam to suppress some fraud , Aloysius being held in custody while the accomplice Dayasiri is scot free ,is mot unjust and unfair.
---------------------------
by (2018-05-26 08:41:10)
We are unable to continue LeN without your kind donation.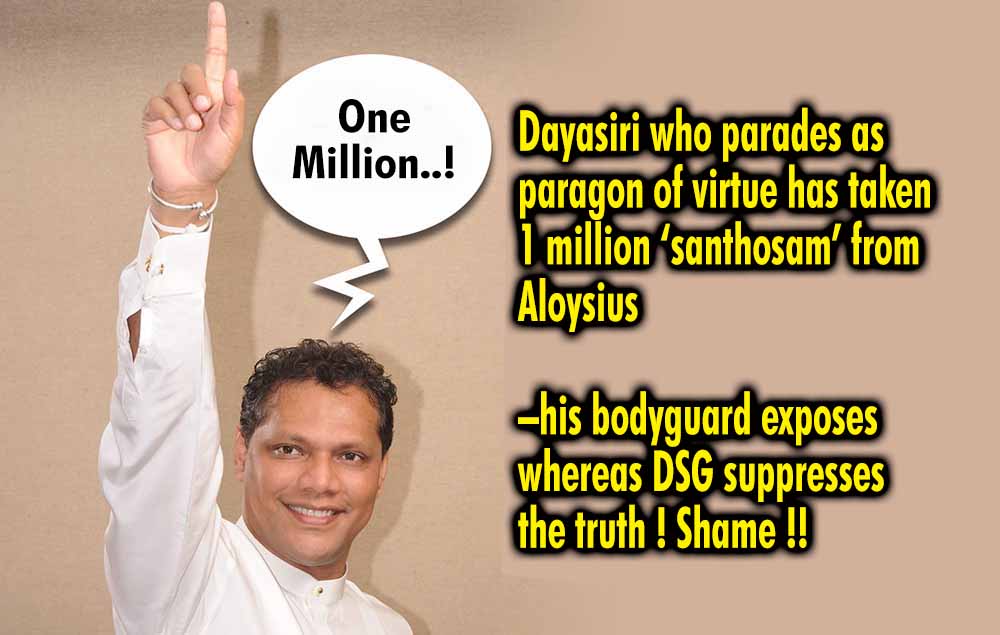 Leave a Reply