Rejected leaders 'adorn' SLFP : Duminda shunned and shunted; One million bribe taker Dayasiri is Vice president…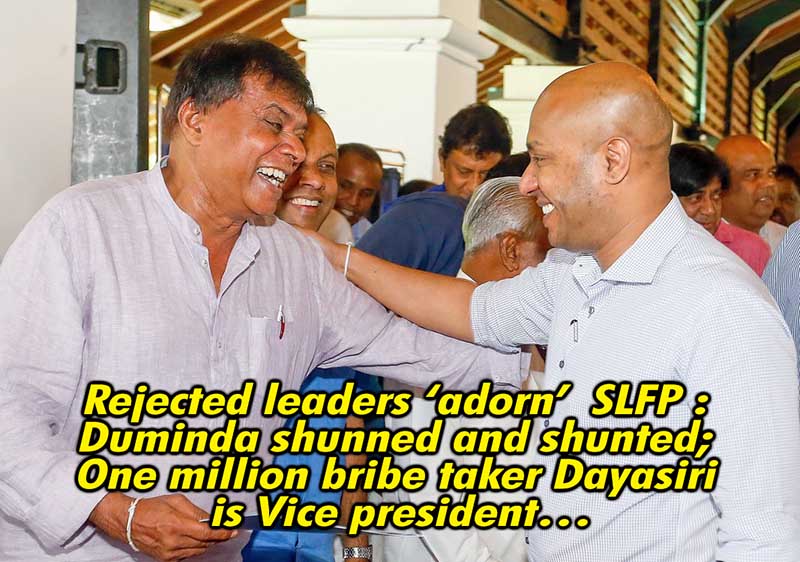 (Lanka e News – 05.June.2018, 7.45PM) It is a well known fact the SLFP party from which Pallewatte Gamarala resigned in 2015-01-08 to defeat it, again became its leader , and he slowly but surely succeeded in drastically reducing its popularity base from 47.5 % to a mere 4 % within just 3 years .Now the same party appointed a bizarre new council supposedly temporary comprised of new officers .Though the aim of this is to boost the 4 % to 51% within a year, obviously that is like aiming to reach the moon by a bullock cart
Gamarala who is an epitome of ingratitude , well known for biting the hand which feeds and even eating it has chased away party gen. secretary Duminda Dissanayake who sacrificed his entire life for the party all along. In his place Rohana Lakshman Piyadasa a worthless useless creator of survey reports has been appointed. Rohana a University lecturer is the notorious duffer cum bluffer who along with Mahinda told all the lies to defeat Gamarala . This scoundrel is such a strong pro Mahinda supporter that even after assuming the new duties ,when addressing a media briefing he mentioned the name of Mahinda Rajapakse as president instead of Gamarala .
S.B Dissanayake who mounted the stage of Mahinda on May 1st has ben made the SLFP treasurer. Chamara Sampath the uncouth brute who made a school principal (lady) to kneel down before him has been appointed as assist. Secretary , thereby demonstrating what is 'good governance' according to Gamarala's Thesaurus .
The worst part ? Displaying his own true colors Gamarala made another disgusting (dis)appointment by making Dayasiri Jayasekera the Vice president .Gamarala who at the Sobitha Thera commemoration asked ' did Sobitha Thera tell to break the Central bank?', and made insinuations , appointed the 'One million paga man'(One million bribe taker) Dayasiri Jayasekera who is by now well known for taking a bribe of Rs. 1 million from Arjun Aloysius the corruption prince , and therefore in panic now like a cat on hot bricks .
It is a matter for regret , the '4 % popularity base SLFP' of Gamarala did not at least have the decency to avoid giving appointments to those who are facing criminal charges before the civilized society.
It can be inferred from this , Pallewatte Gamaralas have no vision , mission or program for the SLFP, or a group to carry on without the Rajapakses . Hence the next political avenue open to them is stop the good governance empty rhetoric, throw that into dustbin and with the 4 % popularity halt at the corrupt and murderous Rajapakses' terminus.
When the SLFP Samastha Lanka working committee and executive committee met on the 3rd chaired by Gamarala at Apegama, Battaramulla the following were temporarily appointed to the so called new officers council
The former president and former prime ministers , Chandrika, Mahinda and Dimu were re appointed as advisors. However Chandrika was in London while Mahinda was with his unique blossoming -wilting flower bud .
President- Pallewatte Gamarala
Gen. Secretary – Rohana Lakshman Piyadasa
National organizer – Duminda Dissanayake
Treasurer – S. B Dissanayake
Senior Vice Presidents – Nimal Siripala De Silva , W.D.J. Seneviratne, Anura Priyadharshana Yapa, Susil Prema Jayantha
Vice Presidents – A.H.M. Fowzie, Dr. Sarath Amunugama , Mahinda Amaraweera, Dayasiri Jayasekera, Reginald Cooray, Piyasena Gamage, Vijith Vijayamuni De Soyza, Mahinda Samarasinghe, Dilan Perera, Shan Wijayalal De Silva, and Angajan Ramanathan
Assist. Secretaries
Ranjith Siyambalapitiya, Sarath Ekanayake, Dharmasiri Dasanayake, Isuru Devapriya, Chamara Sampath Dassanayake , Lasantha Alagiyawanna, Sudarshani Fernandopulle, Sumedha G. Jayasena.
Though it is said, that all the present MPs of the party have been appointed to the Central working Committee , since they are divided into two groups in Parliament , it is not known which group was appointed to the Central working Committee.
---------------------------
by (2018-06-05 14:22:12)
We are unable to continue LeN without your kind donation.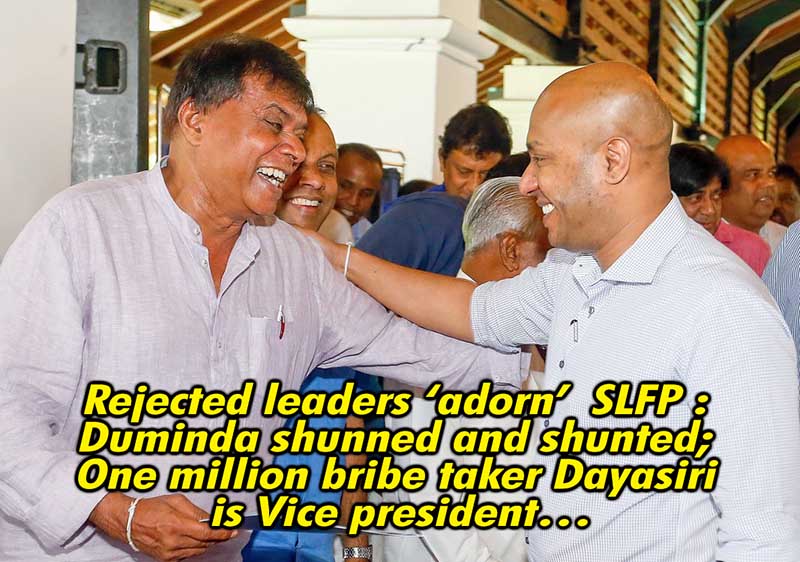 Leave a Reply