President Gamarala whose mental defect is becoming pronounced more and more by the hour violates IGP's human rights ! ( video)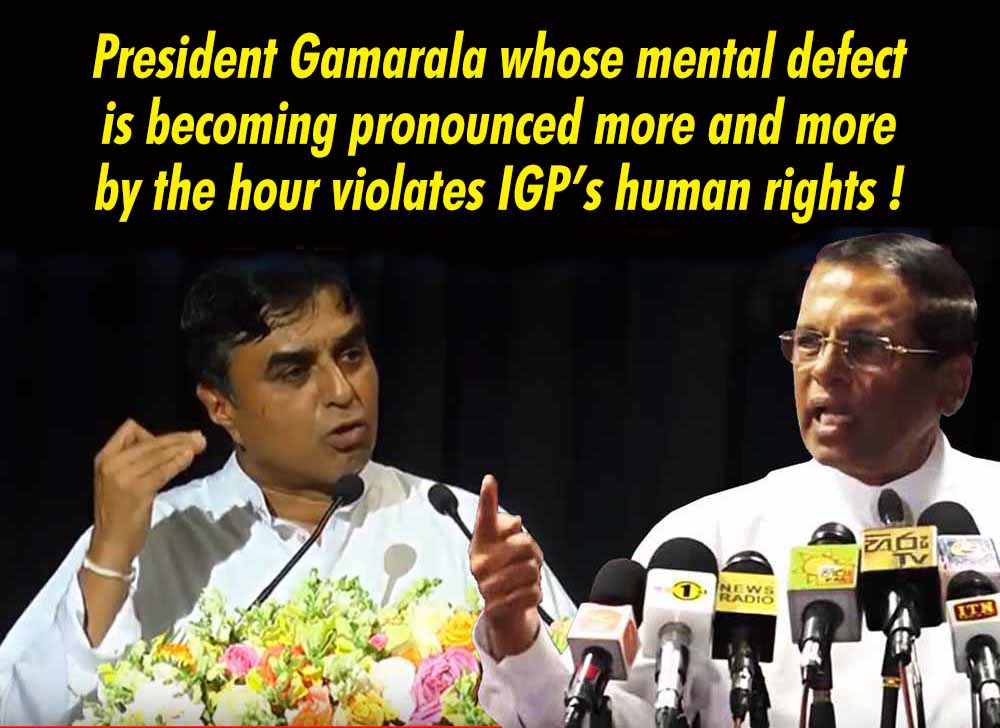 (Lanka e News -15.June.2018, 10.30PM) President Pallewatte Gamarala who is precariously clinging on to a meager 4 % popularity and now confirmed as afflicted with a mental disorder and thereby wreaking havoc on the country has flagrantly violated the human rights of the IGP of all people , based on a most shocking report reaching Lanka e news. Usually in human rights cases , the IGP post which is officially made the respondent has been for the first time in history made the aggrieved party by our rare specimen of a president Gamarala thereby creating another ignominious record.
Gamarala completely barred the IGP from making speeches at any functions except when addressing the police thereby seriously violating IGP's freedom of expression.
It cannot be gainsaid, a state officer cannot openly express his political views in public .Except that prohibition , no one , not even the president has the right to preclude him/ her from expressing his/ her religious , moral and cultural views in public . Such an action no matter who indulges in is an absolute violation of human rights.
A number of M.P.s and ministers including the prime minister who were present would testify to this gross violation of human rights of the IGP by presently embattled mentally deranged Gamarala .
This is how it happened….
Recently , IGP Poojitha Jayasundara was given an award by Meth Saviya organization whose president is a most famous 'Vidyakeerthi' professor Chandana Jayaratne . The IGP on that occasion was invited to make a speech and the IGP made a speech lasting 20 mins.
During the speech, Jayasundara to illustrate his point when referring to the present society said , an individual who has fallen into the cesspit is making a big din about a drop of urine on the white dress of another while concealing his own state within the cesspit. He also spoke of other things too which had no allusion to anybody in particular (the full text of the speech can be viewed at the end of this article) .
President Gamarala who is already most noted for his present mental derangement has got provoked and thought the 'individual in the cesspit' referred to in the speech of Poojitha was a barb directed against him and worn the cap assuming that it fits him. He therefore summoned the IGP to give him an explanation. But funnily , IGP alone was not summoned by him.
A number of UNP ministers led by the Prime minister including Mangala Samaraweera , Malik Samarawickrema, Thalatha Atkukorale too were summoned by the president , as well as a group of SLFP ministers including Duminda Dissanayake , Mahinda Amaraweera and Mahinda Samarasinghe to conduct a hearing on Poojitha's 'trial' blown out of proportion by president.
The president who made a grumpy face began questioning the IGP.
'In your speech that day , who did you have in mind when speaking about the cesspit individual?'
Poojitha who was baffled by this silly question was nonplussed. ' I had no one in my mind when I said that your Excellency. In fact I did not expect to make a speech at that place . But because the organizers wanted me to make a speech suddenly that I made a short speech . That is all. ' Poojitha replied.
Duminda Dissanayake then said , ' No, no , there was something implied in the speech . . Tell the truth Who did you have in mind when making that reference?' Dissanayake went on unrelentingly.
The IGP thinking , what is this madness, stifled his laughter and said 'I swear upon my parents that I had nobody in my mind when I spoke'
The president who got infuriated , said , ' understand this , there might be a constitutional council , but it is I who gave you the IGP appointment. . Why did you go to question S.M. Wickremesinghe ?' the president then inquired.
Wickremesinghe the senior DIG who goes on naughty nocturnal jaunts with the president is an accused in the criminal case relating to the recent communal violence in Kandy.
Grave charges have been mounted against Wickremesinghe in that communal flare up for deliberately delaying taking action to control the violence, owing to which lapse the situation escalated to alarming proportions. In that connection there is already an ongoing investigation against him at the Human Rights Commission as well as another conducted by the special investigation unit under the IGP.
Wickremesinghe was summoned by the investigators , and a statement too of his had been recorded after interrogation .
What had provoked the president into an insanity fit was the interrogation ….
The IGP told the president direct , interrogating Wickremesinghe on the Kandy incident by the investigators is a matter of routine. The president then flying into a a mad rage ordered , ' alright , in the future , you cannot make any speeches at any function except when addressing the police'
The other faction , that is the UNP group did not ask any question from Poojitha ,neither did it raise any objection to Gamarala's lunatic order.
Of course Lanka e News had on several occasions pointed out the faults of the IGP when performing his official tasks , but on this occasion IGP is entirely blameless, and it is his human rights which have been flagrantly violated. Believe it or not ! , it is the president the highest in the hierarchy of the country who committed this violation and egregious blunder ! But the most unfortunate side of this gross violation is , the IGP being disallowed from speaking a word exercising his democratic right , even after violating his human rights .
When viewing the complete speech of the IGP which is hereunder ,the viewers will be able to clearly understand how serious is the blunder committed by moronic maniacal Gamarala by trying to wear a cap which was not meant for him
---------------------------
by (2018-06-15 19:11:03)
We are unable to continue LeN without your kind donation.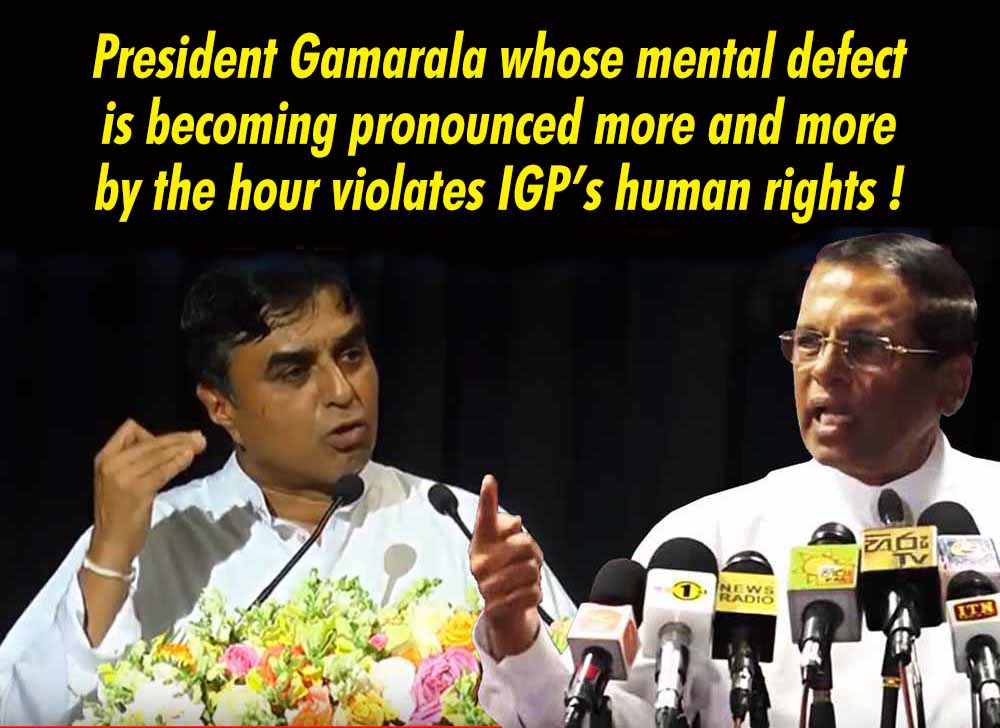 Leave a Reply